What is an "SNMP Community String"?
Keep track of your entire network with the SNMP Monitoring Tool PRTG
Unlimited version of PRTG for 30 days
After 30 days, PRTG reverts to a free version
Or, you can upgrade to a paid license anytime
What is a "SNMP Community String"
The "SNMP Community string" is like a user id or password that allows access to a router's or other device's statistics.
IPCheck Server Monitor sends the community string along with all SNMP requests.
If the community string is correct, the device responds with the requested information.
If the community string is incorrect, the device simply discards the request and does not respond.
Note: SNMP Community strings are used only by devices which support SNMPv1 and SNMPv2c protocol. SNMPv3 uses username/password authentication, along with an encryption key.
By convention, most SNMPv1-v2c equipment ships from the factory with a read-only community string set to "public". It is standard practice for network managers to change all the community strings to customized values in the device setup.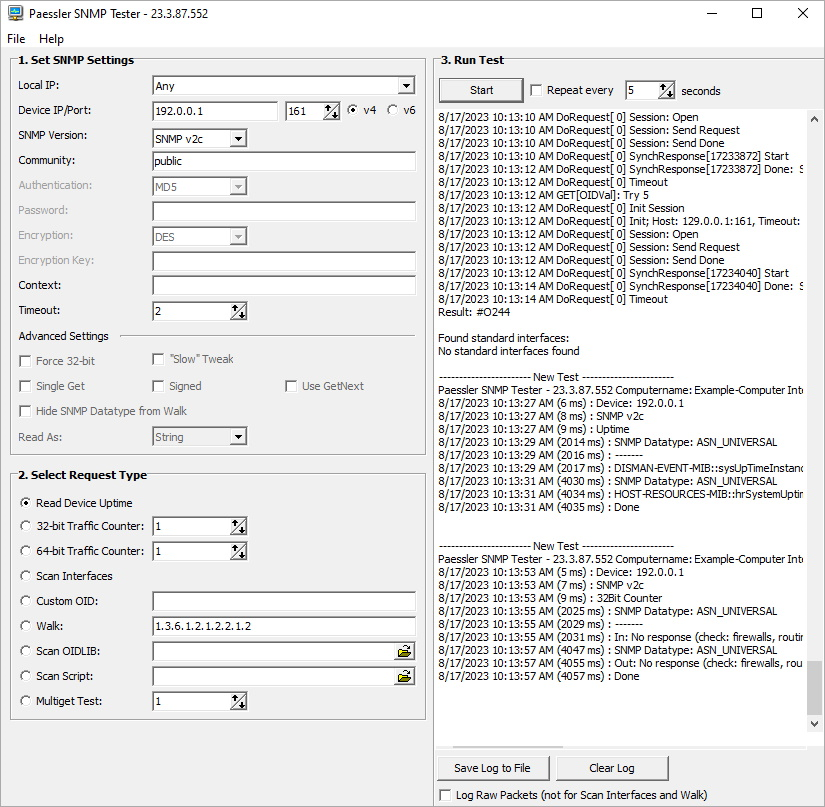 Free SNMP Testing Tool
Debugging Tool for Monitoring Configurations that use SNMP
With SNMP Tester you can run simple SNMP requests against a device in your network. This test program is based on the SNMP technologies built into PRTG Network Monitor.
PRTG is your ALL-IN-ONE SNMP Monitoring Software
With PRTG Network Monitor it is easy to keep an eye on network and bandwidth usage. Find out what applications and servers are using up your bandwidth, avoid performance bottlenecks and deliver better quality of service to your users. PRTG comes with several prefoncigured SNMP sensors and lets you obtain a comprehensive view of your network.
Unlimited version of PRTG for 30 days
After 30 days, PRTG reverts to a free version
Or, you can upgrade to a paid license anytime