Load Stress Test
Load Stress Test Your Webserver Using Paessler's Performance Testing Tools
WebServer Stress Test Freeware is a suite of advanced performance testing tools which enable you to load and stress test your servers: the tools simulate hundreds or thousands of concurrent users to your website. As in real life, each of these users follows an individual click path. Load tests help you determine how your web server performs under expected loads, whereas a stress tests shows you the performance of your website under extreme loads. This way the performance testing tools help you to identify website performance issues, thus enabling you to improve user experience. A load stress test also helps you to determine if your website will be able to handle the anticipated traffic generated by an aggressive marketing campaign. Ramp tests show you exactly how many visitors your web server can handle without experiencing performance issues. Moreover, the load stress test and performance testing tools give you valuable insights into your website which are indispensible for the effective ongoing optimization of your website.
Download a free version of the performance testing tools
Apart from this load stress test tool, Paessler also offers the network management tools PRTG. The features of this advanced network monitor software include
Download the free network monitor or the free 30-day trial version.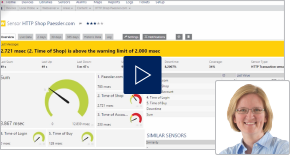 PRTG - Webserver Monitoring
by Kimberley, Senior System Engineer
Find out anything you need to know about webserver network monitoring with PRTG: Several different HTTP sensors help you to check the content and correct functioning of your websites for example. To set up your webserver monitoring within minutes just watch our video.  
PRTG

Network Monitoring Software - Version 23.3.88.1421 (October 2nd, 2023)

Hosting

Download for Windows and cloud-based version PRTG Hosted Monitor available

Languages

English, German, Spanish, French, Portuguese, Dutch, Russian, Japanese, and Simplified Chinese

Pricing

Up to 100 sensors for free (Price List)

Unified Monitoring

Network devices, bandwidth, servers, applications, virtual environments, remote systems, IoT, and more

Supported Vendors & Applications


More
Unlimited version of PRTG for 30 days
After 30 days, PRTG reverts to a free version
Or, you can upgrade to a paid license anytime