Network monitoring software
PRTG Network Monitor - Software by Paessler
PRTG Network Monitor Software Helps you to Optimize Your Network
PRTG Network Monitor is an uptime and bandwidth monitoring software that supports a broad variety of sensor types. The network monitoring software is currently being used by over 300,000 customers worldwide. The benefits are:
Increased profits: no losses caused by undetected system failures.
Improved customer satisfaction by providing more reliable systems.
Peace of mind: As long as they do not hear from the monitoring tool they know everything is running perfectly.
Deliver better quality of service to users
Identify Shadow IT in your company
Network monitor software is essential for companies of any size and branch, to ensure that their computer systems are running smoothly and that no outages occur. The network monitor software PRTG is inexpensive, flexible to use and easy to deploy.
Unlimited version of PRTG for 30 days
After 30 days, PRTG reverts to a free version
Or, you can upgrade to a paid license anytime
Requirements For a Network Monitor
A good network monitor should be easy to install and usage should be intuitive, so that there is no need for external consultancy and training. Further necessary requirements are:
Remote Management via web browser, PocketPC, or Windows client
Notifications on downtime by email, ICQ, pager/SMS, and more.
Comprehensive sensor type selection
Multiple location monitoring
All common methods for network usage data acquisition (SNMP, Packet Sniffing, Xflow) ought to be supported.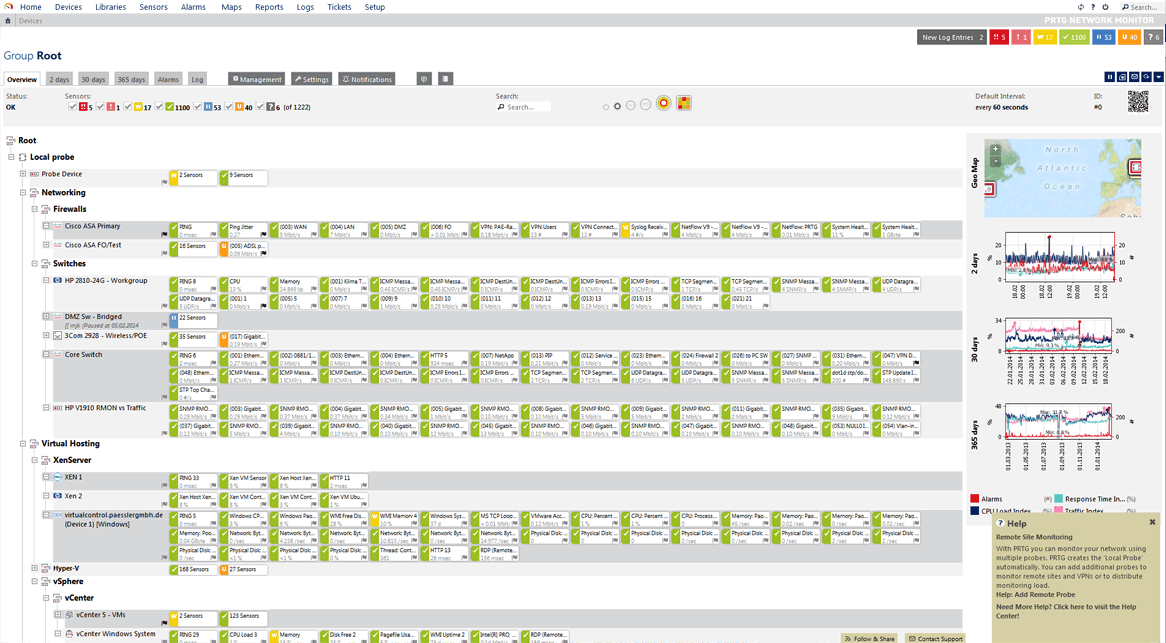 How to Set up PRTG Network Monitor
With the various infrastructures in use today it can sometimes be difficult to decide which monitoring technology is right to solve your problem. The easiest way to configure network monitoring is to use PRTG's autodiscovery. PRTG then scans your network for devices in a given IP range and configures suitable sensor types based on device templates, such as MS Exchange or SQL Server.
And of course you can add or change sensors manually, too.
You can find detailed setup instructions in our knowledge base and the manual.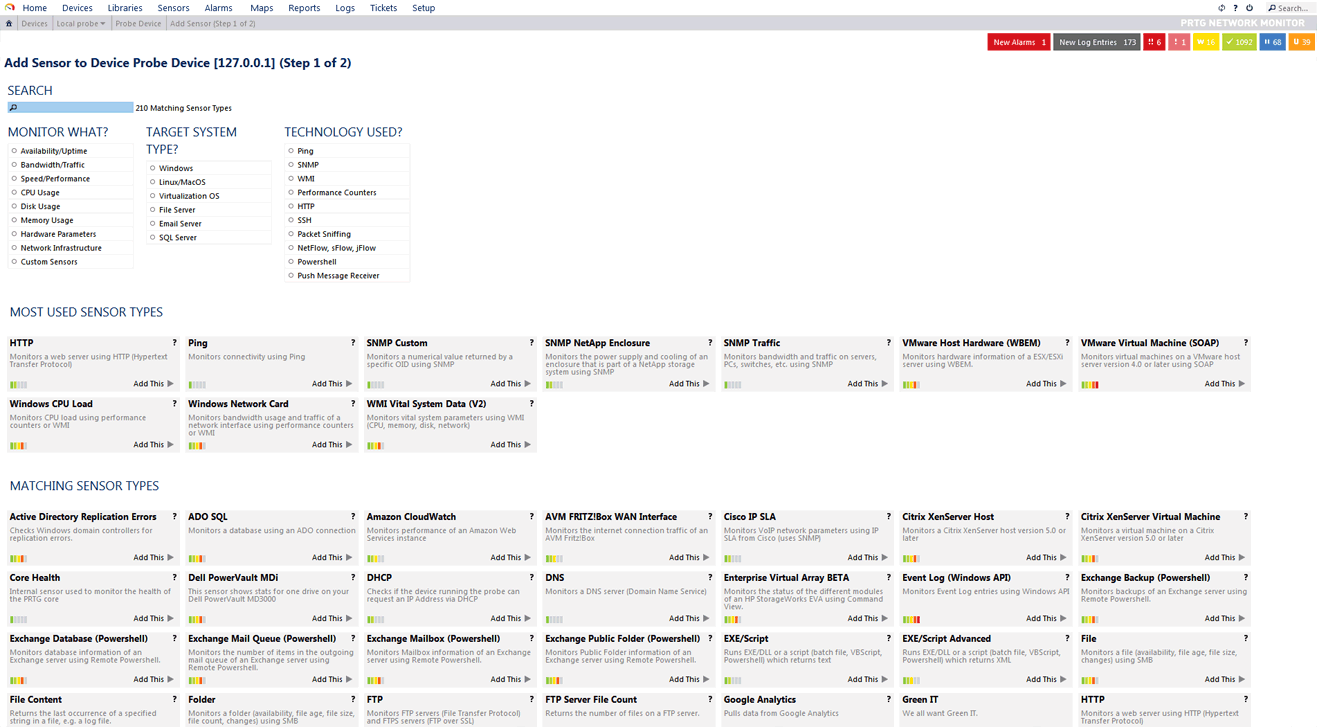 PRTG

Network Monitoring Software - Version 20.3.61.1649 (August 11th, 2020)

Hosting

Download for Windows and hosted version available

Languages

English, German, Spanish, French, Portuguese, Dutch, Russian, Japanese, and Simplified Chinese

Pricing

Up to 100 sensors for free (Price List)

Unified Monitoring

Network devices, bandwidth, servers, applications, virtual environments, remote systems, IoT, and more

Supported Vendors & Applications


More
Examples on How Customers Use Our Software
With over 300,000 installation we can provide you with almost any kind of customized solution. We have gathered examples of typical network monitoring solutions in our case studies.
Unlimited version of PRTG for 30 days
After 30 days, PRTG reverts to a free version
Or, you can upgrade to a paid license anytime
Related Topics