Monitor network performance
PRTG Helps you to monitor network devices and bandwidth usage
PRTG Network Monitor is Paessler's powerful network management and monitoring solution. This IP monitor freeware / software enables you to monitor network activity, track bandwidth usage, monitor the availability of network devices as well as website availability, monitor network connections, and can be used to check latency jitter.
Why monitor network devices and performance?
Networks are nowadays a crucial part of the infrastructure of almost any business. Network outages or slow response times result in economic losses. If you constantly monitor network performance, you will be able to react to many issues before users or clients even notice a problem.
Monitoring your network will also give you a clear notion of bandwidth usage in your network. Not only does the bandwidth monitor program show you how much bandwidth you are using, but it lets you conduct a much more detailed bandwidth check, enabling you to analyze, which application or computer uses most bandwidth.
How does PRTG Network Monitor work?
PRTG includes more than 50 sensor types, which offer you a variety of monitoring options, e.g.:
the PING sensor, which checks the availability and uptime of your servers and other devices by running regular PING tests
a number of SNMP and WMI sensors which allow you to measure metrics such as free space on disks, CPU and memory load, temperatures, bandwidth usage etc.
packet sniffer and NetFlow sensors enable you to monitor and analyze bandwidth consumption broken down by protocol or IP address
special sensors for monitoring virtual servers, converting PRTG into a hyper-V and VMware monitor
sensors to monitor VoIP connections (latency jitter, packet loss, etc.)
and many more sensors which allow you to effectively monitor network usage and performance
PRTG Network Monitor
PRTG is available in two editions. The free network management tools include 100 sensors and may be downloaded and used for personal and commercial use completely free of charge. Need more sensors to monitor a larger IT infrastructure? See our commercial licenses here.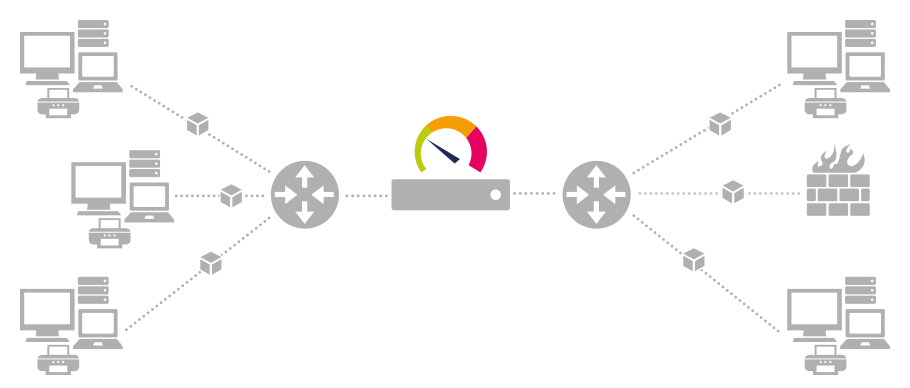 PRTG

Network Monitoring Software - Version 21.1.65.1767 (January 26th, 2021)

Hosting

Download for Windows and hosted version available

Languages

English, German, Spanish, French, Portuguese, Dutch, Russian, Japanese, and Simplified Chinese

Pricing

Up to 100 sensors for free (Price List)

Unified Monitoring

Network devices, bandwidth, servers, applications, virtual environments, remote systems, IoT, and more

Supported Vendors & Applications


More