Distributed Monitoring
Distributed Monitoring Without Extra Costs With PRTG Network Monitor
Distributed monitoring of networks at a company's different locations with one monitoring software license is usually not possible or only at great expense for special distributed editions.
PRTG Network Monitor comes with a special feature for distributed monitoring, the remote probes. These remote probes can be installed to networks at different locations of a company. They monitor the networks and send the monitoring data to the central installation of PRTG which analyzes these data.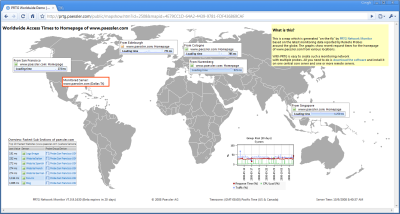 Based on PRTG Network Monitor Paessler created a globally distributed monitoring system for demonstration purposes. Remote probes have been installed to servers all around the world. As part of the globally distributed monitoring system they deliver the monitoring data to the core installation in Germany. PRTG analyzes the data and publishes the results on a map with public access. Click here for detailed information about the demo and how we created it. Using the rights and roles system of PRTG it is also possible to set up users with access to the monitoring data via the web interface of PRTG. The demo of this distributed monitoring system is also accessible with a standard read-only access.
But PRTG Network Monitor can do even more than purely distributed monitoring. More than 200 sensor types, bandwidth monitoring using SNMP, NetFlow or packet sniffing, included WMI functionality, comprehensive alerting and reporting features, and much more makes PRTG a monitoring solution for all networks.
All features, and distributed monitoring, are even included in the freeware edition of PRTG Network Monitor. For testing purpose you can also download a 30-days-trial license at Paessler.com. Commercial editions count by sensors (100, 500, 1000, and unlimited sensors).
For more information on PRTG Network Monitor and a feature overview please look here. Our knowledge base and the manual give detailed technical information on PRTG Network Monitor. If you are interested in using PRTG for distributed monitoring and have questions, please write to [email protected] (for licensing and sales questions) or to [email protected] (for technical questions).
Related Topics

Unlimited version of PRTG for 30 days. After 30 days, PRTG reverts to a free version.
Or, you can upgrade to a paid license anytime.