Port Sniffer
PRTG Advanced Port Sniffer Monitors All Data Flowing
Through Your Network's Ports
Detect all port activity
The port sniffer included within the PRTG network monitor tool detects all port activity in your network, as well as your system's application usage. All the data that is being sent and received through your network's ports can be easily monitored with PRTG. With PRTG and its included port sniffer, there is no need for additional port monitoring software.
This advanced monitoring utility can capture, view, log, and analyze network data. You can use the port sniffer for data acquisition, connection & interface testing diagnostic analysis, packet analyzer and more.
In addition, PRTG's port sniffer supports a wide selection of events, methods and properties.
If you're looking for a professional tool that will simplify the tasks of monitoring and managing your network's ports, PRTG Network Monitor is your solution.  Offering both a completely free, basic edition and expanded commercial editions, PRTG Network Monitor is the right choice for all your network monitoring & analysis needs.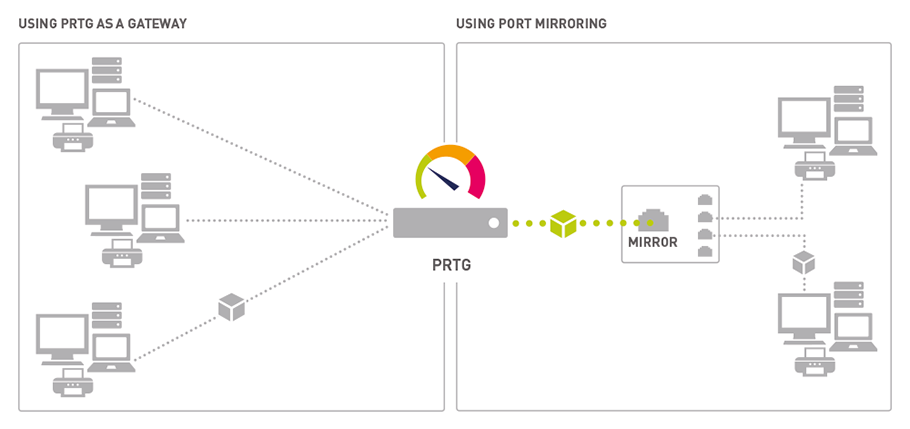 "I am an avid supporter of PRTG and I would like to congratulate you on this most excellent product which really works very well and is very easy to use. You have identified a gap in the market for easy "MRTG"-style traffic management, and I have to say without your product I would certainly be lost. I stumbled upon PRTG in Google whilst again looking for an easy to use "MRTG"-style traffic graphing and immediately bought it. I have also encouraged my partners to purchase the application. My business is an Internet Service Provider and we also have a Wireless Internet Service Provider Division. I use PRTG to monitor all my critical links." Eugene van der Merwe, www.snowball.co.za
"I really think that you guys have made a damn good program here, and I have never regretted buying it from you. For the past 3 years I have been using MRTG and ever since I started using it I have been searching for a program like this one. So 3 words for your team, DAMN GOOD JOB.", Jeppe Jessen, www.dns-service.dk
PRTG

Network Monitoring Software - Version 23.2.84.1566 (May 24th, 2023)

Hosting

Download for Windows and cloud-based version PRTG Hosted Monitor available

Languages

English, German, Spanish, French, Portuguese, Dutch, Russian, Japanese, and Simplified Chinese

Pricing

Up to 100 sensors for free (Price List)

Unified Monitoring

Network devices, bandwidth, servers, applications, virtual environments, remote systems, IoT, and more

Supported Vendors & Applications


More
Related Topics
Unlimited version of PRTG for 30 days
After 30 days, PRTG reverts to a free version
Or, you can upgrade to a paid license anytime