How to Choose the Right Network Monitoring Solution
A high performance network is a basic 'must have' for a functioning IT infrastructure in any company. To ensure smooth business procedures, all processes should run without complications, including the internal and external communication between various company locations, as well as with clients and partners. Malfunctions and failures in operational processes easily result in loss of time, as well as financial loss.
Of course, every company has different requirements for a network monitoring solution, and as the market offers numerous different tools and solutions, careful selection of a suitable solution is a must. How do you find out which one's the best for your network?
Types of Network Monitoring Solutions on the Market
Open Source Software: No license costs but high efforts for implementation, configuration and maintenance.
Introductory Monitoring Solutions: Limited functionality for basic monitoring.
Specialists: High performance monitoring systems directed toward specific areas within the network.
Enterprise Network Management Software: Monitoring as a part of a complex and expensive management solution.
All-in-one Monitoring Solutions: The trend goes to cost efficient and easy to use all-in-one monitoring solutions.
Selection Criteria for a Suitable Network Monitoring Solution
Several basic factors, besides the cost of the solution, should be considered in the decision making process. Consider the given infrastructure as well as the characteristics of potential solutions. You must be absolutely certain on two points: which requirements you have for the system, and for which area of application the solution is needed.
Simplification
The basic function of network monitoring software should be to provide the administrator with the time needed for other useful tasks instead of having to keep a permanent eye on the infrastructure and all connected systems. In other words: the solution works automatically after a simple installation, so that it creates space instead of creating more work for the IT personnel.
Know the Requirements
The selection of an appropriate network monitoring system generally complies with the size of the network and the scenarios to be controlled. These scenarios include, for example, servers, switches, workspace computers, as well as the connections between these and the connection to external locations and the Internet. Two important areas that should be monitored in every company are the website and email communication. With the former, it is important that general performance and individual components, like shops or forms, are monitored in addition to mere response times. Also, look for a solution that can grow according to the demand.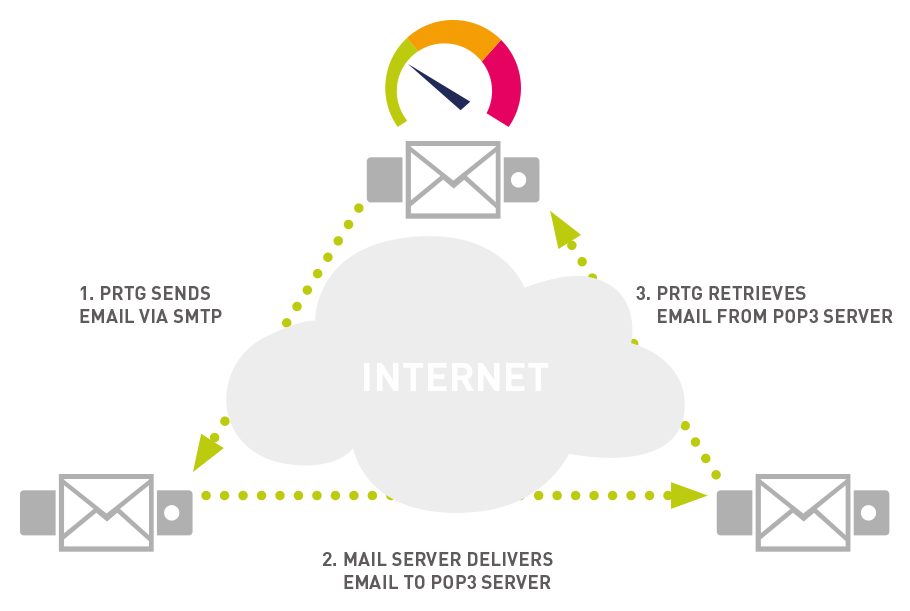 Technical "Must-Haves"
Monitoring of bandwidth, usage and availability belong to the core elements of a monitoring solution's technical requirements. It is important to watch for extensive support of the most common protocols and technologies, like WMI, NetFlow, sFlow, jFlow, Packet Sniffing and SNMP, for example, as most networks are extremely heterogeneous IT landscapes. Comprehensive monitoring is possible through coverage of the most popular protocols. It is also advantageous to have optional remote monitoring available for multiple locations or distributed networks. This is sometimes even a component of particular service packages or licenses.
Alarms are an important function for relieving IT personnel as they alert the responsible administrator of existing errors, reached or crossed thresholds or devices that have crashed. With most solutions, these alarms can be tailored to suit the company's needs, so that the administrator can be reached per email, text message or pager notification, Syslog or HTTP request.
The network monitoring solution should also offer the corresponding options for monitoring cloud computing systems. A selection of different sensor types that are designed specifically for application in virtual environments is beneficial here, for example, for VMWare, Microsoft hyper-V, Parallels Virtuozzo Container or Amazon Elastic Compute Cloud (EC2).
Advantages in Usability and Service
A network monitoring service should be user-friendly with clear, comprehensible menus and intuitive operation. The user interface must be constructed flexibly and designed for use as, for example, a Windows, Web or mobile interface. As a general rule, automatic network recognition after installation should be a standard feature of the solution.
Some solutions offer predesigned templates for an overview of the software and hardware components, which can be customized as needed. IT personnel can often choose between summary and detail views.
A plus factor is integrated upgrade options,in case the network expands in the future.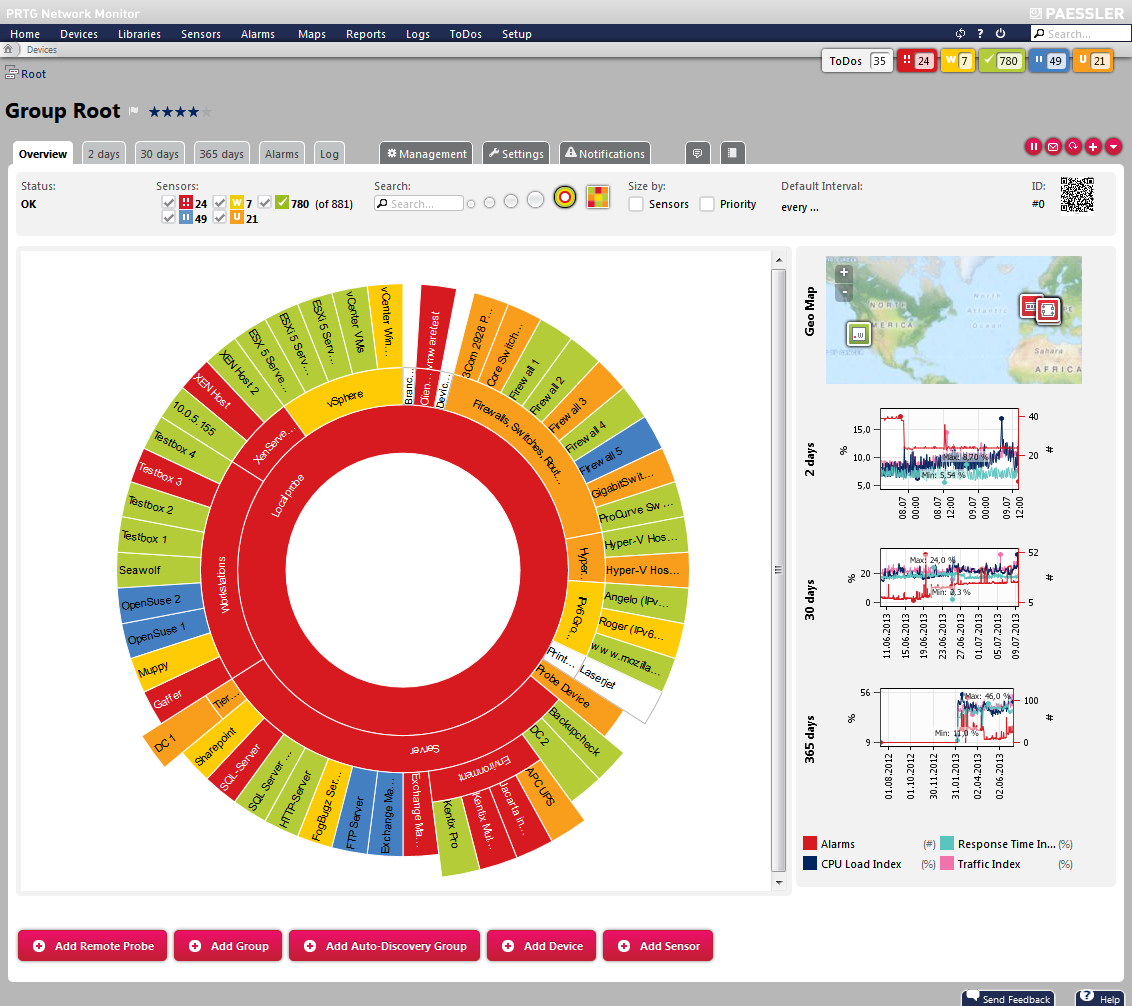 Summed Up
This is Why You Should Use a Monitoring Solution
You will have more time for essentials as you will no longer have to keep constant watch over all network components.
A monitoring solution contributes significantly to the security of your network.
Network monitoring solutions offer you more control over your field of responsibility through comprehensive monitoring of the entire network infrastructure and immediate alerts.
It gives you deeper insight into your networkand enables you to discover and realize optimization potential.
Professional network monitoring solutions with large functional ranges offered for reasonable prices put little stress on IT department budgets while offering high potential for saving time and resources.
Checklist for Selection of Network Monitoring Software
What should the monitoring system be able to accomplish? How large is the existing network? Are there already concrete plans for expansion that should be considered in planning? Do upgrade options make the solution future proof?
Should comprehensive monitoring be performed over the entire network, or should only specific areas be monitored?
Is a test version of the monitoring solution available that could be adopted directly into productive operation after a successful test period without reinstallation?
Which protocols and technologies support the solution regarding bandwidth and availability monitoring? Are these sufficient for the company's requirements? Is centralized monitoring of distributed locations possible?
Which data is collected by the solution? How are these evaluated? Are graphs, reports, etc. customizable? Is there a long-term data archive that would provide the foundation for a trend analysis?
How does the solution alert responsible persons in case of emergency? Is this configurable?
Is the solution's structure user-friendly? Can it be operated intuitively? Are individual settings possible (e.g.: customized user interfaces)? Is the interface designed so that it functions in the operating system, browser and on mobile devices?
Is the solution available in the required languages? Does the manufacturer provide sufficient support? Are other information sources (user manuals, blogs and/or forums) available?
How transparent is the manufacturer's pricing policy? Do the licensing models fit the company requirements?