Free Windows packet sniffer for enhanced bandwidth monitoring
Bandwidth monitoring can help to discover performance issues, bottlenecks and bandwidth hogs. A long-time bandwidth analysis supports administrators and IT-departments optimizing their networks according to actual demands.
There are three common methods for monitoring bandwidth: SNMP, xFlow (NetFlow, sFlow, jFlow) and packet sniffing. While SNMP and xFlow require that the network's hardware supports the used protocol, packet sniffing works independently of any hardware protocols. It analyzes all data sent in the network and thus gathers information on quantity and quality of the network traffic.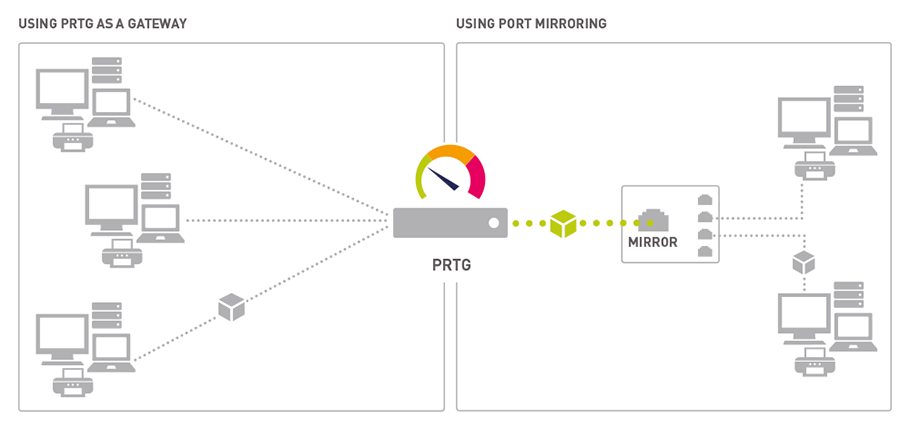 In order to calculate used bandwidth PRTG inspects all network data packets either passing the PC's network card or the data packets sent by a monitoring port of a switch with its built-in Windows packet sniffer. Of the three technologies (SNMP, xFlow, Packet Sniffing) packet sniffing creates the most CPU and network load. For larger networks PRTG offers remote probes which distribute the load and assure maximum performance.
Advantages of Packet Sniffing
Adding to normal bandwidth monitoring capabilities based on SNMP, the Windows packet sniffer functionality of PRTG Network Monitor allows administrators to discern actual bandwidth usage based on multiple parameters, such as source and destination IP addresses, MAC addresses, port numbers, protocols, etc. Furthermore PRTG can be used to generate top lists, which enable administrators to recognize detailed usage trends, sources and destinations of individual communications via the network, as well as the details of the traffic flowing within the network.
PRTG Network Monitor offers the full packet sniffer capability even in the freeware edition. So even private users or small companies can benefit from this easy to use Windows packet sniffer when monitoring their network's bandwidth usage.
For larger networks PRTG Network Monitor is offered in different editions. Each edition comes with the entire set of monitoring features. The licenses vary by the number of sensors, you can find an overview on all offered licenses at the Paessler webshop. For evaluation and intense testing, Paessler offers a 30-days trial edition with unlimited sensors.
Download the free network monitor
Read more about PRTG Network Monitor's packet sniffing capabilities.
Related Topics