IoT finds its way
into hospitals
Digitalization in hospitals means more than just extensive IT. IoT in Healthcare is one way to make hospitals more efficient, provide the physicians with the relevant patient data more quickly and thus accelerate medical processes.
Data equals knowledge, and nowhere is this more important than when it comes to health. Of course, it's also about as much uptime as possible. Because, in eHealth, many areas are mutually dependent. Here you can learn what eHealth can do, why it makes sense to monitor healthcare systems, and how PRTG can assist.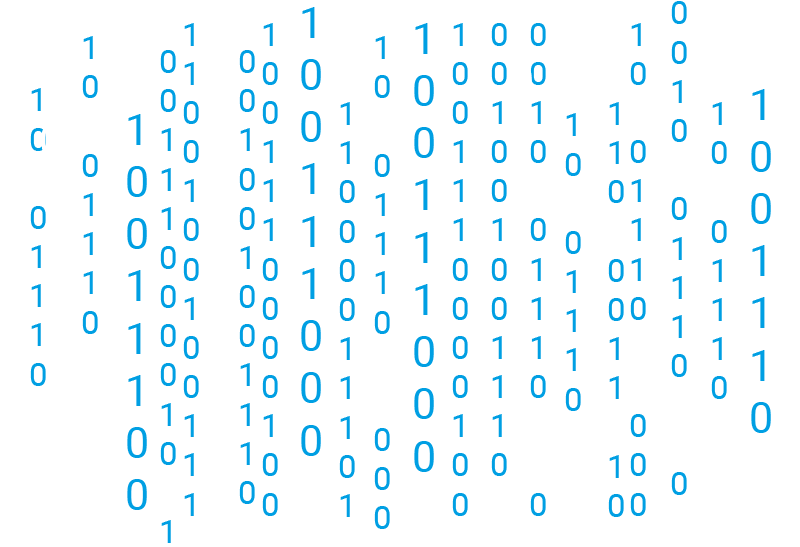 A vast amount of data
Digitalization in the healthcare sector is not only about helping patients with their illnesses or physicians with their tasks. It also accelerates workflows, brings more security to medical staff and hospitals, and provides more transparency for patients.
Big data analysis, which is capable of evaluating data from all conceivable devices and data sources, can improve communication between service providers and payers. And processes in diagnosis and treatment, which previously depended on classic IT and analog solutions, can now be significantly optimized.
Collect, understand and monitor data
The management of patients and the quality of care are areas where digitalization will have the most visible impact. Digitalization and IoT implementation might take a little longer in diagnostics due to the long-term nature of investments in expensive devices such as MRI and CT machines, but sooner or later the effects will be profound.
Digitalization will reach the many areas of medical technology, including the monitoring of medical device metrics. Digitalization will become noticeable even more quickly with small, mobile devices, for example devices for measuring the patient's medical data at the bedside or in the laboratory. mHealth (the individual as manager of their own health) is already both a trend and a recognized means of self-diagnosis, advanced by wearables and fitness trackers.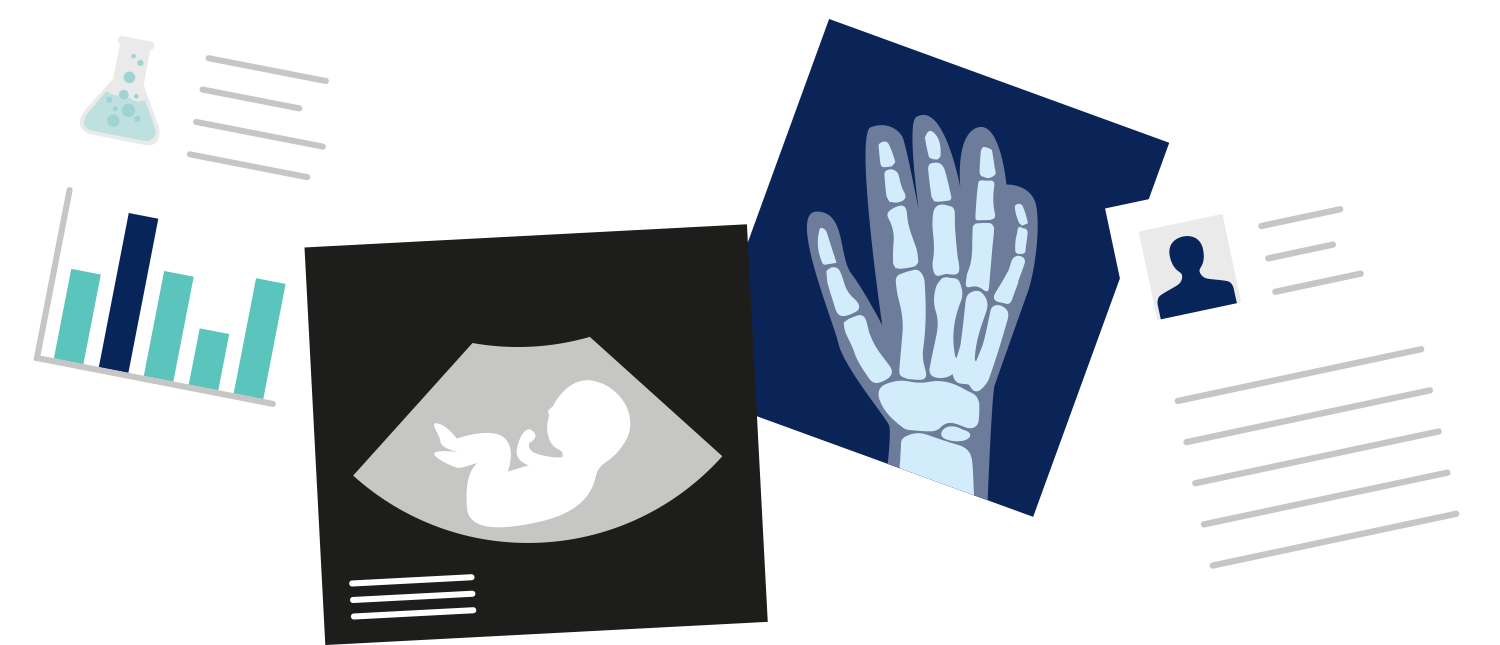 Learn about monitoring healthcare IT
MRI
MRI uses a powerful magnetic field, radio frequency pulses and a computer to produce detailed pictures of organs, bone, soft tissues and virtually all other internal body structures.
X-ray
X-ray captures clear, precise images, using radiation, a form of energy that emanates from the atmosphere and earth. As with many naturally occurring substances, it is considered harmless in moderation.
PACS
The picture archiving and communication system (PACS) is a medical imaging technology that provides economical storage and convenient access to images from multiple modalities (source machine types).
Modern hospitals are highly digitalized
15 years ago, patients were shown a hardcopy of their X-Ray images, while today, images are sent directly to monitors on the wall, or to the physician's tablet.
In most cases, doctors want fast access to patient data. This could be X-Ray, MRI or ultrasound images, laboratory or specialist results, the patient's history, or details of the patient's primary care physician. All this data is transported via the hospital's system infrastructure:
HIS (Hospital Information System) - master data
LIS (Laboratory Information System) - laboratory data
RIS (Radiology Information System - radiology data
From PACS Admin to IoT Admin
PACS is a good example of why modern hospital processes can no longer exist without efficient IT. The healthcare professional who orchestrates a complex set of functions to achieve successful imaging informatics is called a "PACS" (picture archiving and communications system) administrator.
These individuals already operate in two worlds: clinical healthcare and information technology. But now, IoT is increasingly moving into the medical field and connecting devices, processes and personnel in a new, more efficient way.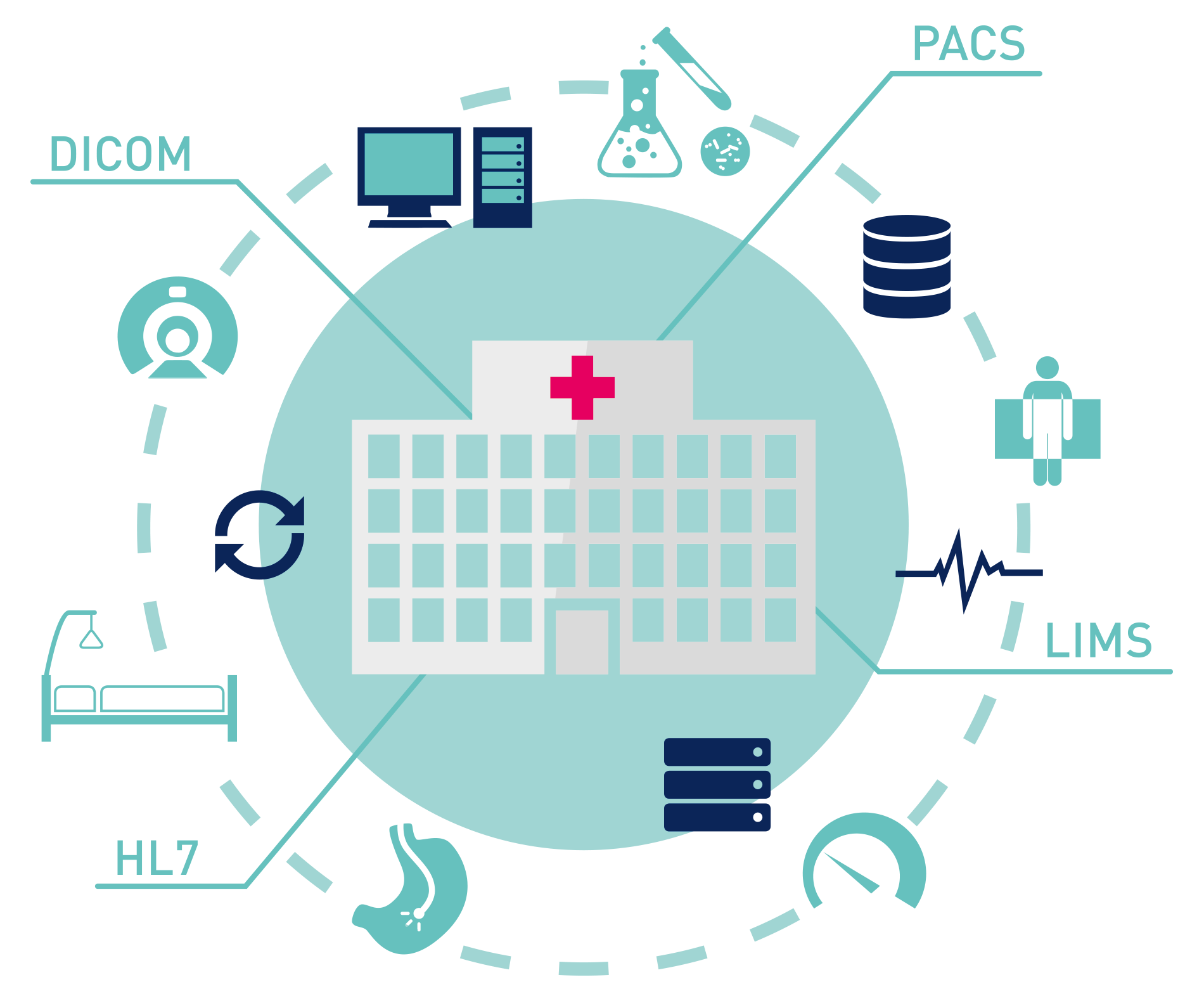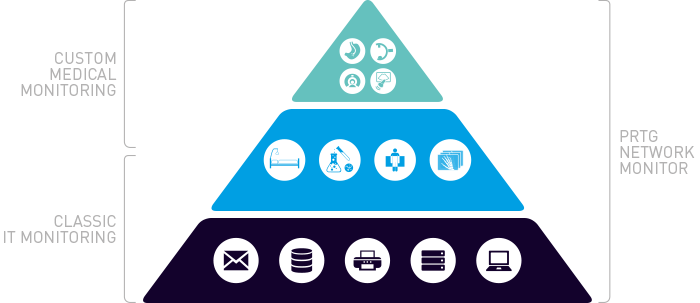 The modern healthcare monitoring pyramid
Where the requirements for smooth IT are so high and more and more networked devices and processes are added by IoT, the importance of monitoring becomes increasingly crucial. Only when classic IT can guarantee performance and security does it fulfil its purpose, so medical devices and systems require comprehensive IT monitoring.
Availability of devices, data transfer and application performance must be kept under continuous observation. IT monitoring, or network monitoring, is not new. There are numerous solutions available. However, many solutions do not have the possibility to integrate medical devices into the monitoring or to be a suitable monitoring tool for the Internet of Things.
PRTG is the best monitoring solution for use in hospitals
PRTG monitors DICOM and HL7 interfaces, straightforward and out of the box
Integration engines are smoothly integrated
PRTG let's you check your RIS, HIS, LIS, PACS and your complete hospital IT at a glance
Use our REST Custom sensor to integrate environmental monitoring with other devices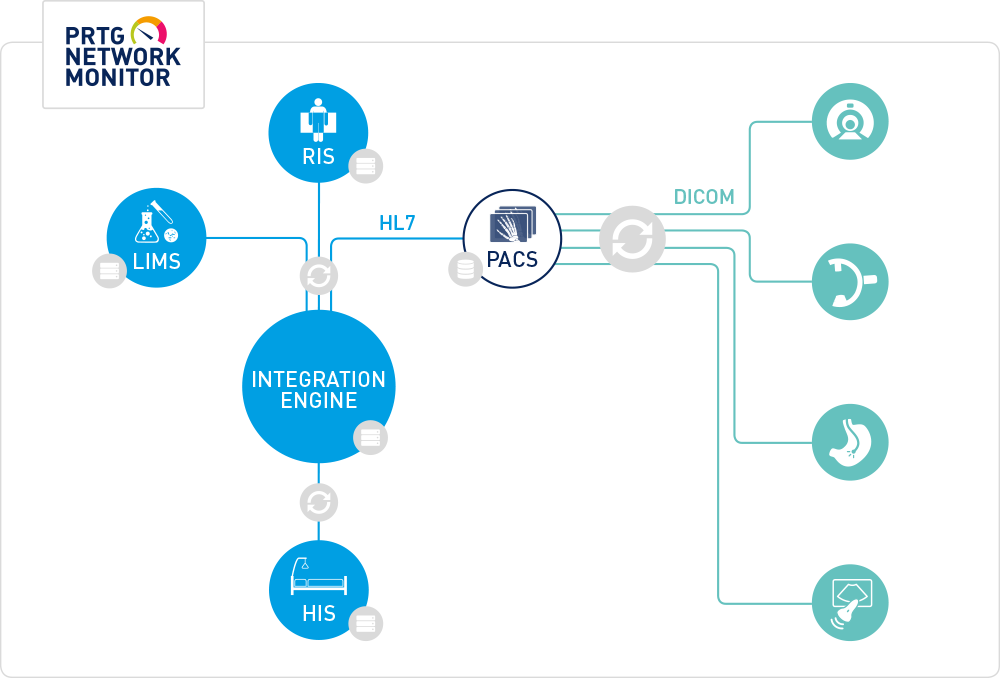 "Hospital reduces risk of delay to patient care with Paessler's PRTG"
Musgrove Park Hospital
Medical equipment and IT together in PRTG
PRTG Network Monitor has its roots in classic IT, and sets the standard in network monitoring.
Within PRTG, the REST Custom Sensor and data protocols, DICOM and HL7, were extended to make centralized monitoring for the health sector even easier.
With the PRTG REST Custom sensors, it is possible to monitor communication servers (like Orchestra made by Soffico) via RESTful API. Using DICOM, image data from X-Ray devices, MRTs, Ultrasound and video endoscopies can be pulled into the monitoring overview. HL7 is the most common protocol used to transfer patient data, and with PRTG's native HL7 feature, systems like HIS, RIS and LIS can also be pulled into the central monitoring view.
Do you work in the healthcare sector and PRTG can help you make the difference?
We would love to hear from you.