Bandwidth Controller
PRTG Network Monitor Controls Bandwidth Usage
and Network Traffic

How Does the Bandwidth Controller Work?
Network administrators need to ensure that all users of a network have enough bandwidth at their disposal at all times.
Paessler's comprehensive network monitoring solution PRTG Network Monitor, which includes a powerful bandwidth controller, makes this task much easier.
The network management tool shows present and past bandwidth usage in easy to read graphs and tables, enabling you to make informed decisions rather than to have to rely on estimations and your gut feeling.
The bandwidth controller uses WMI and SNMP to gather bandwidth usage data, including port-by-port usage data for switches and routers. Packet sniffing and NetFlow are used to acquire more detailed bandwidth data, such as bandwidth consumption broken down by protocol or IP address.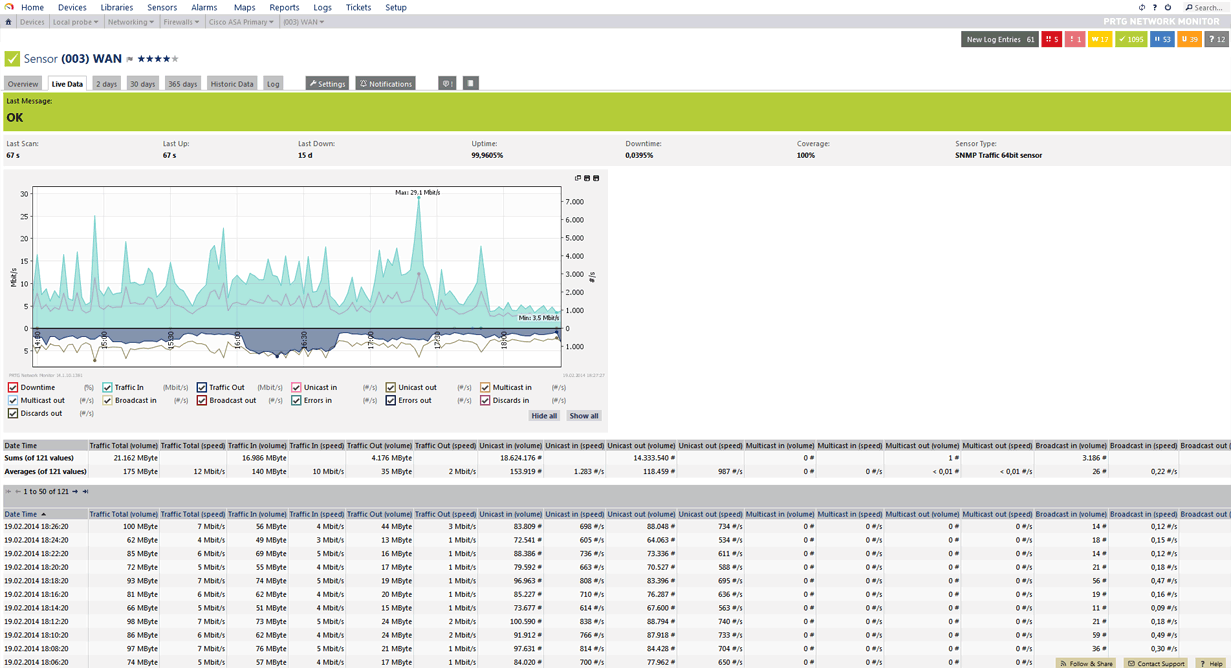 PRTG is More Than a Bandwidth Controller
Apart from controlling bandwidth, PRTG is also a powerful SNMP monitor, which logs events, monitors the availability of network devices, and controls parameters such as free disk space, CPU temperature, CPU load, etc. The network monitor runs on all Windows versions from 7 onwards, which converts the bandwidth controller into an indispensable tool for Windows 7, 8 and 10 network troubleshooting, as well as for the Windows networking management system.
Thanks to its innovative licensing model using remote probes, one installation of the server performance monitor can be used to monitor multiple locations. As it records network and website response times, the IP traffic monitor can also be used for performance testing.
What Does PRTG Network Monitor Cost?
PRTG is available in two versions. The free network monitoring tools includes 100 sensors, and can be used completely free of charge for personal and professional purposes. This version does not support NetFlow, but includes the free packet sniffer functionality.
Need more sensors to monitor a larger IT infrastructure? See our commercial licenses here.
PRTG

Network Monitoring Software - Version 20.1.57.1786 (April 1st, 2020)

Hosting

Download for Windows and hosted version available

Languages

English, German, Spanish, French, Portuguese, Dutch, Russian, Japanese, and Simplified Chinese

Pricing

Up to 100 sensors for free (Price List)

Unified Monitoring

Network devices, bandwidth, servers, applications, virtual environments, remote systems, IoT, and more

Supported Vendors & Applications


More
Related Topics