Event Monitoring
Event Log Monitoring Using PRTG Network Monitor
Event monitoring is an essential part of network monitoring. It refers to the collection and analysis of event log data and other system parameters, and the sending of error messages when an event requires the attention of a network administrator. PRTG Network Monitor is a powerful event monitoring tool: it collects network status information using protocols such as syslog, SNMP, or WMI. In addition, it can monitor file changes and event logs, thus giving you a complete overview of your devices, network connections, and applications.
Benefits of Using the PRTG Event Log Monitor
Save Time: Once you set up eventlog monitoring, you no longer have to go manually through your log files as PRTG will automatically alert you to important log files.
Improve Network Performance: by monitoring log files you will find network and application issues before serious problems such as downtimes or data loss occur
Centralized Network Monitoring: all your network information at your fingertips. Manage your whole network in one central place.
Historic Data: PRTG collects and stores historic data for your devices, thus enabling you to see the performance and resource consumption of your network over time and giving you hard facts on which to base your decisions
Highly Scalable: whether you need to implement event monitoring for a small home network or a large enterprise, PRTG is the right solution for you. Upgrades to bigger licenses are hassle-free and possible at any time.
PRTG - More Than Event Monitoring
In addition to event log and event viewer monitoring, PRTG is also a great bandwidth control, threshold monitoring, and network fault management tool. Moreover, the software can be used for computer and server performance monitoring, as it monitors CPU temperature, Windows memory usage, etc. Thanks to its flexible maps function, it can also be used as a network mapping software: it allows you to visualize your network and publish the map in your intranet or on a website.
PRTG Network Monitor
PRTG is available in two editions. For basic, free event monitoring, you can download and use the freeware (100 sensors) completely free of charge for personal and professional purposes. Need more sensors to monitor a larger IT infrastructure? See our commercial licenses here.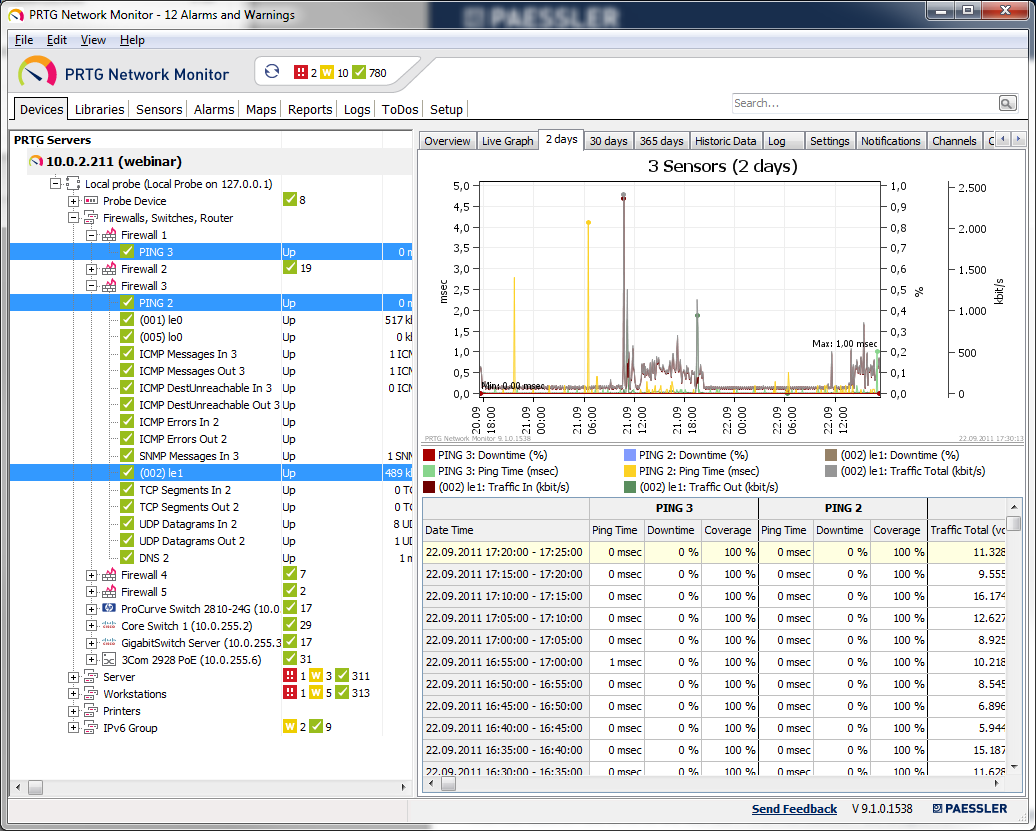 PRTG

Network Monitoring Software - Version 22.2.76.1705 (April 26th, 2022)

Hosting

Download for Windows and cloud-based version PRTG Hosted Monitor available

Languages

English, German, Spanish, French, Portuguese, Dutch, Russian, Japanese, and Simplified Chinese

Pricing

Up to 100 sensors for free (Price List)

Unified Monitoring

Network devices, bandwidth, servers, applications, virtual environments, remote systems, IoT, and more

Supported Vendors & Applications


More
Unlimited version of PRTG for 30 days
After 30 days, PRTG reverts to a free version
Or, you can upgrade to a paid license anytime