Paessler AG Releases PRTG Version 7.2 with Extended Monitoring Functions
PRTG Version 7.2 Released
Nuremberg, Germany and Los Angeles, CA (October 8, 2009) - Paessler AG, a leading provider of network monitoring software for use on Windows systems, today announced the release of its PRTG Network Monitor v. 7.2 that features numerous feature extensions to optimise user friendliness and intuitive operation, including a new Windows Graphic User Interface (WIN-GUI), extended reporting functions and the Amazon CloudWatch Sensor.
The new WIN-GUI enables administrators to manage sensors more rapidly and conveniently, which is particularly beneficial for those managing larger installations of 500 or more sensors. As an added convenience, the user interface can be installed on additional computers with remote access to the PRTG core application on same license at no added cost.
Compact network overview
The 'S-View' display mode in the WIN-GUI complements the already familiar M, L and XL views by providing the option to display an extremely compact overview of all groups and devices. A Color-coded identification system makes monitoring sensor status simpler and easier to recognize at-a-glance (e.g. red for 'Sensor fault,' yellow for 'Warning' etc.).
CloudWatch Sensor
In cases where Amazon EC2 is used for 'cloud hosting' for one or more servers, the PRTG CloudWatch Sensor facilitates transparent monitoring of performance data, as well as status by linking directly to the Amazon CloudWatch service.
Reporting functions extended
The new PRTG v. 7.2 includes several new report templates to improve reporting efficiency and ease. Each template generates a top 100 list of specific sensor values, along with other enhanced display options. Other new functions and sensors include:
- Microsoft HyperV Sensor
- RADIUS Server Sensor
- Support for NetFlow 9 and sFlow
For more information on PRTG Network Monitor v. 7.2 is available at https://www.paessler.com.
The following image can be downloaded via the following link: https://www.paessler.com/blog/uploadedimages/wingui1.png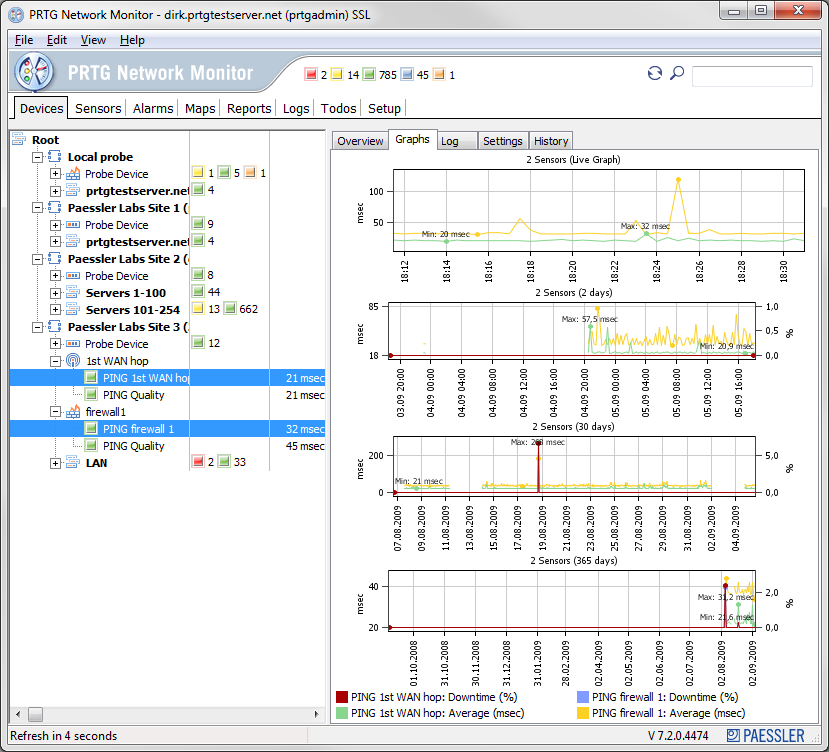 Press Contact
Paessler is working together with several PR agencies around the world. Please send your press inquiries to: