Paessler's PRTG is Now Even Stronger in Monitoring of Virtual Environments
Network Monitoring Software Lets Users Successfully Implement Virtualization Projects
Los Angeles, CA and Nuremberg, Germany (June 1st, 2011) - IT administrators are switching over to virtualized environments to maximize network resources, and proper planning is crucial to ensure success. The latest version of Paessler's PRTG Network Monitor is now even stronger at monitoring virtual environments and lets network administrators plan out resources early so they can successfully implement virtualization projects. The recently launched PRTG 8.4 includes 10 different sensor types specifically designed to monitor virtual systems and can provide information about the expected performance requirements for future virtual systems.
Server virtualization helps businesses use network resources more efficiently and economically. In non-virtualized environments, administrators must ensure that each and every application has enough available disk space, memory and CPU capacity, but in virtual environments, these resources can be dynamically assigned to different applications. This means all servers and storage units in a virtual environment can almost be treated like one powerful computer. PRTG Network Monitor delivers essential information for the planning and monitoring of virtualized environments, which the administrator can use to ensure reliable operation and optimum allocation of resources.
PRTG 8.4 contains about 200 different types of sensors that monitor various aspects of the IT infrastructure as well as virtual systems. Thus, virtualized environments are continuously monitored as part of the overall monitoring of the whole IT infrastructure, including server hardware and attached storage systems. All data is shown together in a central monitoring graphical user interface, giving the administrator a clear view of all network activities.
At the same time, PRTG offers valuable long-term reports which can be used to forecast expected performance peaks of future applications. Using this information, administrators can plan ahead and allocate appropriate resources early on in the process in order to prevent bottlenecks. Detailed graphs and reports help administrators spot weaknesses so they can improve network performance before there's a problem.
In the event of threshold breaches due to server failure or network faults, PRTG immediately alerts the responsible IT administrator so they can react and solve problems right away. This helps prevent significant performance impairments to the IT infrastructure and even operation failures.
As a VMware partner, Paessler AG supports the monitoring of VMware host servers and virtual machines. For this, PRTG offers dedicated device templates for VMware monitoring. PRTG can also monitor almost all other virtual environments including Microsoft Hyper-V, Parallels Virtuozzo Containers and Amazon Elastic Compute Cloud (EC2).
PRTG's sensors for virtual environments include:
VMware Host Server (SOAP) Sensor
VMware Virtual Machine (SOAP) Sensor
VMware Host Hardware (WBEM)
SSH VMware ESX(i) Disk Sensor
Amazon CloudWatch Sensor
Hyper-V Virtual Machine Sensor
Hyper-V Virtual Storage Device Sensor
Hyper-V Host Server Sensor
Virtuozzo Container Disk Sensor (Beta)
Virtuozzo Container Network Sensor (Beta)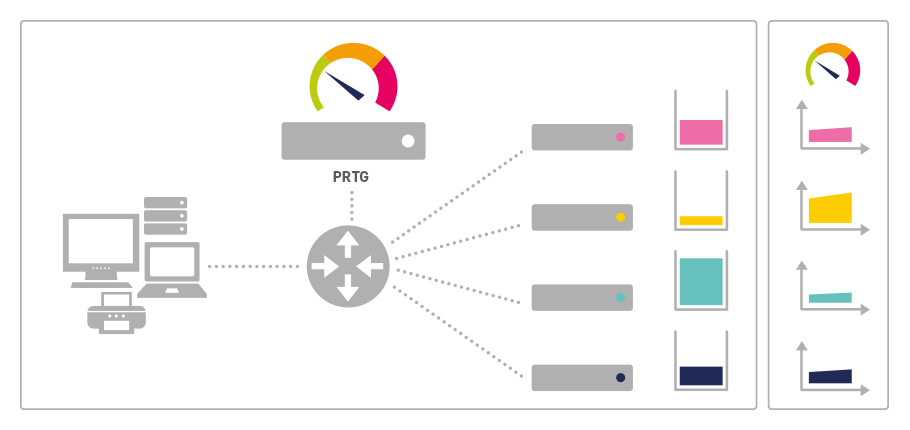 Monitoring of non-virtual environments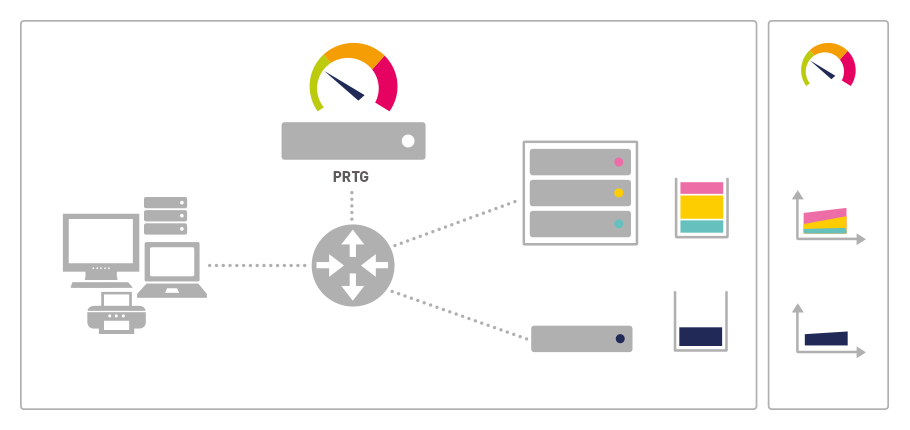 Monitoring of virtual environments
Press Contact
Paessler is working together with several PR agencies around the world. Please send your press inquiries to: