iPRTG v2.0 Enables Mobile Network Monitoring on the iPhone for Paessler's PRTG
Instant On-the-Go Access to Complete PRTG Network Monitoring System Puts Network Status and Maintenance in the Palm of Your Hand
Los Angeles, CA and Nuremberg, Germany (June 24, 2010)-Paessler AG (www.paessler.com), a leading provider of network monitoring and performance optimization solutions, today announced the launch of its new iPRTG v2.0 iPhone application with enhanced mobile monitoring support and advanced functionality that allows network administrators to maintain optimum network status and manage network events while on the go.
Paessler has partnered with beyond content GmbH, a specialist in iPhone and web applications, for iPRTG development and distribution through the Apple iTunes store.  Available for immediate download for just $11.99, the new iPRTG v2.0 is provided as a free upgrade to current iPRTG v1 users.
"We received a great deal of feedback on our first iPRTG app, and we've bundled that into a completely redesigned app with enhanced features and greater functionality to help network admins stay on top of network events wherever they are," said Dirk Paessler, CEO of Paessler AG. "The new iPRTG provides complete access to network health data including network-wide sensor configuration overviews and performance data. Users can even manage and manipulate various network sensors and alarms easily, right from their phone."
iPRTG connects to existing PRTG servers via HTTPS or HTTP over VPN, 3G, EDGE, GPRS or WiFi/WLAN to provide at-a-glance access to detailed network status information such as:
Current sensor status overview, with the ability to create a "favorites" sensors list for easy access to the most critical components. For detail on any sensor, users simply tap the item to drill down for in-depth information.
Intuitive "Sensor Tree" that displays active sensors by groups or devices for easy navigation.
Network-wide sensor overview to display fastest/slowest ping, highest/lowest bandwidth usage, and other customizable metrics across the network configuration.
Alarm status that indicates sensors currently in an alarm state.
View maps to reveal network schematics with a single tap.
Using iPRTG, network administrators can receive instant alarm notifications for out-of-compliance events, pause monitoring for a single sensor or device indefinitely or for a specified period of time and even resume monitoring-all from the iPhone. For a quick checkup, iPRTG users can access any sensor on the network for an on-demand status update.
"iPRTG gives network administrators the freedom to step away from the office-for business travel, after hours or over the weekend-without the constant worry of network failures or other events calling them back to the office," Paessler said. "With instant access in the palm of your hand, it's incredibly easy to ensure optimum network performance and troubleshoot issues while on the road, at home or virtually anywhere."
iPRTG provides detailed sensor information with access to the latest monitoring results, recent up/down network events, total uptime/downtime stats and historical performance graphs for the past 24 and 48 hours, 30-day and 365-day periods. Sensor status data is updated every 30 seconds to ensure availability of the most timely and accurate information at all times.
The mobile app supports multiple accounts on multiple PRTG servers and even allows the user to quickly switch between different PRTG accounts and servers, making it ideal for ISPs, MSPs, larger PRTG deployments and enterprise systems.
iPRTG is compatible with iPhone, iPod Touch and iPad running OS v3.x or later and requires PRTG Network Monitor v7.3.5 or later, as well as accessibility to the PRTG web interface over VPN, 3G, EDGE, GPRS or WiFi/WLAN.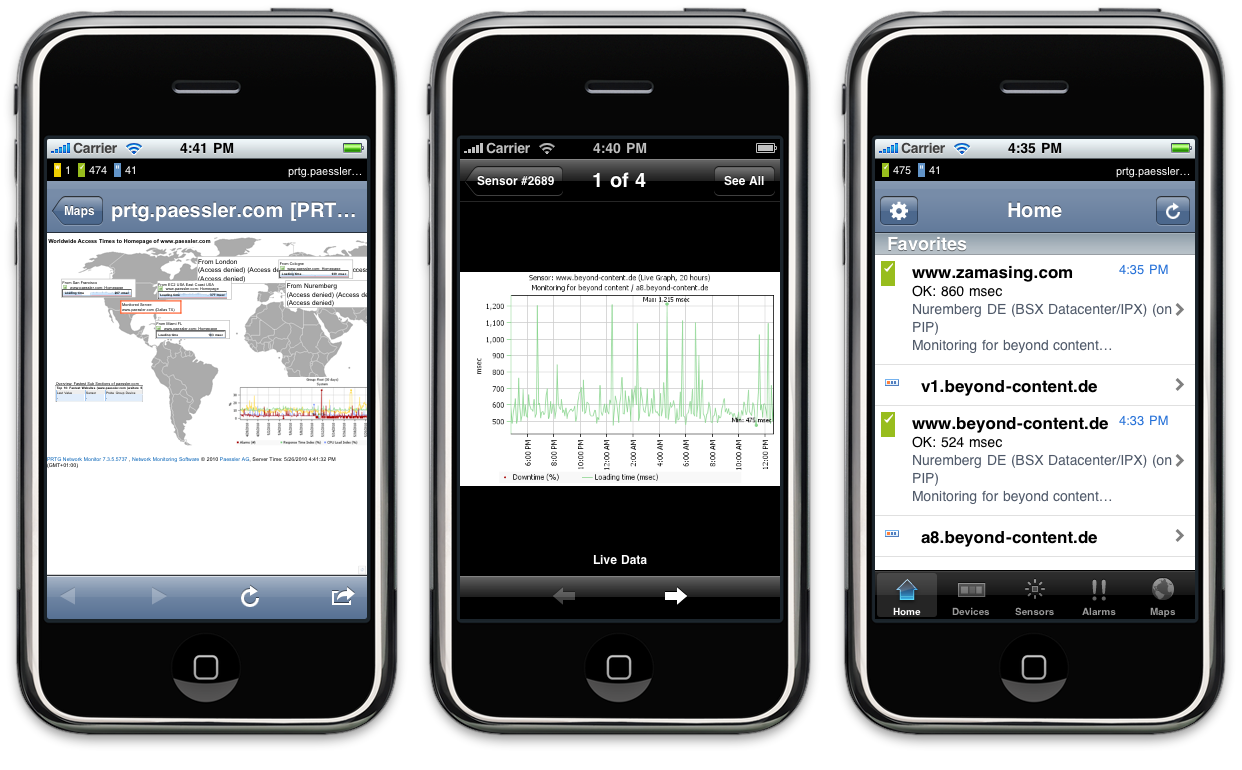 Press Contact
Paessler is working together with several PR agencies around the world. Please send your press inquiries to: