PRTG Network Monitor Goes Beyond Uptime Measurement to Gauge Application Server and Services Performance
Pre-Configured Sensors Monitor Mail Server, SharePoint, IIS Operation; Generate Performance Statistics to Ensure Continuous Application Performance
BURLINGTON, MA and NUREMBERG, GERMANY - (November 27, 2012) - Paessler AG, the innovative network monitoring solutions specialist, is announcing new capabilities and versatility in application monitoring of its flagship PRTG Network Monitor solution.
In addition to delivering continuous statistics and alerts for all devices and direct network infrastructure, PRTG Network Monitor's pre-configured sensors for applications and services incorporate performance measures for these services into central monitoring operations. When applications or services are unreachable or thresholds are breached, IT is immediately alerted, not only as it relates to these services as a whole, but also individual aspects.
"While monitoring basic parameters across a network is vital, monitoring in greater detail is better," said Dirk Paessler, Paessler CEO. "As a versatile solution, PRTG Network Monitor adapts to users' needs, delivering detailed monitoring and immediate alerting to performance issues not only for all kind of devices in a network but also collocated information about application or service running in this network."
PRTG Network Monitor can track POP3, SMTP and IMAP server types with special sensors, ensuring their availability. Additionally, specific sensors can monitor a Windows Exchange server's variety of mail queues, delivery times and latency, among other variables. One dedicated sensor even shows the length of transport queues on 30 different queues on the Exchange server.
Paessler's solution's IMAP sensor, with its recently added filter options, enables administrators to monitor backups without the need to check individual emails each morning. Administrators need only configure backup software to send email to a dedicated mail account, which an IMAP sensor will regularly check by keywords or other parameters.
The solution also offers SharePoint and IIS monitoring, monitoring of Windows services as well as of all common data bases, including ADO interface support. Web applications can be monitored via several http sensors, preventing lost revenues caused by slow or inoperable websites.
Paessler offers about 200 pre-configured types of PRTG sensors for centralized, multi-system monitoring in heterogeneous IT infrastructures. Customers can choose the most relevant  sensors for their network environments, either through automatic network discovery or manually with the company's 3-Click Wizard.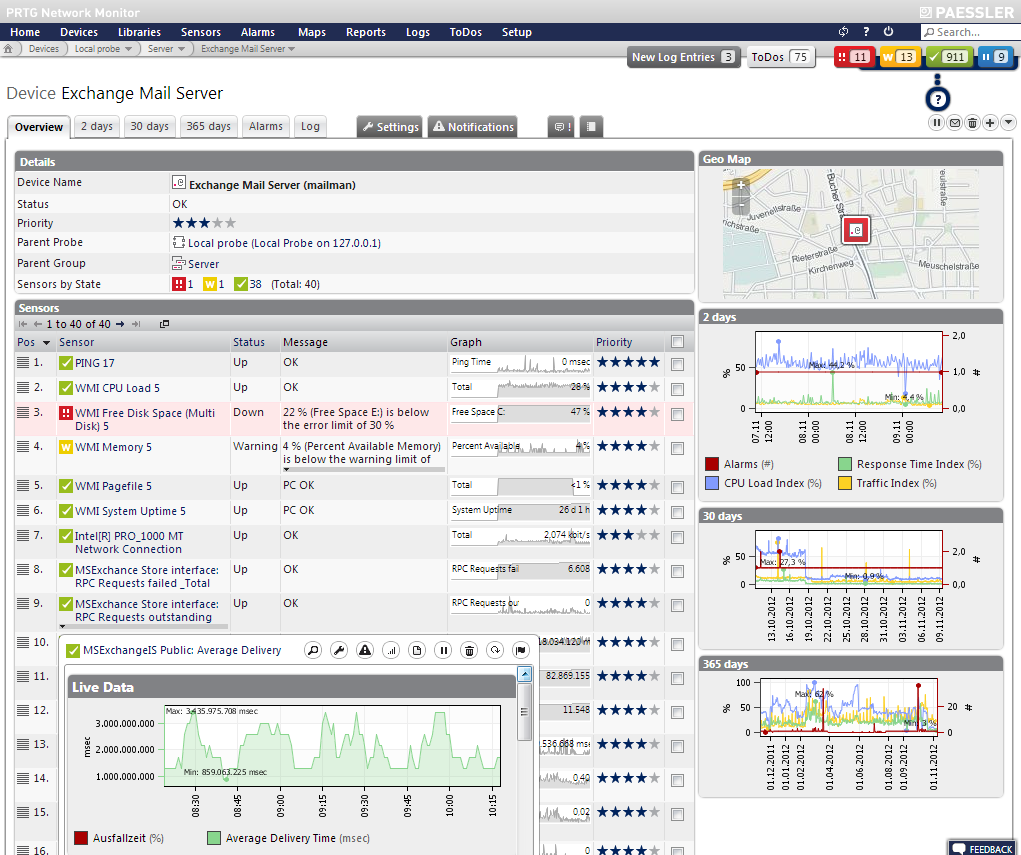 Monitoring an Exchange Server, Including the Different Mail Queues
Finally, "PRTG Maps" combine live monitoring status, graphs and tables of all sensors monitoring one application. This function leverages users' personalized layouts, as well as background graphics, custom icons, lines, custom HTML objects and photos
"System downtime and slow network performance of course impede productivity and negatively impact revenues," Paessler concluded. "When an application or any network service is compromised in any way, IT will know within seconds, preventing costly outages before they can inflict infrastructure and business damage."
For more information, visit our blog.
Press Contact
Paessler is working together with several PR agencies around the world. Please send your press inquiries to: