Monitor Server CPU
Reduce the risk of network failures and increase productivity.
PRTG is Paessler's powerful network monitor. The network scanning tools track bandwidth usage, monitor server CPU, and give you a complete overview of your network.
CPU monitoring helps you to keep control of the loads that your servers and workstations are subject to, helping you to distribute loads more evenly, and increase network speed and performance.
Why monitoring CPU with PRTG?

Allows you to set thresholds
Offers a host of different notification possibilities
Helps notifying sudden spike in CPU load
Enables you to identify long term usage trends
Helps you detect unwanted activity
How Does PRTG Monitor CPU Utilization?
PRTG is the perfect CPU and RAM monitor for all Windows servers. Using WMI and SNMP, the network monitor shows you server CPU utilization and memory load. If supported by the hardware, it can also monitor server CPU temperature. If CPU utilization exceeds a defined threshold, PRTG's alerting system immediately informs you via text message, email, etc., and allows you to react quickly if a server's CPU load gets too high.
Monitoring CPU utilization is important for all kinds of servers: high CPU loads can considerably slow down response times. For web server monitoring and sql server monitoring, staying on top of CPU utilization helps to make your website faster and therefore more attractive for visitors. For file and application servers, it is important to monitor server CPU in order to ensure your company's productivity. As putting too much load on your servers does not only slow down your system, but also increases the risk of server failures, it is paramount to monitor CPU utilization in order to avoid server downtime.
PRTG Network Monitor
Of course, PRTG is more than just a CPU monitoring tool. The network monitoring tool tracks bandwidth using SNMP, NetFlow and the built-in network packet sniffer, checks the availability of network devices, and uses syslog for Windows and network event tracking. Licenses are available from $ 1,750 / € 1.300. All licenses include various remote probes for distributed monitoring, allowing you to monitor various networks using just one license.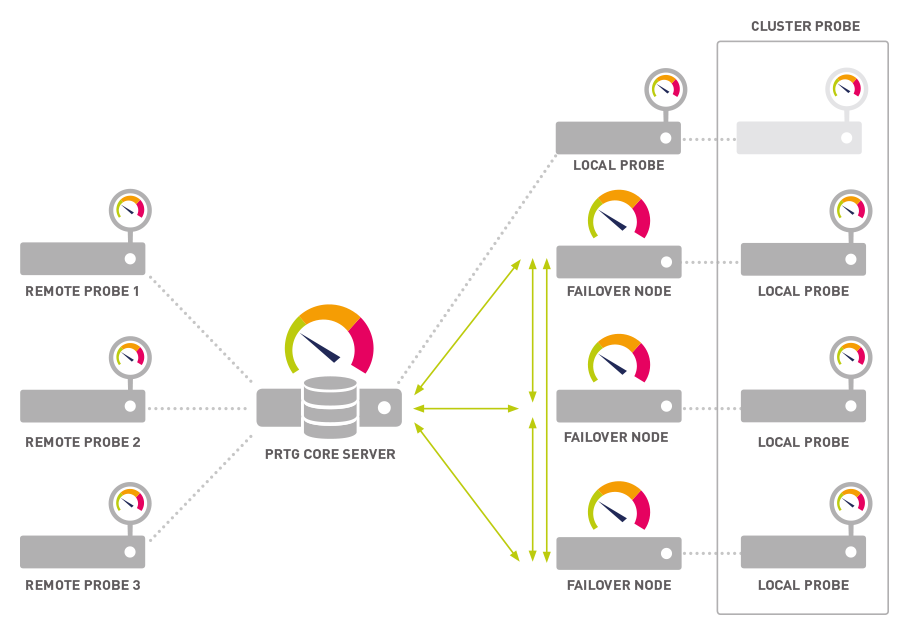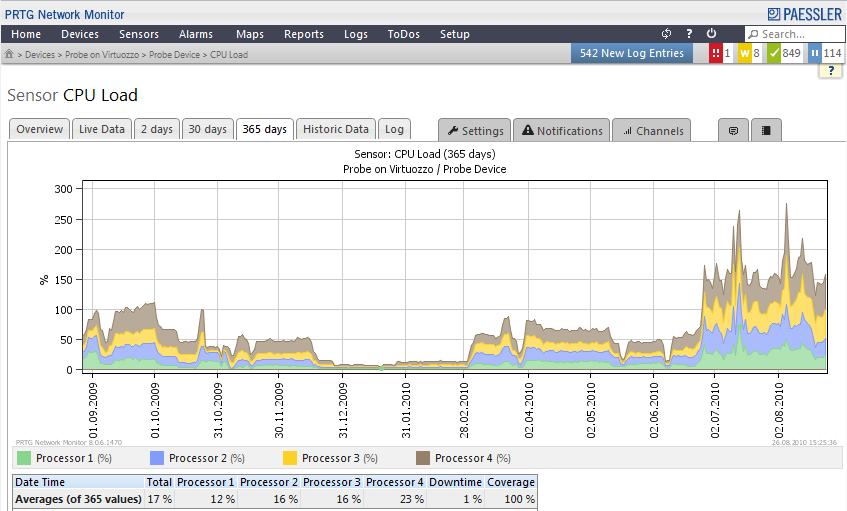 PRTG

Network Monitoring Software - Version 20.2.58.1629 (April 21st, 2020)

Hosting

Download for Windows and hosted version available

Languages

English, German, Spanish, French, Portuguese, Dutch, Russian, Japanese, and Simplified Chinese

Pricing

Up to 100 sensors for free (Price List)

Unified Monitoring

Network devices, bandwidth, servers, applications, virtual environments, remote systems, IoT, and more

Supported Vendors & Applications


More