Watch the watchers:
Integrating SCADA systems
with PRTG
SCADA systems play a central role in OT. But who is ensuring they are up and running?
PRTG helps you watch over the watchers.
Free Download
Watch a demo
Unlimited use of PRTG for 30 days. After 30 days PRTG reverts to the freeware edition.
You can upgrade to a paid license at any time.
Monitoring SCADA systems
Because SCADA systems are so crucial to industrial environments, if they go down, the results can be costly.


What is SCADA?
Supervisory Control and Data Acquisition systems are made up of software and hardware components that are used to supervise and control industrial processes. SCADA systems monitor data in real-time and give users a human-machine interface (HMI) for providing process commands to components such as control valves, actuators, motors, and more. They are crucial for industrial organizations since they help to maintain efficiency, process data for smarter decisions, and communicate system issues to help mitigate downtime.
How SCADA systems work
SCADA systems are connected to Programmable Logic Controllers (PLCs) and Remote Terminal Units (RTUs), which in turn gather data from sensors and devices in a plant. This gathered data can be used for automated responses (such as reducing pressure in a system when it gets too high), insights into the production process, and for triggering alarms when there is a failure.
Where SCADA systems are implemented
SCADA systems are used by a wide variety of companies and organizations. They can be implemented to monitor and control power grids, water treatment plants, processes on a production floor, and more. Metrics that are monitored include everything from pressure, power utilization and production time through to facility processes heating, ventilation and HVAC systems of buildings.
Free Download
Watch a demo
Unlimited use of PRTG for 30 days. After 30 days PRTG reverts to the freeware edition.
You can upgrade to a paid license at any time.
PRTG together with SCADA systems
While SCADA systems provide data about OT and production systems, this is only part of the picture. What about the hardware that supports the SCADA system? Or the status of Industrial PCs that are used in the industrial environment?
Paessler PRTG is monitoring software that provides a holistic view of your IT and OT in one place. It can be used alongside control and execution systems to provide even more value for operators, engineers and technicians. Here's how.
Providing the full picture
In addition to OT metrics collected by SCADA systems, there are many other data points that are important for understanding an industrial environment. PRTG provides a monitoring solution that collects data from many areas of your infrastructure, for example: the health of switches (including metrics like port status and packet loss), the status of your UPS, the memory, CPU and RAM usage of industrial PCs, the health of industrial gateways, the status of common IT devices like printers, servers, and much more.
Condition monitoring of SCADA
It's also vital that you keep an eye on the hardware that your SCADA system runs on to make sure it runs smoothly and efficiently. PRTG lets you monitor the CPU load, memory, storage space, performance, related databases and other metrics from the environment that your SCADA runs in. Using SNMP, PRTG can also ensure that the systems themselves are up and running and provide alerts in the case of issues.
Additional alarms
While a SCADA system already provides you with alarms when things go wrong, PRTG can add even more alarms to ensure that nothing gets missed, such as warnings about the servers that the SCADA system runs on. Using the alert functionality of PRTG, you can set thresholds so you're alerted when conditions deviate from what is considered "normal". PRTG can also notify the right teams with targeted escalation using various mechanisms, like push messages, emails, and more.
Get your free white papers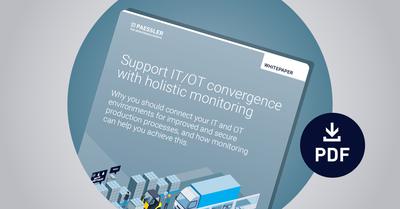 In modern industrial IT, the right teams need the right data. Our guide shows how to implement holistic monitoring that brings elements from IT, OT and IIoT into your dashboards.
Download white paper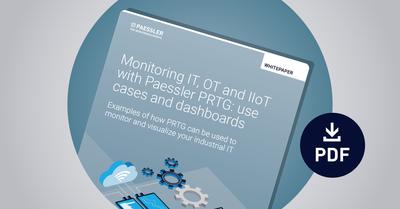 Our second guide gives you inspiration and ideas for dashboards that feature IT, OT and IIoT data – all in one place. We show you what truly convergent industrial dashboards look like!
Download white paper
Holistic industrial monitoring with PRTG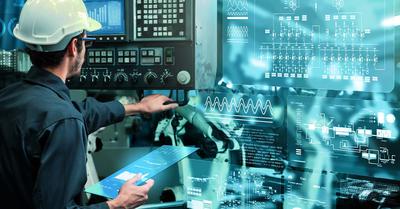 PRTG works well together with SCADA systems, but that's not all it does; it's the ideal monitoring tool for all areas of your industrial infrastructure. OT devices and systems, industrial Ethernet devices, industrial gateways, IIoT sensors and devices, traditional IT hardware: PRTG understands it all.
And, with its ability to connect using common industry protocols and standards like OPC UA, Modbus TCP, Modbus RTU, and MQTT, you can gather data from all corners of your industrial infrastructure and display it all together in one place in custom dashboards.
To discover more about how PRTG monitors OT, IT and IIoT, take a look at our Industrial IT monitoring page.
Free Download
Watch a demo
Unlimited use of PRTG for 30 days. After 30 days PRTG reverts to the freeware edition.
You can upgrade to a paid license at any time.
Sensors monitoring your industrial environment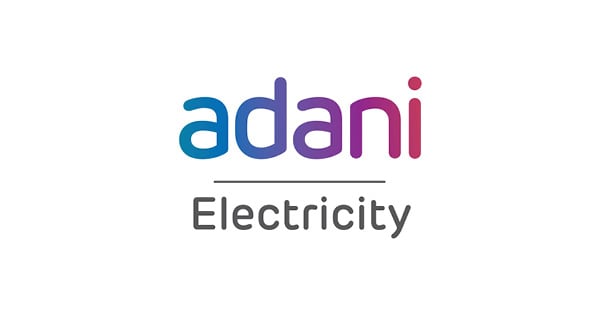 A use case: PRTG and SCADA ensuring uninterrupted power supply in Mumbai
A great example of how PRTG can ensure the condition of a SCADA system can be found at Adani Electricity in India. There, PRTG plays a central role in monitoring the SCADA system, which runs on an Optical Fiber Cable network across 900 kilometers of cables. Here's the full story:


"Easy to implement and configure with good technical support."
R. v. S., ICT Manager at Heinen & Hopman Eng BV
Get more deep-dive information here!
Would you like to discover more about industrial IT monitoring?
Then be sure to check out our inspirational blog posts and webinars.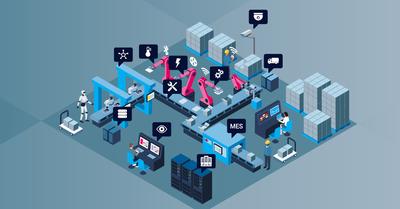 This article will show you how a Biological Scientist with an IT background and an IT Network Administrator built an inexpensive, yet powerful production monitoring system with PRTG and simple sensors connected to a Raspberry PI.
Read blog article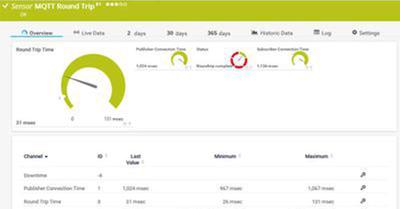 Watch this free webinar to get an overview of our industry sensors like MQTT, Modbus TCP and OPC UA. Additionally, we'll show you use cases demonstrating how these sensors can help you master your daily challenges in IT and OT monitoring.
Free industrial Webinar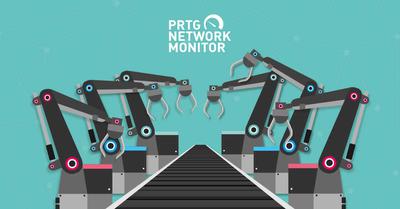 For more insight and information about PRTG in industry, take a look at our industrial resource center. Find out about use cases, sensors, latest trends and much more!
Industry knowledge
Free Download
Watch a demo
Unlimited use of PRTG for 30 days. After 30 days PRTG reverts to the freeware edition.
You can upgrade to a paid license at any time.