The cost effective solution to
perform large scale testing
For testing purposes, Multi Server Simulator simulates large, virtual HTTP, FTP, SMTP, or DNS server networks,
as well as SNMP-based network switches using a standard Windows PC. It is an indispensable tool for the evaluation
and testing of network management and network testing tools.

Create Virtual Test Networks In Minutes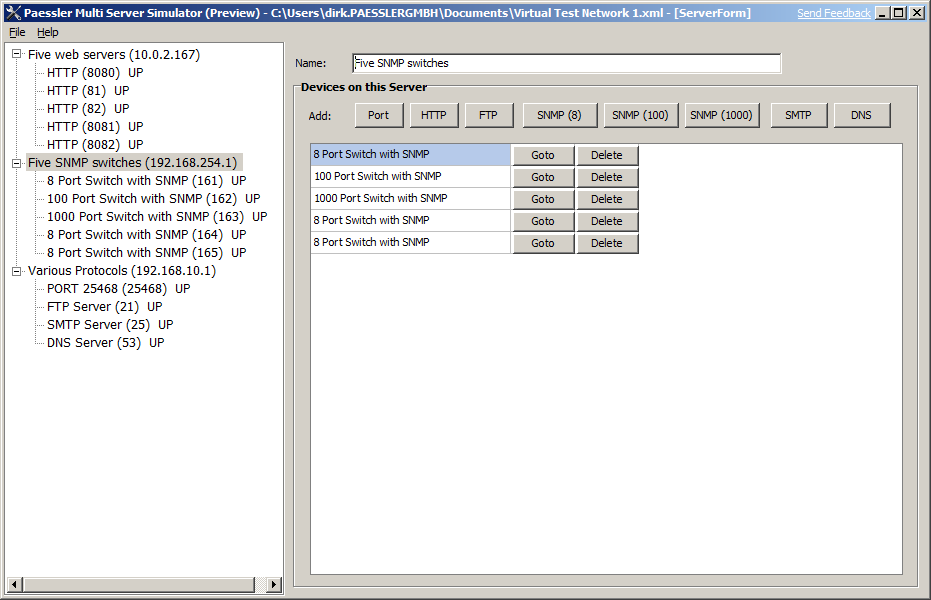 Using a standard Windows PC you can create large virtual networks using Multi Server Simulator. You are able to create as many servers and virtual switches as desired - limited only by the number of available IP addresses and TCP ports (as well as network and system performance).
Available Virtual Device Types:
SNMP based switches (with 8, 100 or 1000 switch ports each)
HTTP server
FTP server
SMTP server
DNS server
Simple server (open TCP port that accepts connections)
Setting up a network 100 servers and 20 switches (with thousands of ports) network merely takes a few minutes, much faster than installing and configuring normal server software on a PC.
The program will automatically discover all available IP addresses on the local machine. Select an IP address and click on one of the protocol buttons to add a virtual server. It will show up in the tree view on the right, beneath its IP address. Click a server to go to the configuration settings. When done with the configuration enable the "Up/Down" checkbox to start the server.
Features

For all server/switch types:

Name and TCP/UDP port can be set as desired for each server
Servers can be created and deleted, as well as turned on and off with a single mouse click
Recurrent downtimes can be simulated (for each device, intervals can be set by user)
Detailed log is written for each simulated server
Server sets can be saved to an XML file and reloaded later

SNMP Switch:

Simulates an SNMP manageable switch (according to RFC 1643 and RFC 1155)
Simulates switches with 8, 100 or 1000 ports
The traffic counters for each port are constantly updated to simulate data passing through the virtual switch
For the 8-port switch, you can set the type of traffic pattern simulation
HTTP Server: The web server always answers with one of two HTML blocks (intervals and repetition can be set by the user)
FTP Server: Simulates an FTP server that accepts login requests and sends the number of available files
SMTP Server: Accepts SMTP protocol connections with and without authentication
DNS Server: Resolves DNS requests for the DNS name "localhost" with IP address 127.0.0.1; other DNS names cause an error message
PORT: Accepts TCP connections on the specified TCP port
Works on 32-bit and 64-bit versions of Windows Vista, 2008, 2012 and Windows 7, 8
Downloading Multi Server Simulator

iMulti Server Simulator is currently available as a public preview version. Please consider this software a pre-release beta version that may contain bugs. After installation enter the Multiserver Simulator name and a license key to work with the program.
Please use the following name and key (expires January 31st, 2100).
Name:
Multiserver Simulator
Version:
0.1 (26.5.2009) for Windows Server 2008, Windows Server 2012, Windows 7, Windows 8, Windows 10
Key:
01EUM6-JB6XN1-YWGDC8-6WK8TP-ZUA59D-GK4DDW-YTB299-NKYBZ9-01E58P-YV9V0B