VMware Technology Alliance Partner
Due to our technology competence, our leading market position, and our product's compatibility with VMware products we are member of the VMware Technology Alliance Program:
"The Technology Alliance Partner (TAP) program is designed for commercial software, hardware and storage vendors to leverage the VMware resources needed to deliver enhanced value to shared customers."
PRTG Network Monitor In Virtualized Environments

PRTG Network Monitor can be installed and run in virtual environments powered by VMware. We test and run our monitoring solutions on VMware ESX servers. For detailed information please write to our support team.
PRTG Network Monitor also allows the monitoring of virtualized applications run on virtual servers by VMware.
VMware Ready
"VMware Ready designates VMware's highest level of endorsement for products and solutions created by our established partners. VMware Technology Alliance Partner members can develop their products and solutions to meet VMware standards and submit them for testing and review. Products and solutions that meet VMware Ready requirements will display the VMware Ready Logo.
The VMware Ready Logo helps customers quickly identify VMware partner's products and solutions that are optimized for VMware vSphere and Horizon 6. VMware Ready products and solutions interoperate seamlessly with a virtual infrastructure and have met specific VMware integration and interoperability standards. The VMware Ready Logo indicates the unique features and capabilities of VMware-integrated products and solutions and a solid commitment of long-term feature support."
Monitoring VMware Servers
PRTG Network Monitor offers special VMware sensors:
VMware Server Host Sensor
VMware Virtual Machine Sensor
These sensors enable PRTG Network Monitor to monitor the VMware ESX server by CPU, disk, memory and network. A device template for automatic discovery of VMware ESX servers makes it easy to set up and use the VMware sensors.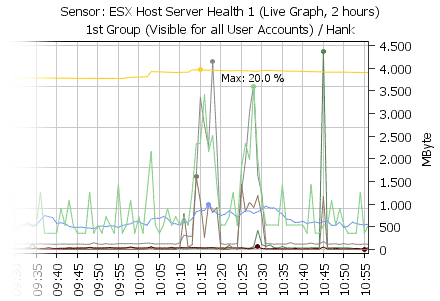 Support Statement
Paessler AG will support customers who run Paessler AG products on supported Operating Systems, irrespective of whether they are running in VMware environments or not. Paessler AG supports Operating Systems, not specific hardware configurations. Accordingly, VMware operates as a hardware abstraction layer.

VMware supports a set of certified Operating Systems and Hardware, and the customer and VMware will be responsible for any interactions or issues that arise at the Hardware or Operating System layer as a result of their use of VMware.

Paessler AG will not require clients to recreate and troubleshoot every issue in a non-VMware environment; however, Paessler AG does reserve the right to request our customers to diagnose certain issues in a native certified Operating System environment, operating without the virtual environment.  Paessler AG will only make this request when there is reason to believe that the virtual environment is a contributing factor to the issue.

Any time spent on investigation of problems that may, in the sole opinion of Paessler AG be related to VMware, will be handled in the following fashion:
Paessler AG will provide standard support to all Paessler AG products.
If a problem is encountered while one of Paessler AG's products is running in a VMware environment, the client may be required to recreate the problem on a non-VMware server unit, at which time Paessler AG will provide regular support.
The client can authorize Paessler AG to investigate the VMware related items at normal time and materials rates. If such investigation shows that the problem is VMware related, the client may contract Paessler AG to provide a software change to resolve the issue if such a resolution is possible.
Regardless of the problem type or source, if the problem is determined to be a non VMware related issue - time spent on investigation and resolution will be covered as part of regular maintenance, and support will be provided as usual.