 How does the
PRTG auto-discovery help
in 3 steps
The PRTG auto-discovery is a great way to automatically create a sophisticated set of sensors for your complete network.
After a successful installation of PRTG via the installer, PRTG automatically runs a quick initial auto-discovery.
Devices appear in PRTG even if you have not added any access details for devices or applications.
This might be all you need to do – depending on the type of network you are connected to.
You do not have to do any extra configuration but you will directly see the availability and first monitoring results of various devices in your network when you first start PRTG!
PRTG can only discover devices that can be pinged. Therefore, PRTG scans your network by pinging IP addresses in the subnet of your PRTG server and adds all reachable devices to your PRTG installation.
The three stages of PRTG auto-discovery

Stage 1
Scanning of all network segments for devices using Ping (for groups only).
Stage 2
Assessing the device type for all devices discovered in stage 1 (using SNMP, WMI, and other protocols).
Stage 3
Creating sensor sets that match the discovered device types of stage 2. This is done based on built-in device templates with recommended sensors for many device types.

(optional)

Creating sensor sets using device templates created by PRTG users. A detailed description can be found in our Manual.

You can run the auto-discovery just once, on demand via the context menu, or scheduled every hour, day, or week.
Running the auto-discovery daily or weekly on group level automatically creates new devices when they are connected to the network and adds according sensors.
Setting up credentials before running the auto-discovery
If you have not set the credentials for your organization yet, it would be useful to do this now. We recommend that you define the credentials in the Root group. Set up the credentials by right-clicking on Root, select Edit | Settings and scroll down to the respective credentials settings section.
Why the Root group? By default, PRTG works with inheritance: Certain settings are inherited from objects higher in the hierarchy and should be changed there, if necessary. Often, best practice is to change them centrally in the Root group settings.
You can stop the inheritance at each level and set different credentials for groups or just one device.
Only add credentials for the type of platform that you will add for monitoring.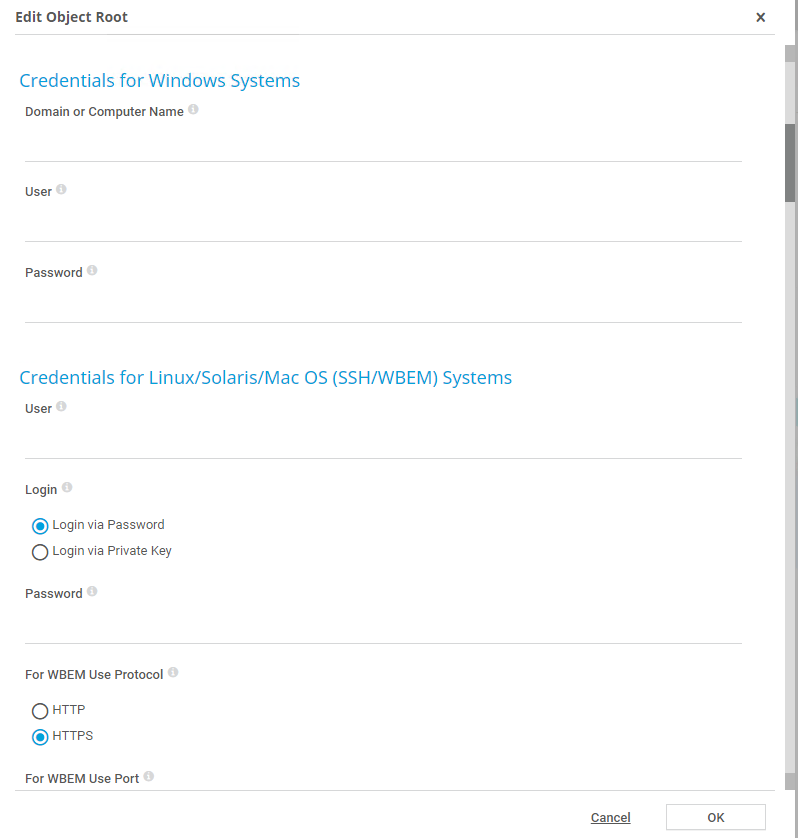 Two ways of running an auto-discovery
In the main menu bar, select Devices | Add Auto-Discovery Group. To start an automatic detection of devices and sensors in your network an assistant will appear, leading you through two steps.
For faster setup, directly right-click the context menu of a probe or group to which you want to add the new group and select Add Auto-Discovery Group...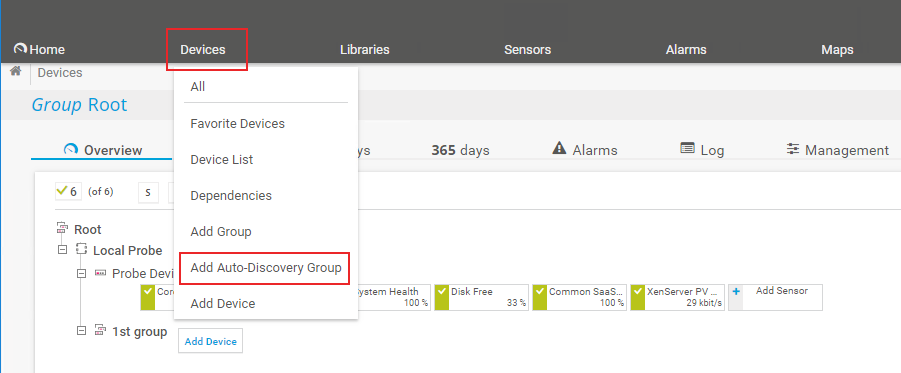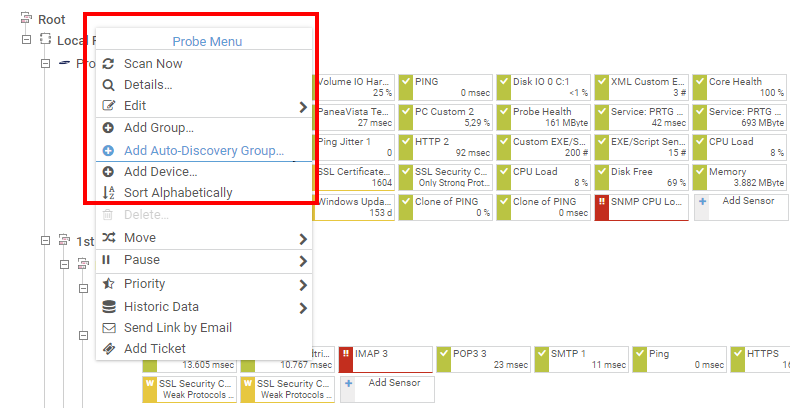 A very important option is the Device Rescan setting if you selected an option other than Once for Discovery Schedule:
Define if you want to add devices that already exist in your PRTG installation to the auto-discovery group as well. You can choose between:
Skip auto-discovery for known devices/IPs (recommended): Do not re-scan known devices or IP addresses, only add devices with new IPs or DNS names when auto-discovering. PRTG will not add devices that are already included elsewhere in your configuration, for example, in other groups.
Perform auto-discovery for known devices/IPs: Re-scan devices with known IP addresses with every auto-discovery. This option will add devices that already exist in other groups to this group as well and will run the auto-discovery on the newly added devices.


The auto-discovery will not run on devices that already exist in this group. If you want to run the auto-discovery for an existing device, you must start the auto-discovery on this device.
We recommend that you use the default setting: Skip auto-discovery for known devices/IPs.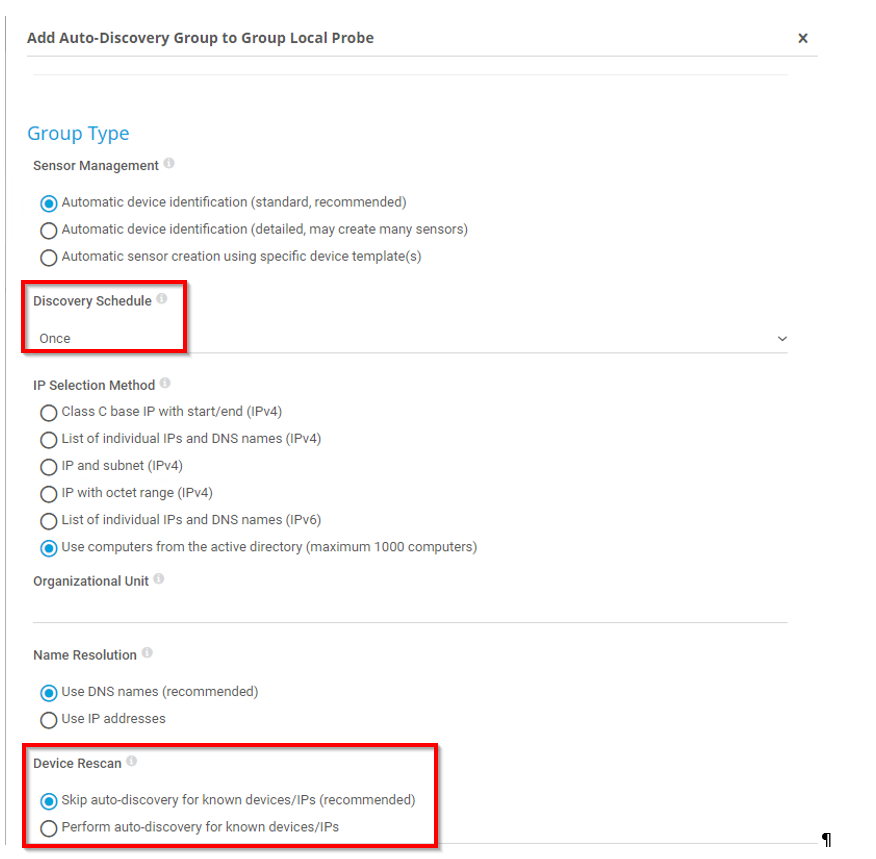 Should you encounter any issues, please check your logfile: C:\ProgramData\Paessler\PRTG Network Monitor\Logs\debug\CoreAutoDiscovery.log
You can see which device templates have been applied and which sensors were added.
This method gives you control over the monitoring behavior of PRTG in your network. You can allow certain areas of the network to NOT be scanned until there is a reason for that existing part of your network to be added. Now, devices that should be monitored by PRTG are visible in the PRTG web interface. Remove any devices that were added unintentionally.


Can I disable the auto-discovery?
Since the automatic auto-discovery is set on group or device level, every further auto-discovery will re-add devices or sensors you have manually deleted before.
You can either disable auto-discovery completely (not recommended), or you create objects manually only. How to do this, is described in our Manual.
The easiest way to disable auto-discovery for all devices is to use multi-edit (you can bulk edit the properties of many objects at a time): From the main menu in the PRTG web interface, select Devices | Device List, select all of your devices and click the settings symbol. You can then change Automatic device identification for all devices simultaneously and Save your settings.

Note: You can also disable the initial auto-discovery in a fresh PRTG installation. Simply run the installer in command prompt and add /NoInitialAutoDisco=1 as parameter.