One of our customers describes his experiences with PRTG in the IT Wire


By David M Williams
If you want to get full visibility of your network, justify your IT budget, and relax, you may want to give PRTG Network Monitor a try.
PRTG Network Monitor, by Paessler, is available as a free download providing a risk-free trial for 30 days with unlimited sensors. Or, you can run it forever, limited to 100 sensors.
I've been using PRTG both in my office and in my home to put it through solid real-world tests and I have found it immensely useful, allowing IT folk to focus on business problems, to be proactive in dealing with predictable failures, and to respond to unplanned outages before the Managing Director calls and asks why he can't get email!
Stepping back a moment, a sensor is the raw "thing" that PRTG will monitor and report and alert on. In fact, there is a massive list of sensors you can work with - from SNMP, of course, through bandwidth monitoring using expected protocols like NetFlow and more, to virtual server sensors, to WMI, SSH, HTTP, SMTP, database servers, file servers, hardware sensors and many more. These cover a rich suite of low-level protocols to enterprise-grade servers, across a raft of platforms.
Sensors can be grouped, and security can be applied, so visibility is limited to only certain users as appropriate.
If that's not enough you can create your own custom sensors based on protocols or on the results of executables or SSH scripts or other custom actions that are limited only by what you can create. If you can conceive of something for PRTG to monitor, then it can do it.
All data collected is presented in a series of dashboards, offering device views, sunburst views and tabular views of information. The results are colour co-ordinated to immediately bring your eye to problems.
A smart phone and tablet app is available for iOS, Android, Windows Phone and BlackBerry, meaning the sysadmin is not tied to their desk and can keep on top of alerts while roaming the office or travelling to sites. Unfortunately for BlackBerry users that app will be discontinued in the coming months.
There are a lot of smarts built-in. A warning sensor will provide proactive alerting, an unusual sensor will alert if something doesn't seem right, averaging data over time and reporting if there is unusual or abnormal activity on that sensor.
If a device is decomissioned you can pause a sensor. PRTG won't attempt to collect new data but will preserve history for that device. Paused sensors do not add to your sensor count.
FIGURE: Unified IT monitoring: PRTG's sunburst view gives you an easy-to-read single view of your network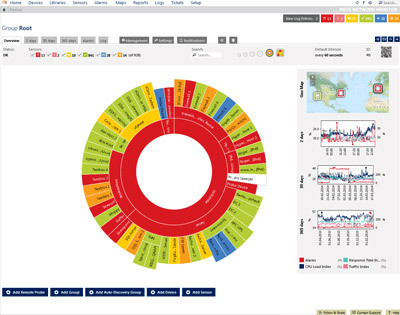 PRTG offers multiple action items for alerts, allowing you to build escalation points. For instance, you might built an action so when the sensor state has been down for at least 300s to email or page a specific sysadmin, then another action so when the sensor state has been down for at least 600s message all members of that group, and so on.
Scheduled and ad-hoc reporting capabilities are catered for; you specify the sensors to be included in the report, the type of output you want to see, the frequency of the report and the time span for it to cover. The security extends to reports so information will not be displayed to users who are not authorised to see it.At heart, that's PRTG. It's a sensor monitoring, reporting and alerting tool, with the sysadmin or network admin building the list of sensors they wish monitored. Or not; PRTG also provides an auto-discovery wizard where you enter appropriate credentials and it will sniff the network and come back to you with the sensors it discovered.
These credentials cover SNMP community strings, Windows logins, VM hypervisor logins, Linux server logins, the details of servers and of web sites or web apps, the network segments in use and other questions. PRTG will then run a discovery over the network using these credentials as appropriate for the devices it finds.
The product is extremely accessible; it comes in a single 150Mb install and is easy to use but provides vast depth in its capabilities, powered by its flexible approach to sensor acquisition, sensor types, and then its reporting and alerting capability.No special equipment or hardware is required; you can run PRTG from your own desktop if need be. Behind the scenes it runs a custom web server and is a web app, thus allowing your entire team to work with it through their browser. Advanced users can create their own scripts and polling techniques to implement the custom sensors mentioned above; these scripts can be implemented in any language at all - BASH, Perl, Python, C#, Java, or anything else. PRTG will execute these and report the result.
The database is a proprietary database and does not require any other database servers, such as SQL Server or MySQL, to already exist on the network. Paessler states this proprietary database is optimised specifically for PRTG's purposes and as a result is 10 times more efficient than SQL Server for this purpose, efficiently handling many per-second transactions.
For sensors within your network, the core server product can do all the work. If you have a remote office or network which is not visibile within the same WAN as your PRTG server you can install a remote probe into that location. This software actively collects data even if the connection point - i.e. that branch office - and the core server link is down. The software will report back to the core server via SSL.
FIGURE: PRTG's remote probes allow monitoring of different locations with one central installation.
The usefulness of this cannot be understated; not only can an administrator manage their equipment at a remote location, but they can gain valuable data about what is happening on that site during an outage. The remote probe can still execute scripts, analyse and sniff the network, and do the work that PRTG ordinarily does, so there is no diminished functionality.
As stated above, the free trial runs for 30 days with unlimited sensors providing businesses - or even power users on their home network who want to use the traffic in/out sensors to work out where their bandwidth is going - a truly risk-free option in evaluating the product. It is designed for Windows Server but can run on a Windows desktop. Despite the software running on Windows only, it will probe and report on Linux servers as equally as it does Windows servers. By using SNMP, SSH and other protocols the software does not require any agents installed on those servers.
Paessler's PRTG competes with SolarWinds, ManageEngine and other server monitoring products and is suitable for SMB situations through to multi-site enterprise networks and data centres.
PRTG offers significant business benefits. The sysadmin can plan their day around PRTG alerts and keep on top of ongoing issues as they occur. Through the web console and phone/tablet apps they have a visual insight into the network no matter where they are. They can plan their staff availability and projects around alerts.
The rich suite of sensors plus customisation options mean you can literally report on anything provided there is some way of getting a digital output from the device - this includes power feeds, ambient temperatures and more. Paessler reports they have community swimming pools who measure the chlorine, salinity and temperature of the water. It really is a practical tool that makes the sysadmin's life easier through having meaningful information delivered directly to them.
For the executive, PRTG provides transparency in where money should be spent on the network. It demonstrates visibily the network performance and trends, and it becomes a vital tool in capacity planning for staff and systems alike, allows meaningful data for budgeting and generally gives visibility in the IT department which managers often lament they do not see.
If your business is not already using an enterprise network monitoring tool then no matter your size, small or large, PRTG is a must-try. If you are using a competitive product the free trial gives you a risk-free option to compare.