Free CPU Temp Monitor
Monitor Your CPU with PRTG Network Monitor
High server CPU loads result in applications or files hosted on that server having very long response times. This reduces productivity and increases the risk of network failures.
Monitoring CPU helps you to keep control of the loads that your servers and workstations have to withstand. If you know how high the loads are, you can distribute them more evenly, and increase network speed and performance.
In order to get a complete overview of a network and the loads that it is subject to, it is important to monitor parameters such as CPU and RAM load, disk usage, network traffic, and more. These factors help you to determine long time usage trends, prevent server overloads, and even to detect malware activity.
Using a free CPU monitor such as PRTG Network Monitor is therefore indispensable for efficient network management and troubleshooting.
Can I Monitor CPU Temperatures Using PRTG Network Monitor?
PRTG Network Monitor is Paessler's powerful network and CPU temp monitor program. It checks the status and performance of network components, measures bandwidth usage, and alerts you if anything in your network requires your attention.
The free CPU temperature monitor software can monitor disk space, CPU loads, memory, routers, servers, etc.
PRTG free CPU monitor can monitor CPU temperature, but it all depends on your hardware. For example, if your motherboard provides CPU temperature information via SNMP, you can set up a sensor to monitor temperatures. In this case, the PRTG Windows monitor CPU can be used as a CPU temperature monitor. Using the PRTG CPU temp monitor vista you can monitor vista computers.
How can I check my CPU temp for free?
You can try PRTG for 30 days for free and see by yourself how CPU temperature monitoring works. After that, you either buy the full version or you can use the PRTG freeware, which has the full feature set and is limited to 100 sensors.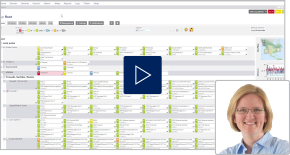 PRTG - Quick Overview
by Kimberley, Senior System Engineer
See how PRTG looks like and learn how it works. Good for a first impression of PRTG. Helps also for a quick start if you're a new user.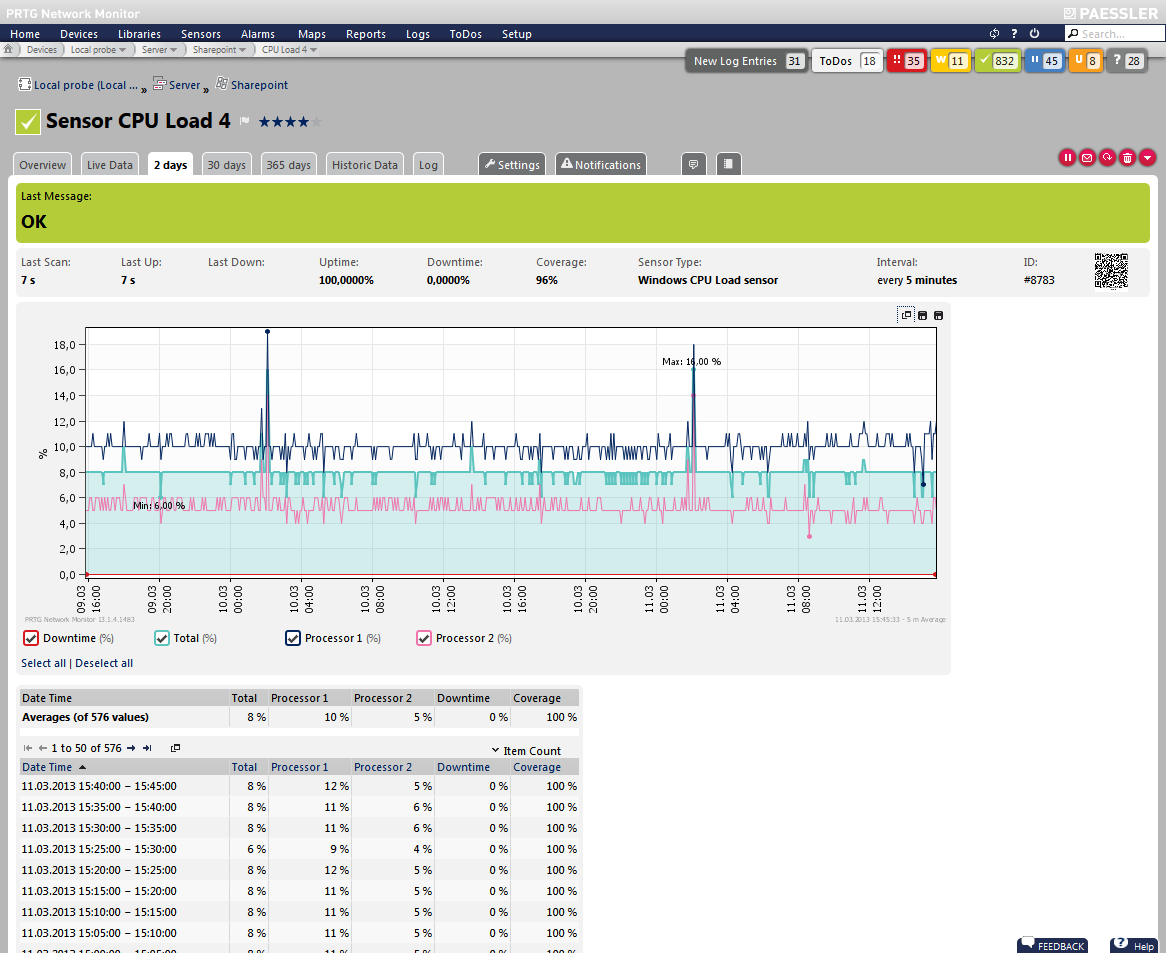 How Does the Free CPU Monitor Work?
PRTG Network Monitor is a Windows CPU Monitor. The software acquires CPU usage information using WMI. However, PRTG can also monitor CPU usage of Linux computers (since version 8, PRTG includes a variety of native Linux sensors).
What Can I do if monitoring CPU Temperatures is not Possible?
The PRTG CPU temp monitor freeware offers you various methods to keep on top of your CPU, even if your hardware does not allow you to monitor CPU temperatures.
The free CPU temp monitor enables you to track CPU loads and memory loads. By keeping an eye on these factors, you will be able to avoid CPU overheating even without having software that can monitor CPU temperatures.
PRTG gives you a complete overview of your network and your computers, alerting you to possible problems before they can cause downtimes. The software's functionality includes bandwidth, router, and switch monitoring, uptime and availability tracking, as well as network performance monitoring.
PRTG Network Monitor
The PRTG free CPU temp monitor is a comprehensive server and network monitor, which ensures the availability of your network devices, measures network load and performance, and logs all important events in your network.
The PRTG CPU temp monitors are complete network monitoring solutions, which enable you to monitor software, track bandwidth usage and network traffic, as well as generate detailed reports and easy-to-read graphs. PRTG's CPU temperature monitors are available in two editions.
For basic, free CPU and hardware monitoring, the Freeware Edition may be downloaded and used for personal and commercial use completely free of charge. Need more sensors to monitor a larger IT infrastructure? See our commercial licenses here.
PRTG

Network Monitoring Software - Version 23.2.84.1566 (May 24th, 2023)

Hosting

Download for Windows and cloud-based version PRTG Hosted Monitor available

Languages

English, German, Spanish, French, Portuguese, Dutch, Russian, Japanese, and Simplified Chinese

Pricing

Up to 100 sensors for free (Price List)

Unified Monitoring

Network devices, bandwidth, servers, applications, virtual environments, remote systems, IoT, and more

Supported Vendors & Applications


More
Unlimited version of PRTG for 30 days
After 30 days, PRTG reverts to a free version
Or, you can upgrade to a paid license anytime