Features to help you
monitor large infrastructures
Scalable monitoring for large IT infrastructures
The solution for large IT environments
Enterprise IT environments consist of hundreds and thousands of devices, applications, and services. Managing such landscapes is not only hard because of their complexity and heterogeneity but also because of their sheer size.
PRTG Enterprise Monitor has not only been designed to give IT operators of large environments one single, easy-to-use solution that monitors everything at a broader overview level based on IT services but also as a solution to generate lots of detailed information and data for certain aspects of an IT environment such as storage and servers.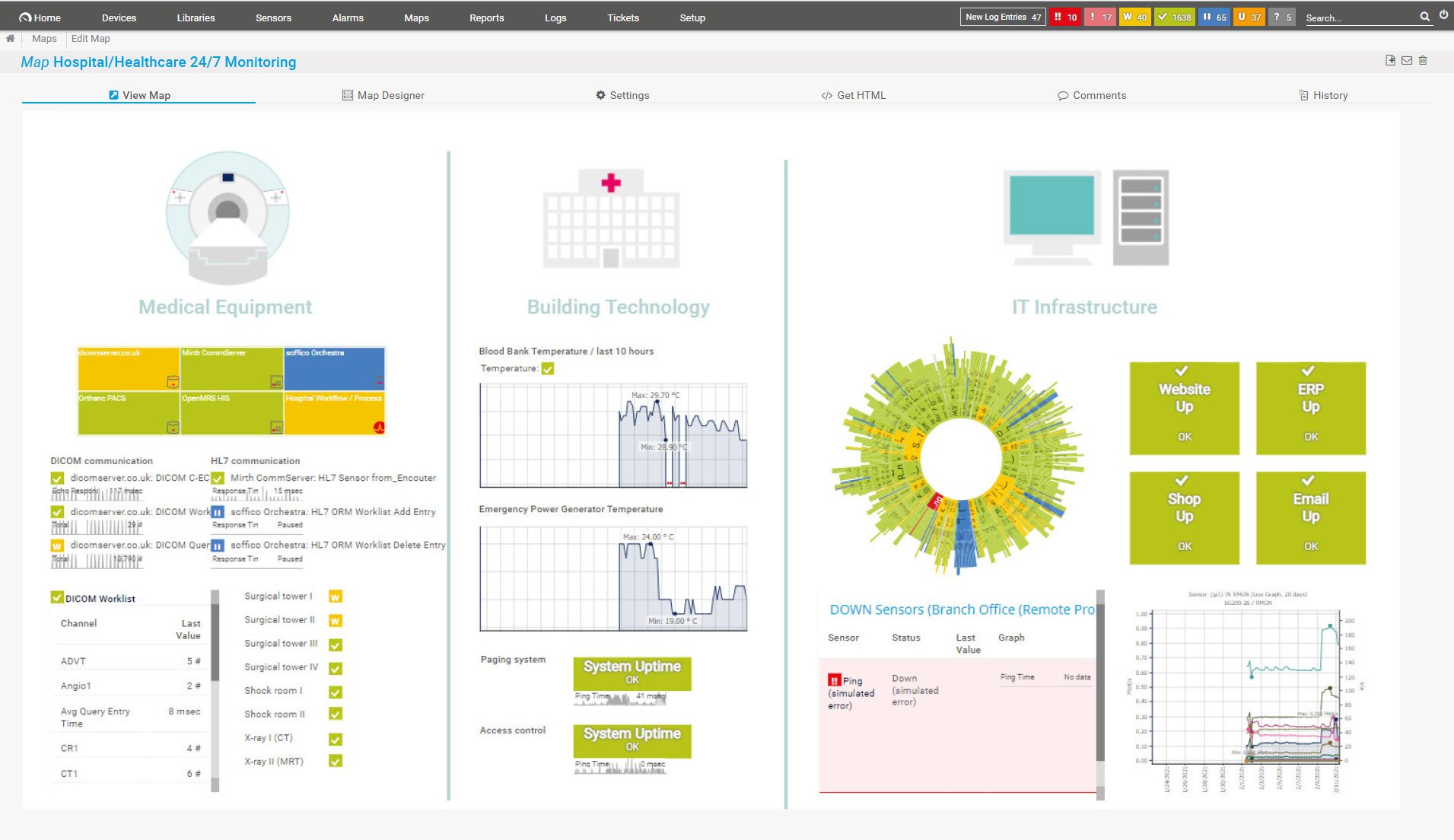 Monitor everything
PRTG Enterprise Monitor is vendor agnostic. It can monitor almost every device, application, or service using all common monitoring protocols or the documented API. But even beyond classic IT, PRTG supports industry-specific protocols to monitor medical devices, shop floors, IoT setups, and much more.
Alert management & SLA modeling
The most important task for large IT environments is to keep track of the things that matter. PRTG Enterprise Monitor minimizes alert noise and ensures that you never miss information that matters.
ITOps Board – your bird's-eye view
ITOps Board offers enterprise-level dashboards and functionality:
Only see what affects your users and business processes.
ITOps Board models and tracks SLAs based on IT services.
See alerts and notifications from a user, an application, or an infrastructure perspective, and prioritize actions according to relevance.
Notification methods and escalation levels
PRTG Enterprise Monitor comes with more than 10 built-in technologies for alerting and notifications. Avoid alarm floods by scheduling your alerts and by using dependencies.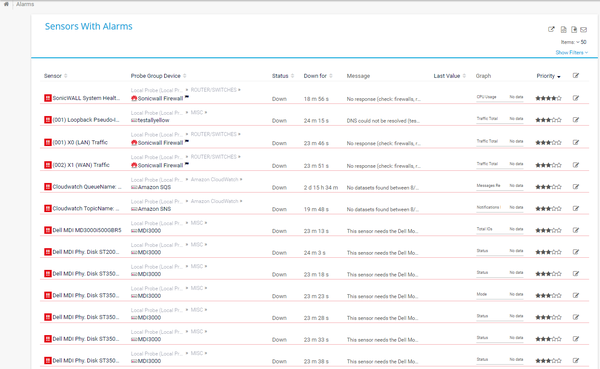 Dashboards and mobile apps
Web interface and desktop application with high security standards
See every detail from port to disk. Drill down for root cause analysis and create individual maps for each member of your team and their tasks and responsibilities. All user interfaces allow SSL-secured local and remote access and can be used simultaneously.
Mobile apps
Native apps for iOS and Android keep you informed wherever you are. React on the go, acknowledge alerts, and adjust settings.
Easy

i

nstallation

, automation,

and

c

ustomization
The more complex a solution is, the less it will be used. As it is crucial that you and your team monitor your IT 24/7, the tool for your IT monitoring should be easy to use. This has always been the main focus when designing and building PRTG.
Easy setup and an auto-discovery of your devices for a quick proof of concept and significantly reduced project times
Out-of-the-box support for common devices and applications with over 250 predefined sensors

Easy

integration of new devices and applications

using

simple routines,

device templates,

and

auto-discovery

Customizable dashboards for detailed views as well as IT service-based overviews for IT operators and management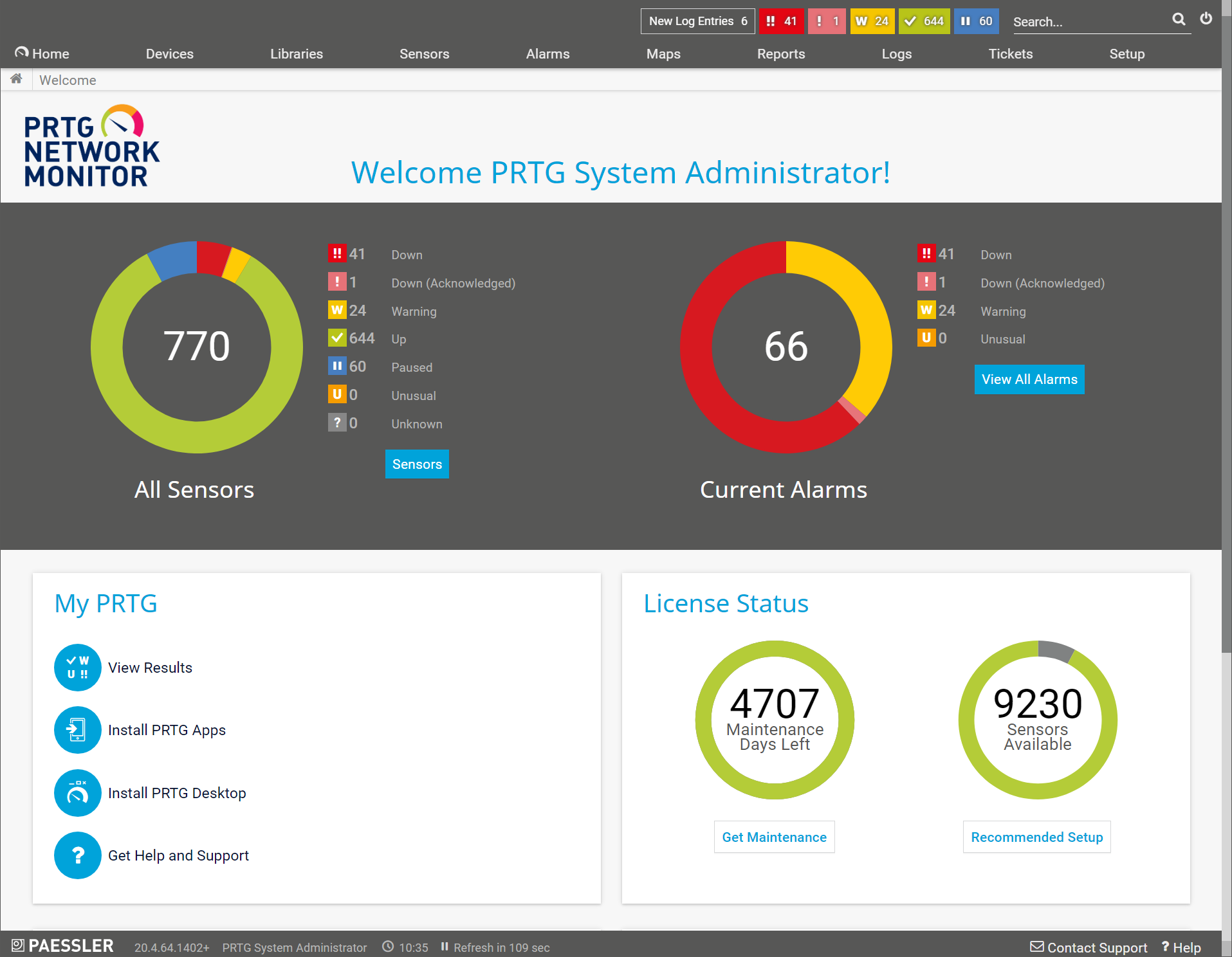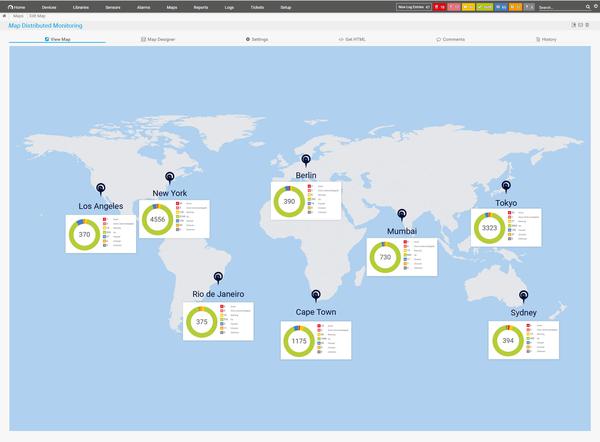 Scaling for large and distributed

environments
While PRTG has an eye on every single detail, ITOps Board bundles and organizes details in IT services. Horizontally scale your monitoring with PRTG Enterprise Monitor – easily and almost unlimitedly –and always stay on top of things. No matter how many locations you have to monitor.
The

licensing model of PRTG Enterprise Monitor

is perfect for

monitoring

large,

distributed environments: Unlimited

servers and remote probes

combined with the

s

ervice-based overview of ITOps Board not only

make

it easy and affordable

to monitor as many

sites as needed like

data centers

or branch

offices

but also to

segment

your IT

logical

ly according to

teams and tasks.

Due to the

subscription-based

l

icensing model

,

PRTG Enterprise Monitor adjusts easily and is

cost-friendly for any network size.

ITOps Board, with its IT service

-based

overview, scales to almost every size of IT environment and

assures the best possible overview for specialists as well as for management

.

It

lets you define

SLAs

based on IT services

and helps you keep track of them.
Monitor everything!
Thanks to PRTG, you can monitor everything in your infrastructure including
LANs, WANs, servers, websites, applications, and much more.
We are happy to help!
Do you need more information, a live demo of PRTG Enterprise Monitor, or a formal quote?
Leave us your contact details and we'll reach out to discuss your individual setup.