Simple debugging tool for monitoring
configurations that use SNMP
With SNMP Tester, you can run simple SNMP requests against a device in your network.
This test program is based on the SNMP technologies built into PRTG Network Monitor.
The idea of this program is to have a tool that enables you to debug SNMP activities
to find communication and/or data issues in SNMP monitoring configurations.
If the SNMP connection works with this test program, it also works with PRTG.
Instructions
Click the Free Download button above to download the setup file for the current version of SNMP Tester.
Execute the file Paessler SNMP Tester Setup.exe.
Follow the steps in the Paessler SNMP Tester Setup Wizard.
For more information on how to use SNMP Tester, see the SNMP Tester Manual.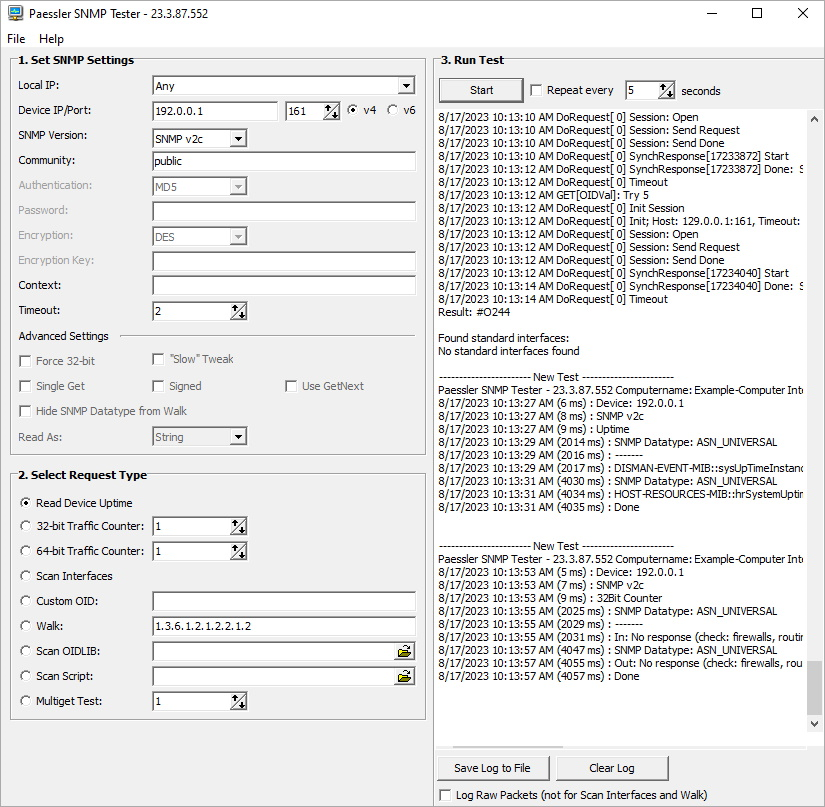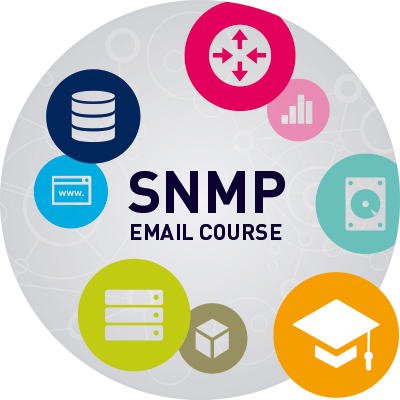 Expand your know-how: our SNMP email course
You're interested in learning more about SNMP – but little by little instead of having to digest an entire white paper at once? Then sign up here for our free, four-part email course. This course is a great way to develop your expertise on network monitoring via SNMP.


iSNMP Tester is a diagnostic tool that is provided as freeware to users of PRTG Network Monitor. Please understand that we cannot provide extended support for this tool.
History
V23.3.87 (August 17, 2023): Paessler SNMP Tester now supports SNMP v3 ciphers for encryption and authentication methods which are as follows:SHA-224, SHA-256, SHA-384, SHA-512 and AES-192, AES-256.
V20.2.4 (June 4, 2020): We added the option Use GetNext to the advanced settings. With this option, you can perform SNMP GETNEXT requests on a target device to test and debug your SNMP activities.
V20.1.58 (March 18, 2020): Maintenance release

New versioning system that follows the PRTG versioning (year.quarter.build)
Installer and executable are now signed to confirm their integrity.
Several minor fixes and improvements

V5.2.3 (April 18, 2016): Maintenance release
V5.2.2 (March 9, 2016): Maintenance release
V5.2.1 (October 19, 2015): Support for hex bytes as return value type (for example, for MAC addresses)
V5.2 (August 13, 2015): SNMP Tester can now show the data type of an SNMP value
V5.1.3 (July 1, 2014): Fixed an error caused by very long OIDs
V5.1.2 (January 17, 2014): When checking "Uptime", the tester now uses two different OIDs
V5.1 (August 5, 2013): New stable version
V5.0.11 Beta (April 30, 2013): Beta version with enhanced options
V5.0.10 Beta (March 20, 2013): Beta version with enhanced options
V5.0.9 Beta (March 11, 2013): Beta version with enhanced options
V5.0 Beta (February 5, 2013): Beta version with enhanced options
V3.2 (December 2009): Added option to run scan every x seconds
V3.1f (August 2009): Maintenance release
V3.1b (May 2009): Maintenance release
V3.1 (Apr 2009): Added option to enable Single Get, added more debug output when scanning interfaces
V3.0 (Nov 2008): Updated for compatibility with PRTG 7, added OIDLIB support
V2.2 (April 2006): Improved error handling, minor bugfixes
V2.1 (April 2006): Enhanced SNMP management
V2.0 (March 2006): Added support for SNMP Version 2c and 3
V1.2 (November 2005): Added "Scan Interfaces" option
V1.1 (October 2005): Initial release