Monitor Your Network With the New "PRTG for Android App"
Connect your smartphone or table with PRTG
Use the free PRTG for Android app to monitor your network from your android phone.
The PRTG for Android App connects your android 4.0+ devices with your PRTG server installation. It supports checking multiple accounts in the background, and can alert you whenever new alarms occur in any account.
You only need an android phone or tablet, or a Kindle Fire.
You can even use some network tools that come along with the PRTG for Android App without connecting to a PRTG core server.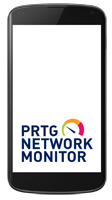 PRTG - The Network Monitor Solution at Your Fingertips

In order to use all the cool features of the PRTG for Android App you need to have a PRTG desktop account up and running. If you still haven't installed the PRTG windows software, you can do so now, by clicking on the right buttons and start to monitor your network today!
With PRTG Network Monitor you can monitor your servers, routers, firewalls, bandwidth and much more; it's an all in one solution. For more information, take a look at the PRTG features.

PRTG Android App Features
Connectivity: The android network monitor app connects to PRTG servers using HTTPS or HTTP over VPN, 3G, EDGE, GPRS, or WiFi/wireless LAN.
Flexibility: Multiple accounts support to query different server/login combinations. Switch easily between different accounts to quickly view monitoring data of several installations and/or accounts.
Versatility: The app can view all accounts, or only specific ones, automatically in the configured polling interval and notify you in your device's status bar whenever there are alarms for one of them.
Interactivity: Configure if you want to be notified: Alarms > 0, or when alarms count raised since last check or when there is a certain number of new alarms. Configure notifications via the system status bar with ringtone and/or vibration (triggered for new notifications). You can even exclude "Warning" or "Unusual" states from alarms count, and set up notifications based on priority.
Show Data: The app works with your PRTG core server to show you your device tree, sensor lists, sensor data - everything, in a familiar Android way. You can even add sensor gauges, as well as the global sensor status, as widgets to your home screen. Data display automatically adapts to your screen size, so you see as much information as possible at a glance.
Perform Actions: Many features of PRTG's web interface are available: You can acknowledge alarms, pause and resume sensors, set priorities and favorites, run device auto-discovery, scan your network status instantly and many more. In addition, QR code scanning makes it easy to jump directly to a sensor.
Network Tools: PRTG for Android provides network tools such as ping, traceroute, DNS, raw HTTP, and MAC address lookups. You can use them even without connecting to a PRTG server.
For more information, read our blog post.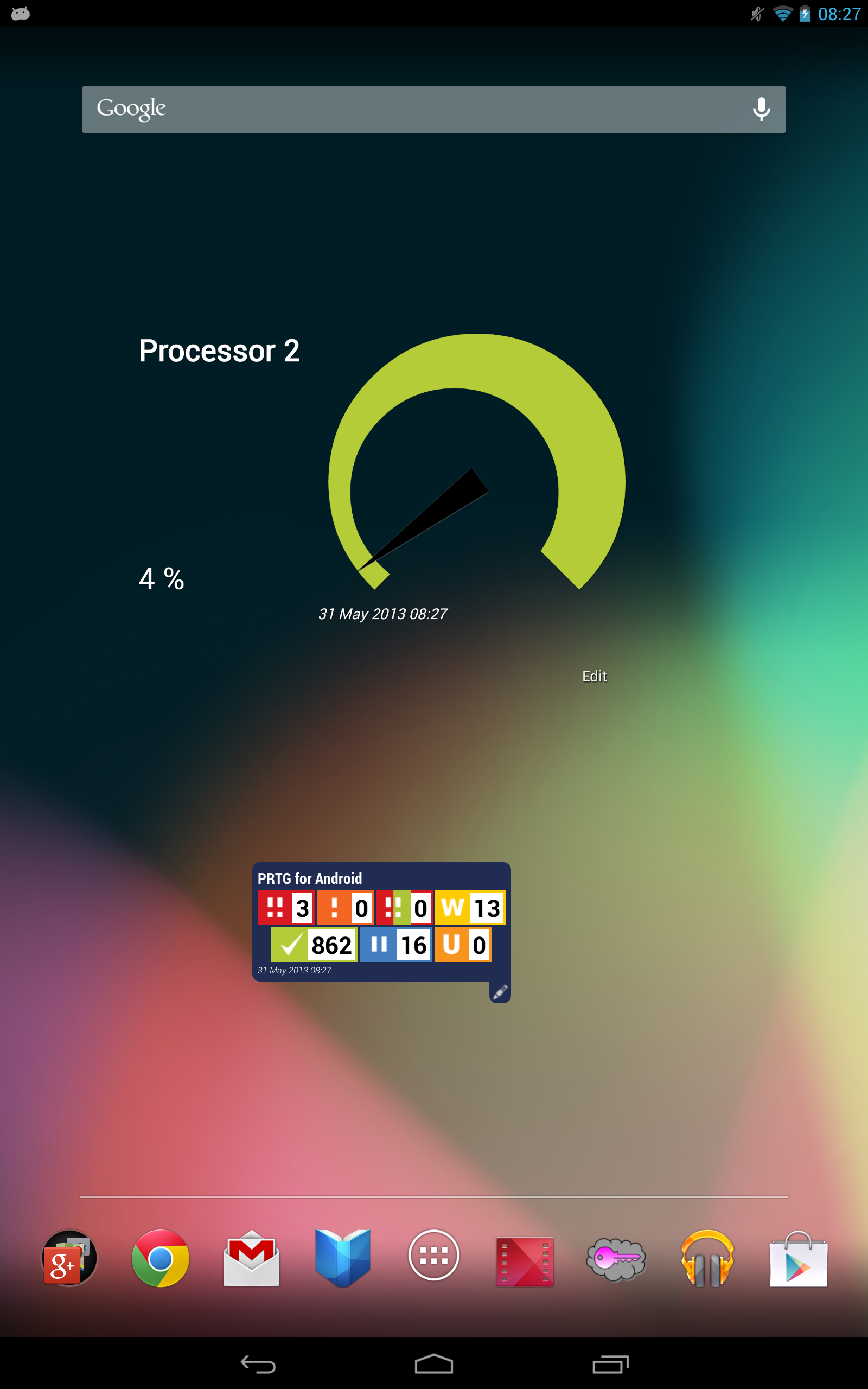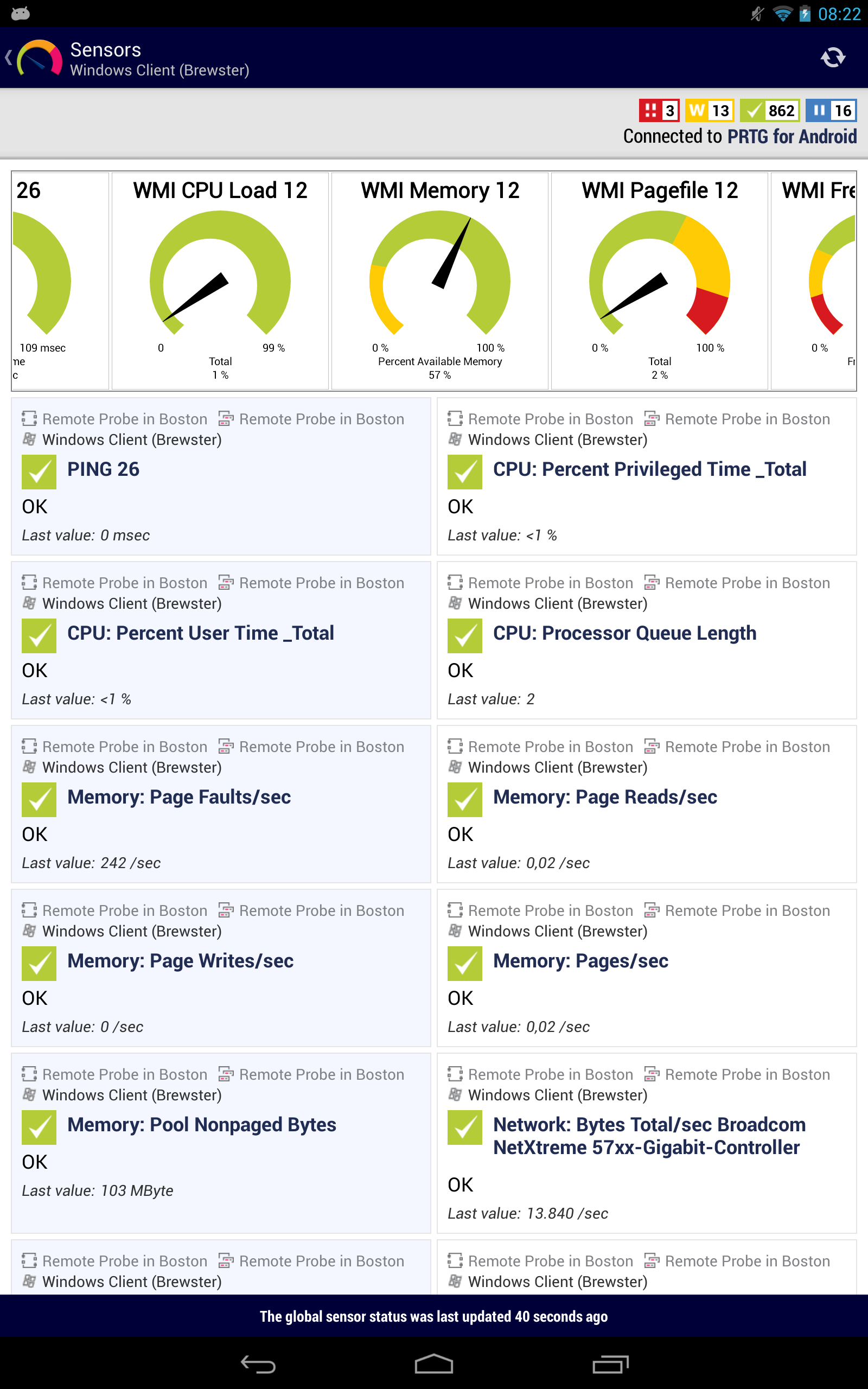 System Requirements
Android phone or tab
OS 4.0 or later recommended (or Kindle fire HD)
A computer running PRTG 13.1 or higher installation
PRTG

Network Monitoring Software - Version 23.1.82.2175 (March 1st, 2023)

Hosting

Download for Windows and cloud-based version PRTG Hosted Monitor available

Languages

English, German, Spanish, French, Portuguese, Dutch, Russian, Japanese, and Simplified Chinese

Pricing

Up to 100 sensors for free (Price List)

Unified Monitoring

Network devices, bandwidth, servers, applications, virtual environments, remote systems, IoT, and more

Supported Vendors & Applications


More
Unlimited version of PRTG for 30 days
After 30 days, PRTG reverts to a free version
Or, you can upgrade to a paid license anytime