Performance Test Software
Prevent Network Problems by Using PRTG Performance Test Software
In order to ensure that your network is running smoothly, you should run regular network performance tests and use network monitoring software that alerts you to possible network issues. PRTG Network Monitor is a powerful performance test software, which monitors your network 24/7 and shows you the monitoring data in easy-to-understand graphs and tables.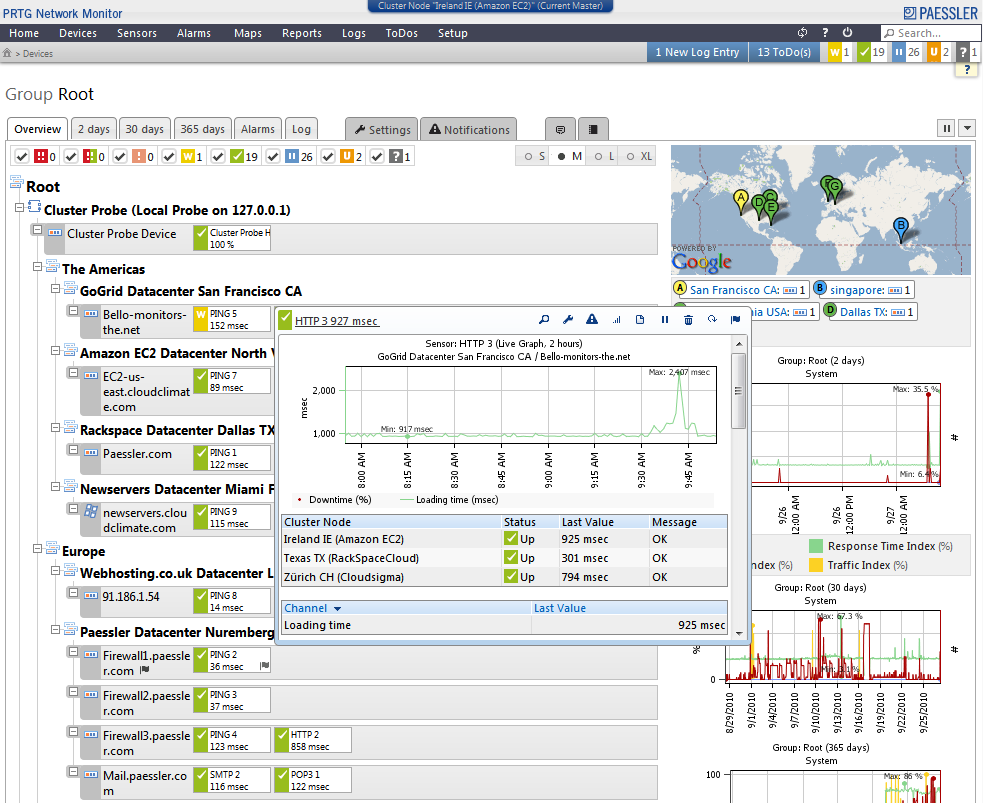 How Does the Performance Test Software Work
PRTG's functionality includes availability and bandwidth monitoring, making sure that all your network devices are up and running and tracking network activity. You can configure alarms to warn you when bandwidth usage surpasses a certain threshold in order to prevent network bottlenecks, which would affect your network's performance. The network diagnostic tools by Paessler also work as a free syslog server and SNMP trap receiver: log messages sent by network devices are collected and analyzed in one central server. When needed, an alarm is triggered, enabling you to react proactively to any possible issues. And should a problem in your network occur, PRTG will help you with all your Windows network troubleshooting needs, making it much easier to identify network faults.
Paessler's performance test software includes comprehensive server monitoring functionality with special sensors for monitoring SQL servers, web servers, file servers, etc, allowing you to closely monitor the load on your servers as well as the impact of the server load on the entire network.
The PRTG performance test software also supports the NetFlow protocol, which makes PRTG network monitor an effective Cisco performance monitor.
PRTG is available in two editions. For basic, free Ethernet performance tests, the Freeware Edition may be downloaded and used for personal and commercial use completely free of charge. Need more sensors to monitor a larger IT infrastructure? See our commercial licenses here.
Web Server Performance Test Freeware
Apart from the network management tools PRTG, Paessler also offers web server performance test software. Webserver Stress Tool is a HTTP-client/server test application for website and web server performance tests (including intranet), load tests, stress tests, and ramp tests. It shows you how your web server handles high loads and helps you to improve user experience.
Webserver Stress Tool is available in a free Trial Edition as well as in several Commercial Editions to fit all needs.