Network Troubleshooting
Use PRTG for Advanced Network Troubleshooting
PRTG Network Monitor is a great tool for network troubleshooting. The network management tools from Paessler monitor network devices and activity and provide in-depth, real time data about your network, which greatly simplifies all monitoring and management.
For example, you can use PRTG as a SNMP Trap receiver and syslog server for Windows: PRTG collects SNMP Traps and syslog messages sent by network devices in one central place and analyzes them.
The network monitor also checks the availability of network devices, databases (SQL, MySQL and Oracle monitoring) and measures network traffic and usage.
PRTG's flexible alerting system will warn you as soon as something goes wrong in your network – e.g. a server which is down, a slow network connection or bandwidth bottlenecks. Notifications can be sent by email, SMS or pager, they can trigger a sound or the execution of another application.
For a more proactive approach to network troubleshooting, PRTG offers warnings – a type of alert that notifies you of possible issues before any performance issues are noted by users.
With the help of the PRTG network monitors, you can react quickly to any issues threatening your network's performance and thus avoid economic losses caused by downtime. And if a problem occurs, you will know where it started and where to turn to for troubleshooting thanks to the comprehensive information provided by PRTG.
Cisco Network Troubleshooting with PRTG
As Paessler is a certified Cisco technology developer, PRTG is an ideal tool for Cisco network troubleshooting. Most Cisco routers and switches support NetFlow monitoring based on Cisco's NetFlow protocol. These devices can be configured to send pre-aggregated data to PRTG. This provides specific, actionable information regarding application usage and its effect on network performance.
Windows Network Troubleshooting
PRTG runs on all Windows versions from Windows 7 / Server 2012 and is therefore suitable for advanced Windows network troubleshooting. Of course, PRTG can also be used for troubleshooting wireless networks.
PRTG Network Monitor
PRTG is available in two editions. For basic bandwidth and availability monitoring functionality, the Freeware Edition may be downloaded and used for personal and commercial use completely free of charge. Need more sensors to monitor a larger IT infrastructure? See our commercial licenses here.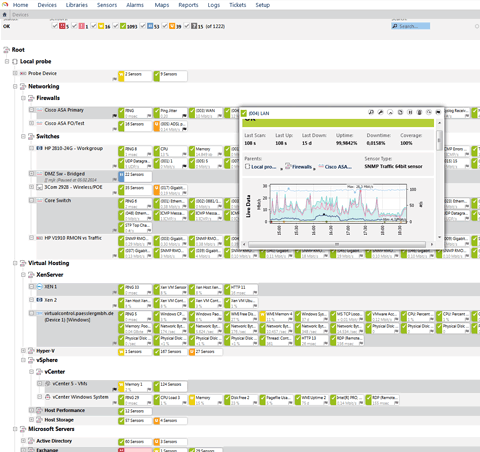 Related Topics