Network Packet Sniffer
Effective Network and Bandwidth Management
Using the PRTG Network Packet Sniffer
PRTG Network Monitor is a comprehensive network packet sniffer and monitoring solution. Its functionality includes bandwidth monitoring, availability and performance monitoring, network troubleshooting, and more. Thanks to the innovative use of remote probes, distributed monitoring is possible: monitor as many locations as you want with just one PRTG license.
Bandwidth Monitoring
Bandwidth bottlenecks are among the most common network problems. PRTG's bandwidth tool monitors total bandwidth consumption (using SNMP or WMI), as well as bandwidth usage by IP address or protocol (using the network packet sniffer or NetFlow). This way the router monitor enables you to perform a detailed bandwidth check which shows you which computer or application is accountable for most bandwidth usage. The network packet sniffer can also help you to detect unwanted network activity, and to base decisions about bandwidth and hardware purchases on hard facts.
Network Diagnostics
PRTG's network diagnostic tools check the availability and response time of network devices, check metrics such as free disk space, CPU load, etc., and alert you when a problem occurs or a threshold is being crossed. A host of specialized sensors help you to keep control of your network: from FTP to mySQL server sensors, from mail to VMware server sensors... and if you want to monitor your web servers, PRTG's sensors enable you to check your website's availability and load time as well as to make sure that a certain text is included and transactions can be carried out correctly.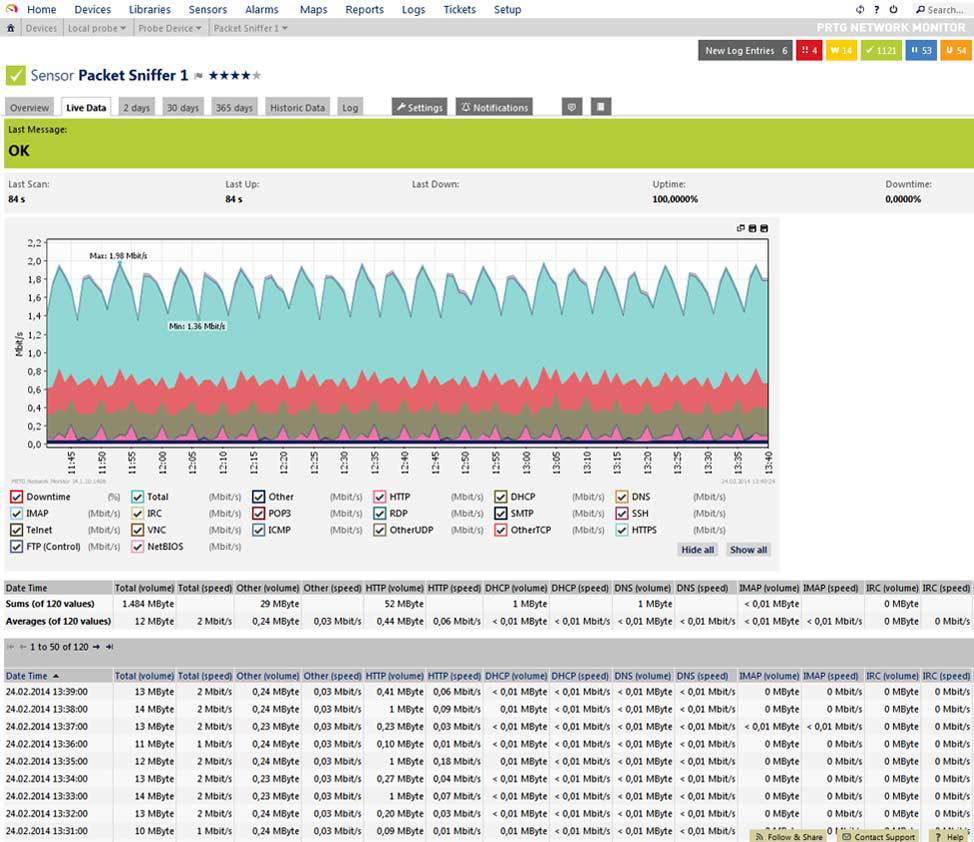 Download the Network Packet Sniffer Now
PRTG network packet monitor is available in two editions. For basic, free network management and server monitoring, the Freeware Edition may be downloaded and used for personal and commercial use completely free of charge. Need more sensors to monitor a larger IT infrastructure? See our commercial licenses here.
Related Topics
Unlimited version of PRTG for 30 days
After 30 days, PRTG reverts to a free version
Or, you can upgrade to a paid license anytime