Network monitoring:
Fix issues before they
become emergencies
PRTG Network Monitor ensures that you are notified before outages occur. It also increases network efficiency by tracking bandwidth and resource consumption.
The PRTG network monitoring software is easy to install and use. It supports remote management via any web browser or smart phone, various notifications methods and multiple location monitoring.
Start your free 30 day trial and see how PRTG helps
you to do a better job.
Unlimited version of PRTG for 30 days
After 30 days, PRTG reverts to a free version
Or, you can upgrade to a paid license anytime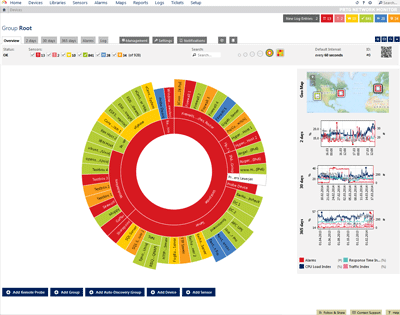 PRTG

Network Monitoring Software - Version 19.1.48.2929 (March 4th, 2019)

Hosting

Download for Windows and hosted version available

Languages

English, German, Spanish, French, Portuguese, Dutch, Russian, Japanese, and Simplified Chinese

Pricing

Up to 100 sensors for free (Price List)

Unified Monitoring

Network devices, bandwidth, servers, applications, virtual environments, remote systems, IoT, and more

Supported Vendors & Applications


More
Why Network Monitoring is Critical
Network Monitoring is essential for companies of any size. The right monitoring tool not only ensures that you are notified when outages occur, but also increases network efficiency by tracking bandwidth and resource consumption.
Network monitoring offers the following main benefits:
Reduced inefficiency & downtime: no more undetected system failures
Improved customer satisfaction through a quicker and more reliable system
Peace of mind: As long as you do not hear from the monitoring tool you know your systems are running perfectly
Greater Efficiency Through Better Monitoring
Software for usage and activity monitoring is the key to:
Avoiding bandwidth and performance bottlenecks
Identifying applications or servers using up your bandwidth
Instantly identifying sudden spikes caused by malicious code
Reducing costs by buying hardware and bandwidth according to requirements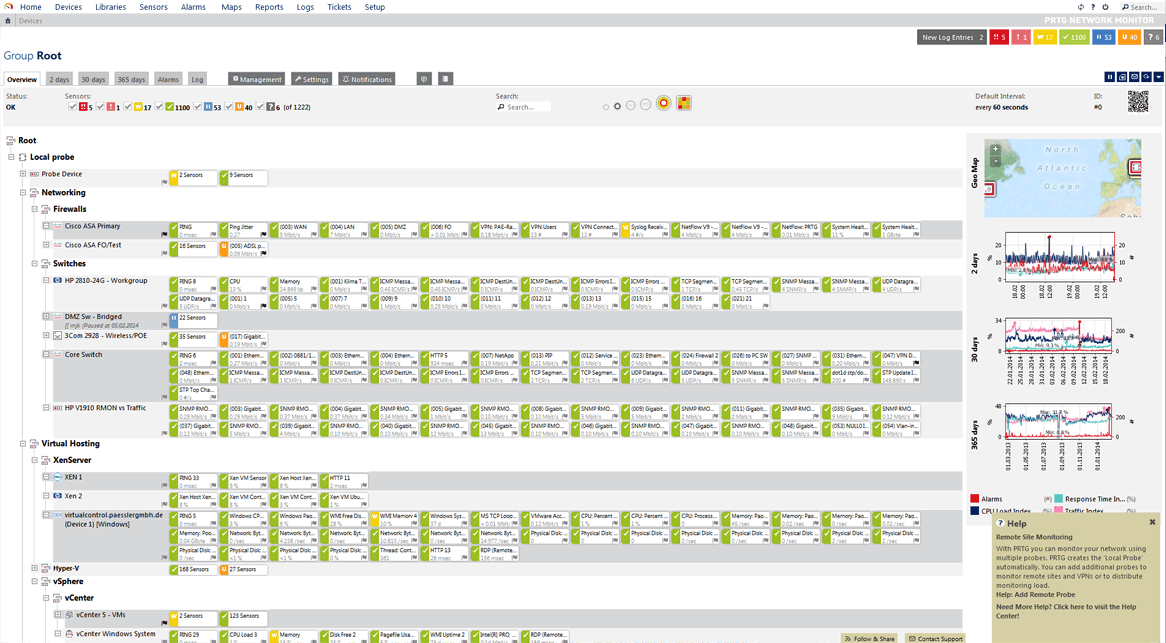 Checklist: the Ideal Network Monitoring Solution
Good network management software should be easy to install and use. Other requirements are as follows:
Remote Management - via web browser, PocketPC, or any Windows client
Outage Notification - by email, ICQ, SMS, pager and more
Comprehensive sensor selection
Multiple location monitoring
Full support for common network usage data acquisition - SNMP, Packet Sniffing, NetFlow and more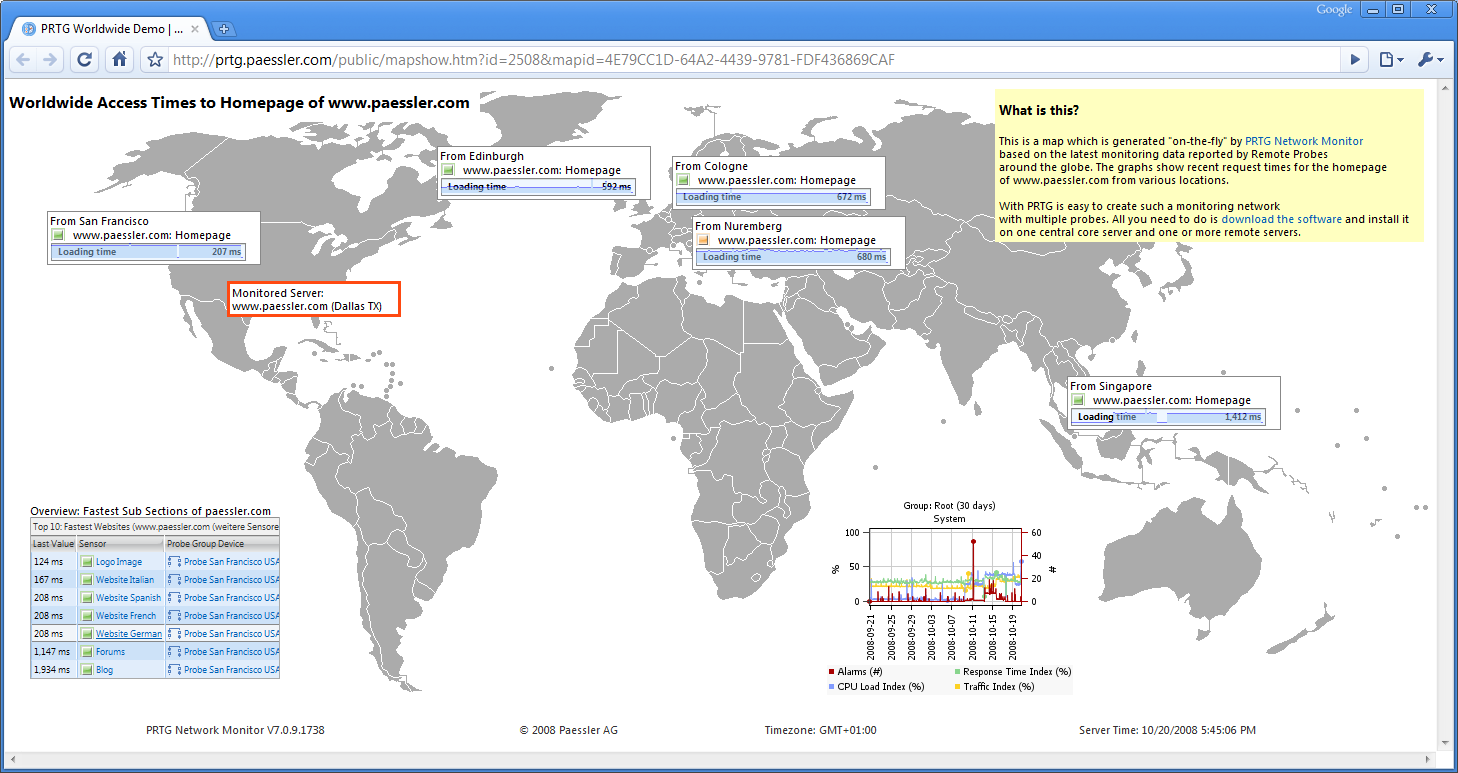 Assure performance and availability of your network
Network monitoring is an important instrument to assure the performance and availability of your servers and your entire network. An efficient memory monitor tool also helps you to optimize hardware and bandwidth according to your real needs by delivering an analysis of long term monitoring data. PRTG Network Monitor is a comprehensive monitoring solution that checks bandwidth and monitors network usage, performance and availability.
Improve and Monitor the Performance of Your Network and Servers
The network monitoring tool monitors bandwidth utilization via SNMP, packet sniffing and NetFlow, checks the availability of network components, and checks parameters such as CPU load, memory load, free disk space, etc. It can also be used for server room monitoring as PRTG can even check of the temperature or humidity in your server room and trigger an alert if a certain threshold is being passed.
In order to make server performance monitoring easier, PRTG comes with a range of built in server monitoring sensors:
Email sensors check the availability of your email services
Monitoring SQL server sensors: MySQL, Microsoft SQL, and Oracle SQL sensors. These sensors check whether your SQL server accepts connections, processes requests, and returns an expected result.
File server sensors check free disk space, existence of files, changes to a file, etc.
Virtual server sensors (e.g. ESX monitor, hyper-v monitor) make monitoring virtualized environments easier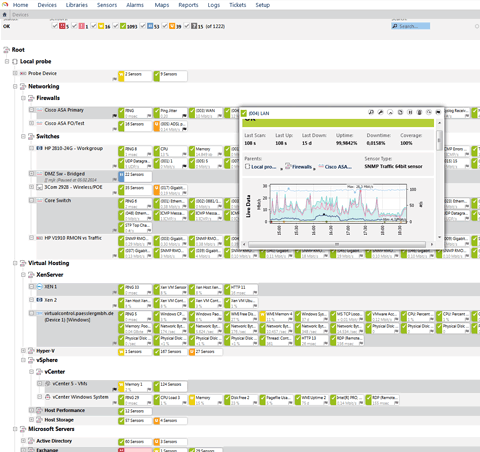 Continuous network and server monitoring enables you to find problems and respond to them before they become a serious threat to your business. Our software helps your business to perform better:
Avoid network performance bottlenecks
Deliver better quality of service to your users by being proactive
Reduce costs by buying bandwidth and hardware according to your real needs
Maximize profits by avoiding losses caused by undetected system failures
Find peace of mind: As long as you do not hear from PRTG via email, text message, pager, etc. you know everything is running fine and you have more time to take care of other important business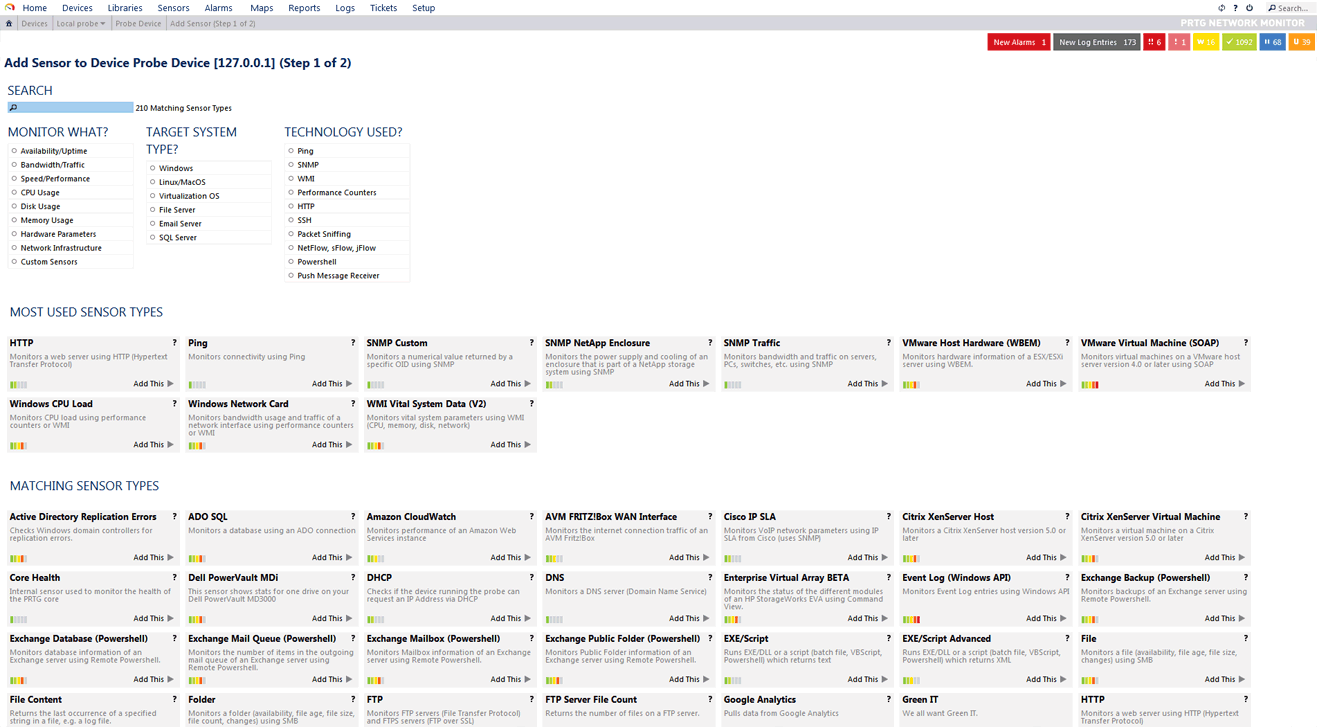 PRTG - the Network Monitoring Tool
Unlimited version of PRTG for 30 days
After 30 days, PRTG reverts to a free version
Or, you can upgrade to a paid license anytime
Related Topics