Monitoring large IT environments
IT teams in large IT environments with thousands of devices and systems across multiple locations,
need an easy way to gain visibility and control of their increasingly complex infrastructures.
PRTG Network Monitor keeps monitoring simple, while ensuring performance, clarity and ease of use.

Main challenges of monitoring
large IT infrastructures

Performance
Larger setups often create higher loads on monitoring solutions. Performance problems can lead to falsified monitoring results and annoyed users, which may increase the risk of failures and outages. PRTG is built to deal with this kind of load and offers best practice strategies to avoid performance issues.

Compatibility
A monitoring solution is a central component of most IT environments, which means compatibility with other vendors is essential. PRTG is vendor-agnostic and its flexible API gives you the power to custom build solutions to meet your exact needs.

Distributed environments
Many large IT environments don't run a single network, but are made up of multiple closed networks. PRTG offers an easy, affordable way to manage distributed monitoring along with configuration support to ensure you still have a complete overview and avoid responsibility conflicts.
Main issues of
established
monitoring solutions
L
imited monitoring scope

Many IT monitoring providers focusing on the midmarket have solutions to monitor single aspects of the IT environment like servers or network performance, which are available to buy individually or as a suite.
Complex
& expensive

To have an overview of all IT systems you need monitoring suites consisting of multiple tools. This raises complexity for IT teams and makes licensing complicated and expensive.
R
educed feature set

Other solutions reduce features to a minimum and avoid functionality that affects performance.
The larger the IT environment, the more complex it is to manage.
PRTG keeps monitoring simple and gives you
insight into your IT systems in a matter of minutes.
Monitoring with PRTG is simply different
Ease of use
PRTG provides the best user experience possible. This is visible in the user-friendly interface, as well as the simple licensing structure. The initial set-up is straightforward and you get instant feedback from the system.
Feature set
PRTG has all functionality included in every license – everything from IT infrastructure and Flow-based traffic monitoring, to monitoring of virtual, cloud and hybrid environments, including IoT.
Licensing
PRTG's licensing structure is as easy as it is to use: Each PRTG license includes the entire feature set, no modules, no add-ons. PRTG offers two licensing models for larger installations: The perpetual PRTG XL license and the PRTG Enterprise Monitor subscription license.
Integration
PRTG integrates with most analysis tools using API and pre-defined templates. It acts as a data collector and early warning system, helping to identify failures and know where deeper analysis is needed.
Close partnerships with main IT vendors and with established players in the ITOM market make for seamless integration.
Monitoring distributed
environments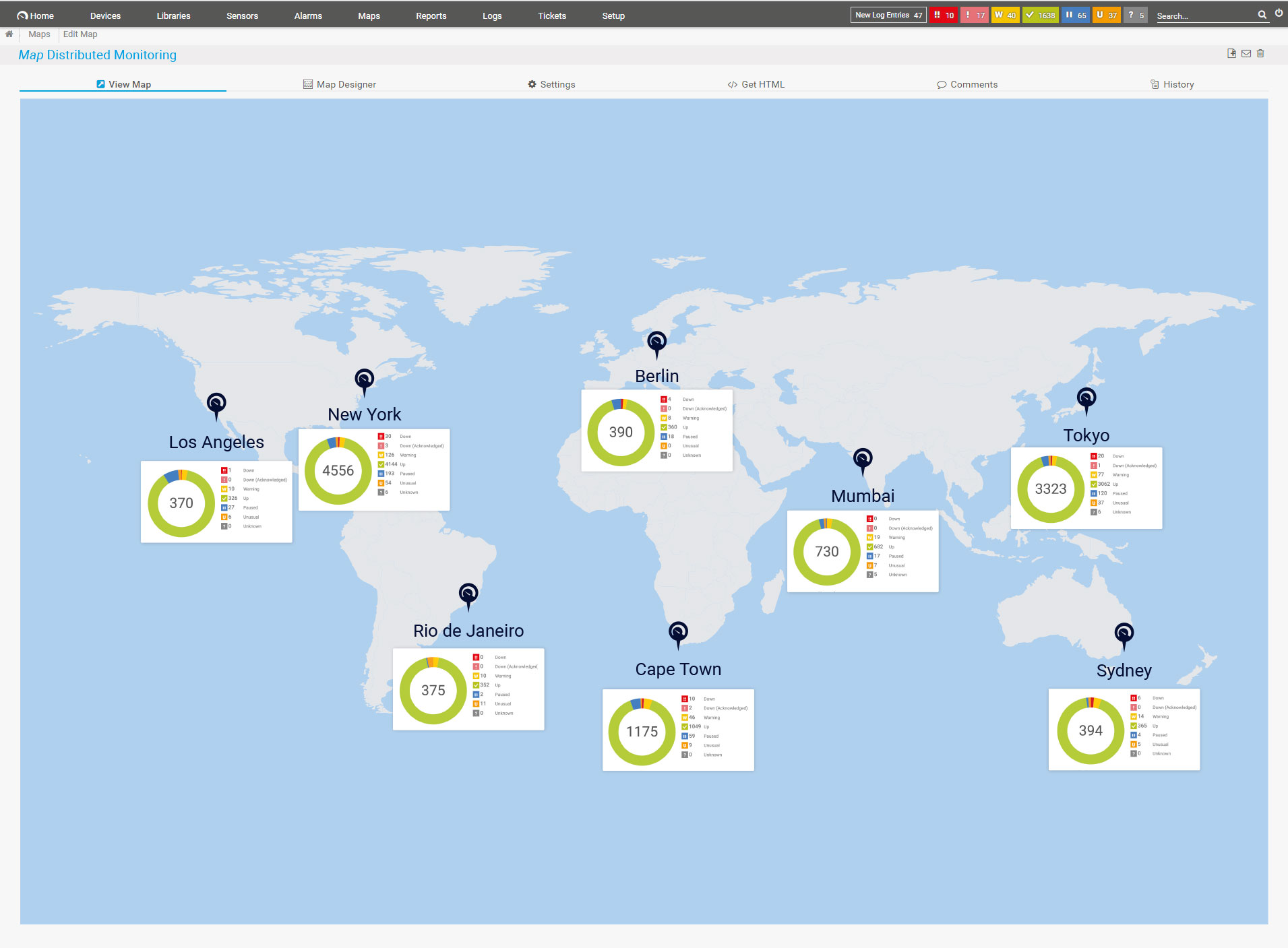 IT teams in midmarket or enterprise size organizations are often distributed across multiple datacenters, offices, legal entities, business units or area of responsiblity each with their own team.
Implementing a single monitoring solution has advantages:
Consistent company-wide monitoring

solution
The option to have a centralized overview

Cost-saving and easy licensing
Each team manages its own, independent infrastructure running one or more PRTG servers exclusively for their environment. With its remote probes feature, each single PRTG installation can monitor multiple sites or segments. Distributed monitoring isn't an additional feature - it's part of the extensive feature set in every PRTG license.
For a centralized overview there are two options:
PRTG Desktop

on a detail level

PRTG ITOps Board (part of Paessler PRTG Enterprise Monitor) for a more sophisticated service-level overview, incorporating data from other ITOps tools, and with SLA reporting and troubleshooting using automated incident workflows.
Centralized monitoring for large environments
Monitoring large IT environments with a centralized monitoring solution requires a clear strategy.
We advise customers to segment their monitoring in a way that fits the organization and scale horizontally, e.g. by geography or by functional teams. This improves performance by balancing the workload and gives teams more autonomy with their own dedicated monitoring server. It also avoids complex setups and the need for roles and rights management.
Advanced overview with ITOps Board
PRTG Enterprise Monitor includes PRTG ITOps Board, which provides a service-level central overview of all single installations. ITOps Board gathers information from multiple PRTG servers, categorizes them by business services, adds automated alert management, and provides SLA monitoring and reporting.
Learn more about ITOps Board in PRTG Enterprise Monitor.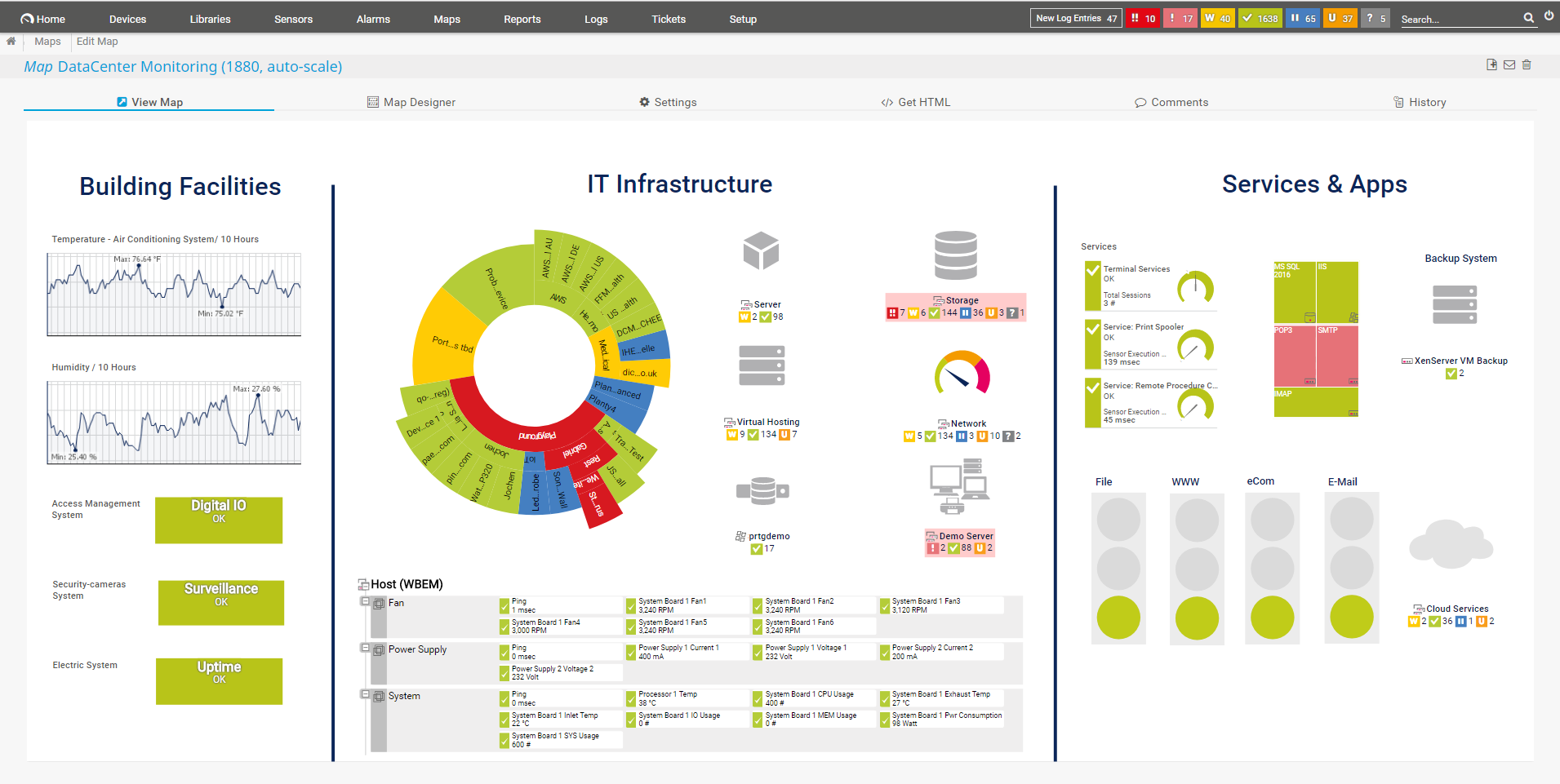 PRTG licenses for large environments
Paessler offers two alternatives for monitoring large environments.
PRTG XL – perpetual license – unlimited sensors

The PRTG XL license is a perpetual license. It limits the number of PRTG core servers but not the number of sensors*.
Theoretically you could run unlimited sensors on one PRTG server, but there are physical limitations**.


Perpetual licensing
Licensing based on the number of PRTG core servers
No sensor limitation by license, however there are physical limitations
PRTG Enterprise Monitor – subscription license – unlimited core servers – ITOps Board
PRTG Enterprise Monitor is subscription-based. There is no limitation on the number of PRTG servers; rather, you pay for the sensors you need.
PRTG Enterprise Monitor is a good fit for very large setups or if the scenario requires multiple PRTG server installations, like for distributed or heavily segmented environments.
Includes the exclusive ITOps Board
Subscription licensing
Unlimited PRTG core server installations
Licensed by number of sensors*
* "Sensors" are the basic monitoring elements in PRTG. One sensor usually monitors one measured value in your network,
e.g. the traffic of a switch port, the CPU load of a server, the free space of a disk drive.
On average you need about 5-10 sensors per server or one sensor per switch port.
** Depending on many factors the official recommendation is about 10,000 sensors per core server.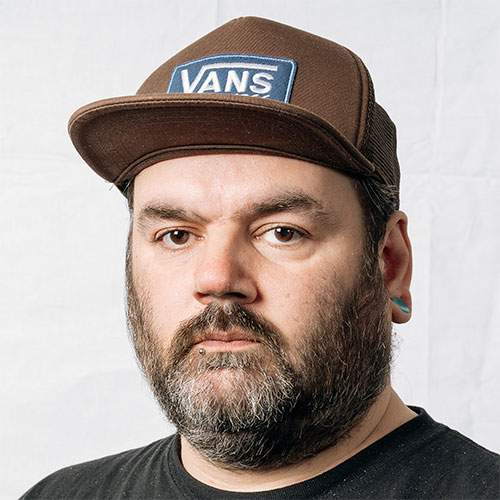 "As an international company, PRTG is ideal for us. If something went down half way across the world, we wouldn't be woken up – we can rely on PRTG to identify the problem and alert us before it occurs – enabling the right person, in the right time zone to resolve the problem."
Barry Kelly, Systems Engineer at Skyscanner