Information may be Out-of-Date

This page about deprecated software versions is shown for
reference purposes only. Information on this page is not
maintained and may no longer be valid.

Please find the latest manual for Webserver Stress Tool here:
Graph Server and User Bandwidth
Graph Server and User Bandwidth
This graph displays the bandwidth the server was able to deliver (as a total) as well as the average bandwidth that was experienced by the simulated users: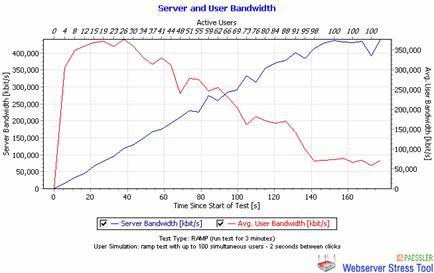 In this graph we can see that the average bandwidth available per user goes down from 360 Mbit to 80 Mbit when the number of users climbs from 1 to 100 users.