Information may be Out-of-Date
This page about deprecated software versions is shown for
reference purposes only. Information on this page is not
maintained and may no longer be valid.

Please find the latest manual for PRTG Network Monitor here:
W3C – CSS Validation
W3C – CSS Validation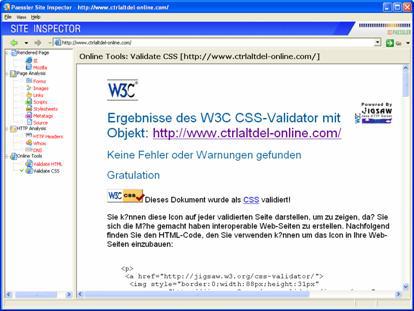 The W3C CSS Validation tool will send the URL of the CSS file (whether inline or external) to the W3C for validation.
Further functions of the Online tools include:
· Run Simple Link Checker
· Check Links and Code
· Search Engine Checker
· Search Engine Keywords Checker
· Check Domain Owner
· Traffic Ranking
· Monitor for Downtimes
· Traceroute to Host
· Send Ping Host
· Web Site Optimization
· Accessibility Check
· SiteMorse Website Test
· BrowserCam
· Webscale Speed Test
· BrowserCam
· Webscale Engine Viewer
· WebArchive History
· Google Similar Pages
· Google Backward Links
· Any many more
Online tools can be edited and personalized. Please read the setup section of this manual for more information. Please note that these tools are subject to changes, e.g. by their respective providers on the Web.