Information may be Out-of-Date
This page about deprecated software versions is shown for
reference purposes only. Information on this page is not
maintained and may no longer be valid.

Please find the latest manual for PRTG Network Monitor here:
Using the Toolbar
Using the Toolbar
The Toolbar functionality is accessed by pressing the appropriate button and selecting a function from the drop-down menu.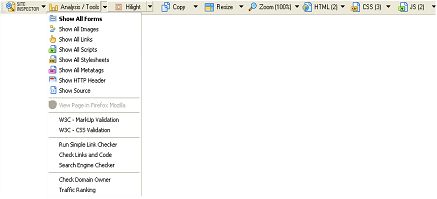 After clicking on the desired function, this function is launched and, generally, a new window opens displaying the desired information. The Toolbar offers the following options, each with a sub-set of functions available as a drop-down menu:
·      Site Inspector
·      Analysis
·      Hilight
·      Copy
·      Resize
·      Zoom
·      Realtime Analysis (for HTML, CSS, and JS)