Information may be Out-of-Date
This page about deprecated software versions is shown for
reference purposes only. Information on this page is not
maintained and may no longer be valid.

Please find the latest manual for PRTG Network Monitor here:
Toolbars
Toolbars
After Analyzing Browser the toolbars – that plug into IE and Firefox - are the alternative means for accessing the functionality of Site Inspector. Site Inspector automatically installs the toolbar to access the vast majority of its functions directly from Internet Explorer® or Firefox Mozilla. This toolbar will appear underneath the standard toolbar options (see image).

Should the toolbar not show up after proper installation, right click on the main Internet Explorer standard toolbar and select to show the Paessler Site Inspector Toolbar by clicking on the option in the appearing menu.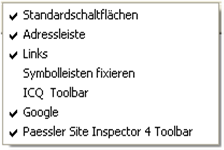 Should the toolbar be removed far to the right and out of the frame of Internet Explorer, please unlock the toolbar's position and drag it to a comfortable position.
Note for Firefox users: Alternatively, in Firefox, you can turn on the toolbar by selecting the option from the View menu under Toolbars.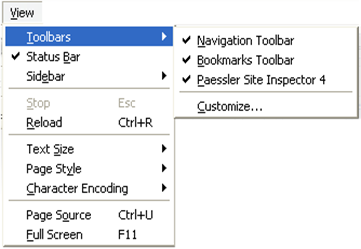 More:

Setup

Analysis

Hilight

Copy

Resize

Zoom

Realtime Analysis