Information may be Out-of-Date
This page about deprecated software versions is shown for
reference purposes only. Information on this page is not
maintained and may no longer be valid.

Please find the latest manual for PRTG Network Monitor here:
Setup
Setup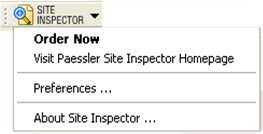 The setup button offers the ability to order the software or to visit the Site Inspector homepage – this may be useful for finding out information as regards updates, as well as to check the Frequently Asked Questions (FAQs) and accessing other information.
The Preferences… field will open a new window which will allow to edit the functions that are to be made available (or unavailable) when using Internet Explorer's context menu (including elements not belonging to PSI).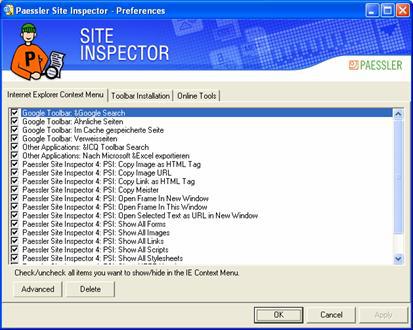 Check a function to make it available when using the context menu and uncheck it in order to make it unavailable. Further information as regards the functions themselves can be found under the chapter The Context Menu.
Using the Advanced button, one has access to a small menu which allows to turn certain functionalities on / off. Here one can edit what sort of dependency each functionality is to have as regards the interaction with the respective image, tag, or HTML element.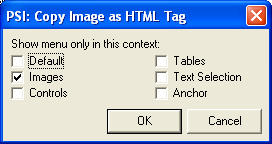 Selecting the Toolbar Installation tab will bring forth the following window: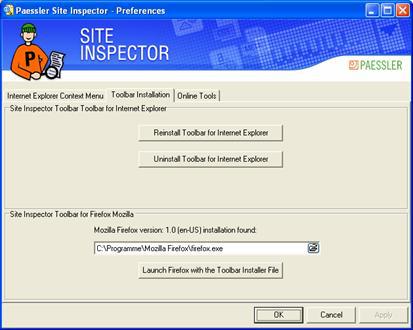 Here, you can opt to reinstall / uninstall the toolbar component for Internet Explorer, as well as launch the toolbar installation functionality for Firefox Mozilla.
Selecting the Online Tools will bring forth the following window: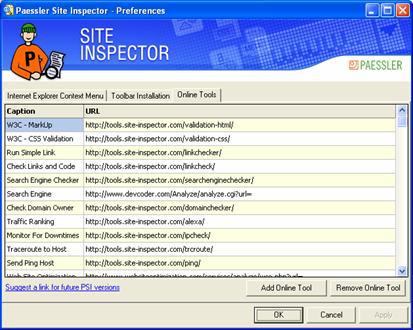 Here it is possible, using the Add Online Tool and the Remove Online Tool to edit the online tools. Adding an online tool will allow you to enter a caption (name) and a URL encoded function (in the fields provided) which will then be integrated to the toolbar.
The online tools are called with an URL, using the current URL found in the browser for tool purposes.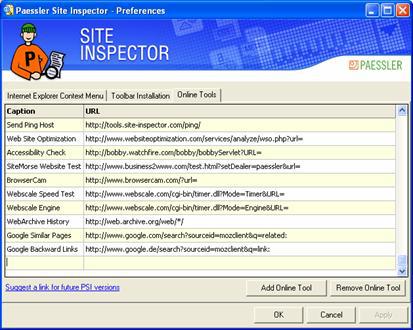 Once you have defined your new online tool, merely click on the OK button to accept the settings. To remove an existing, defined online tool, please proceed to click on the Remove Online Tool button and then press OK – this will remove the desired tool permanently.