Information may be Out-of-Date
This page about deprecated software versions is shown for
reference purposes only. Information on this page is not
maintained and may no longer be valid.

Please find the latest manual for PRTG Network Monitor here:
Running Setup and Configuration
Running Setup and Configuration
First of all, please make sure that all Internet Explorer windows are closed before installing Paessler Site Inspector.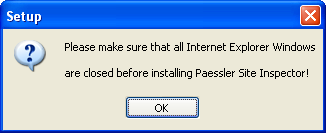 Running the setup program and configuring Site Inspector is easy. To get started
·      Double click on the Paessler Site Inspector 4.0.xxx Setup (Standard Version).exe program that was provided to you when you downloaded the trial version or when you ordered the full version. This will bring up the Site Inspector Installation Wizard.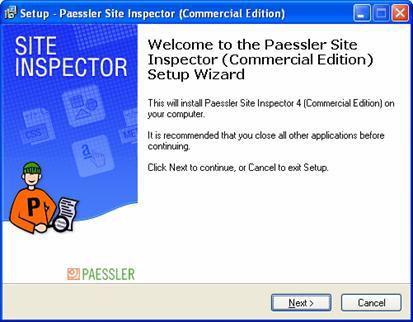 ·      The first screen of Site Inspector Installation Wizard welcomes you to the application. Click the Next Button to continue.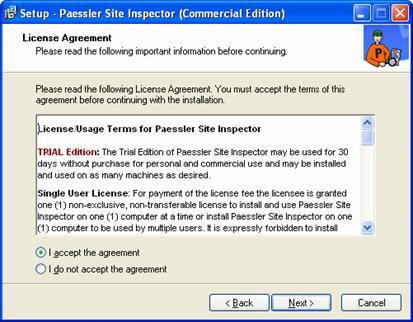 ·      The first step in completing the setup and configuration of Site Inspector is to accept the license and usage terms. Please select to either accept or not accept the license agreement and then press the Next Button.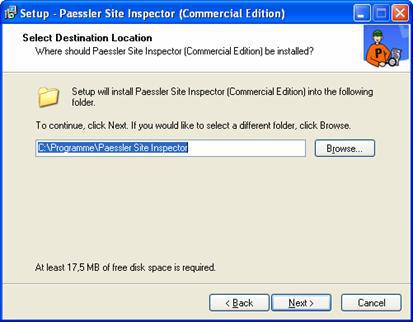 ·      The next step is to select the folder on your hard drive where you would like to install the Site Inspector files. If you want to install Site Inspector in a different directory as the default, click on the "Browse" button and select a directory into which you wish to install Site Inspector. The Installation Wizard also tells you how much hard drive space Site Inspector requires. When you have specified the location, click the Next Button.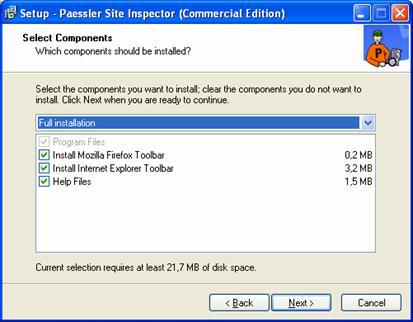 ·      The following step is to select which components to install. Your options are "Full installation", "Compact installation", and "Custom Installation". Custom installation allows you to choose which elements of the software you want to install. Once you are satisfied with your selection click the Next Button to continue.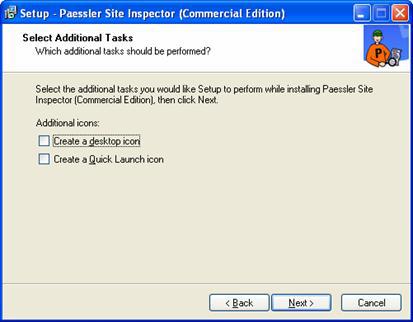 ·      Finally, you will be asked whether to add icons to your desktop and / or create a quick launch icon. Check the appropriate checkboxes and then press the Next Button. This should finish the installation of PSI on your machine.
Note: When installing the software for Firefox, once Firefox is detected, the following Window will open: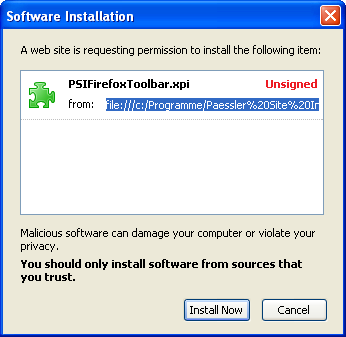 Click on Install Now in order to install the Firefox Toolbar utility. Then please close and restart Firefox.