Information may be Out-of-Date
This page about deprecated software versions is shown for
reference purposes only. Information on this page is not
maintained and may no longer be valid.

Please find the latest manual for PRTG Network Monitor here:
Removing Site Inspector from Firefox
Removing Site Inspector from Firefox
In order to remove the toolbar from Firefox Mozilla, the following steps have to be taken:
·      Start Firefox
·      Under Tools go to Extensions and click on this field – this should launch a new window from which you can select the extension you wish to uninstall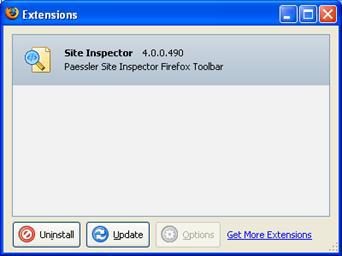 ·      Click on the Uninstall button – this should remove Site Inspector from your Firefox installation.