Information may be Out-of-Date
This page about deprecated software versions is shown for
reference purposes only. Information on this page is not
maintained and may no longer be valid.

Please find the latest manual for PRTG Network Monitor here:
Analysis
Analysis
One of the main functions of Site Inspector is the analysis of webpages.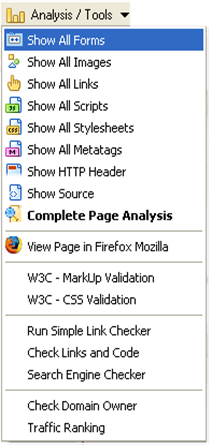 With this feature it is possible to identify the elements of webpages and analyze multiple functions. The options of this button are:
More:

Show All Forms

Show All Images

Show All Links

Show All Scripts

Show All Stylesheets

Show All Metatags

Show HTTP Header

Show Source

View Page in Firefox Mozilla

Complete Page Analysis

W3C - MarkUp Validation

W3C - CSS Validation

Run Simple Link Checker

Check Links and Code

Search Engine Checker

Check Domain Owner

Traffic Ranking

More Online Tools