Information may be Out-of-Date
This page about deprecated software versions is shown for
reference purposes only. Information on this page is not
maintained and may no longer be valid.

Please find the latest manual for PRTG Network Monitor here:
Windows-GUI-Optionen
Windows-GUI-Optionen
Wählen Sie Datei | Optionen aus, um die Optionen für die Windows-GUI zu bearbeiten: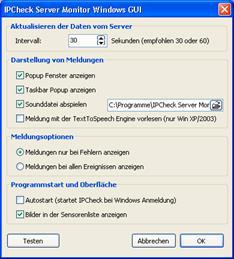 Als Aktualisierungs-Intervall sollten Sie einen Wert wählen, der zu den verwendeten Sensor-Intervallen passt (z.B. 60 Sekunden, wenn die Mehrzahl der Sensoren mit einem 60-Sekunden-Intervall arbeitet). Mit längeren Intervallen können Sie die Bandbreitennutzung minimieren.
Sie können in der Windows-GUI bis zu vier Optionen zur Benachrichtigung bei Änderungen des Netzwerkstatus aktivieren (Meldungen vom Server, z.B. E-Mail oder ICQ, sind ebenfalls aktiv):
Mehr:

Benachrichtigung per Popup-Fenster

Benachrichtigung per Taskbar-Popup

Benachrichtigung per Sounddatei

Benachrichtigung per Text-to-speech

Benachrichtigungsoptionen

Autostart und Darstellung von Symbolen