Internet Monitoring Software
Ensure Website Availability With PRTG
Why Is Internet Monitoring Important?
As businesses rely more and more on their websites, internet monitoring software has become vital to guarantee a nearly uninterrupted running of a company's web presence. Companies using the Internet to sell or market products lose money whenever their website goes down. Even if the purpose of your website is just to present your company to the outside world, downtimes or long response times will damage your image and prevent people from contacting you if you are affected by frequent downtimes.
How Does the PRTG Software Monitor Your Website?
PRTG Network Monitor is a powerful Internet monitoring software. With the PING sensor, you can check frequently whether your website is available. If it is not, you are notified at once (by email, SMS, pager etc.), which gives you the opportunity to react and troubleshoot quickly. It is recommended to conduct a regular PING test to your home page and other key pages of your web site. But Internet monitoring comprises more than monitoring web server availability: you can also check if a certain text or an image is included, run a test purchase to see if your web shop is working properly, or test if your databases are running. Using the PRTG Internet monitoring software, you can also check the load time of your website (as well as that of any other site available on the Internet).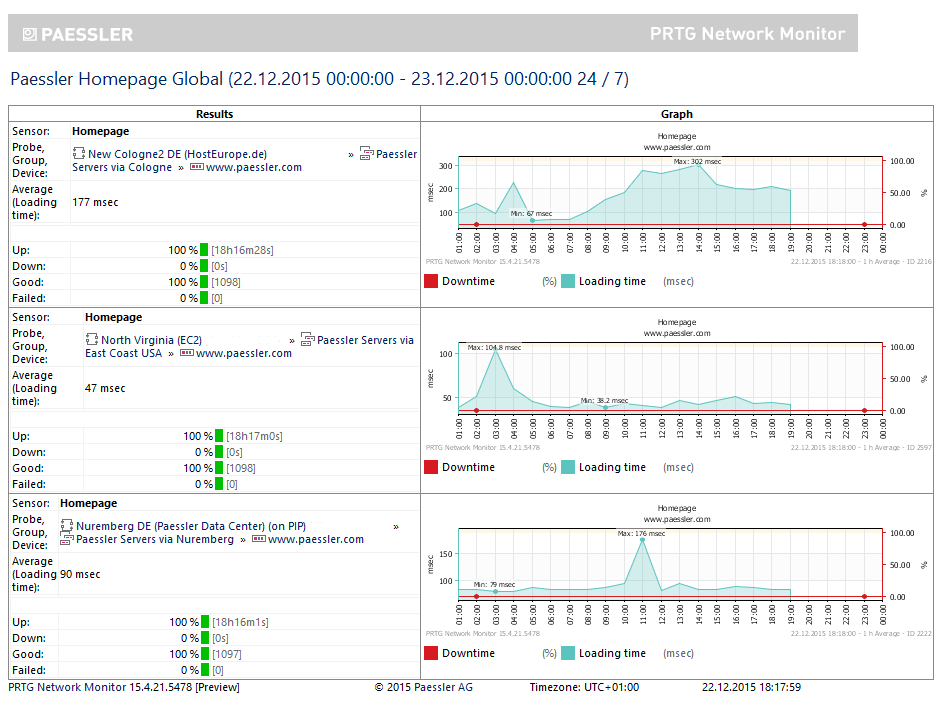 PRTG Network Monitor - More Than Internet Monitoring Software
PRTG is a comprehensive network monitoring and management solution. Apart from Internet monitoring capabilities, Paessler's monitoring software offers advanced availability and bandwidth monitoring, which makes Windows network troubleshooting easier. The bandwidth calculator functionality can also be used to control service level agreements and determine your total bandwidth usage. Thanks to Packet sniffing and NetFlow, PRTG is also a powerful IP traffic monitor that lets you see which computer is responsible for most bandwidth consumption in your network.
PRTG

Network Monitoring Software - Version 20.4.64.1402 (November 24th, 2020)

Hosting

Download for Windows and hosted version available

Languages

English, German, Spanish, French, Portuguese, Dutch, Russian, Japanese, and Simplified Chinese

Pricing

Up to 100 sensors for free (Price List)

Unified Monitoring

Network devices, bandwidth, servers, applications, virtual environments, remote systems, IoT, and more

Supported Vendors & Applications


More
Related Topics