PRTG 100 is Now Available for Free!
Dear PRTG Fan,
Starting now, we are offering PRTG 100 for free. You might ask "Why?". Well, within the last few years IT infrastructures have grown more and more complex and we want to enable all admins to monitor their IT and reach 100% uptime - even if they are working in smaller businesses with a limited budget, or when maintaining a private IT project. 
For these growing challenges we want to equip you with the best monitoring solution: PRTG Network Monitor. That's why we are offering the 100 sensor license for free to all users for example to small business owners, startups, and private users.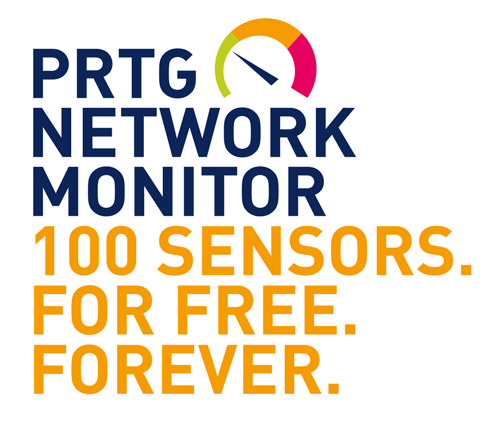 PRTG 100 - already so many monitoring possibilities
The free PRTG version has only one limit: 100 sensors, which is enough to monitor about 20 servers and devices. It used to be a commercial PRTG license, but now it is available for free. It's as simple as that. You will be able to use all the features, remote probes, constant updates to the newest PRTG version, and our public support such as FAQs, manuals, the Paessler Knowledge Base, and video tutorials.
Do you need some inspiration for what to monitor with PRTG 100?
Well, there are a lot of possibilities:

Website Monitoring – guarantee fast response times and general availability of a website
Manage your Syslog and SNMP Trap messages 
Keep an eye on your email traffic – monitor the entire sending and receiving cycle of emails
Flow Monitoring for routers and switches via flow protocols e.g. NetFlow
Just visit our website to find all these and more monitoring ideas or just download PRTG 100 and get started!
Share PRTG 100 and make other admins happy!
If you like working with PRTG and consider it an enrichment of your IT, we would appreciate it if you share your experience with your colleagues and friends, or post a short review in you social media channels – Thank you!
If you have any further questions please feel free to contact us at [email protected].
Cheers,

PS: If you want to learn more about our thoughts of offering PRTG 100 for free, just read the blog article here by our CEO Dirk Paessler.
PPS: You are already using the commercial version of PRTG 100 and still having questions on how this might affect your license, feel free to contact us. We will be happy to help you.

You are receiving this newsletter because you have been in contact with us regarding PRTG Network Monitor.