My PRTG Sensor Winners Gallery
The Short List - Because We Had so Many Fantastic Entries!
Yeah, we only had four prizes to give out but we loved so many ideas. So we asked some of our contestants to please let us share their great ideas even without winning a prize. We are happy they said yes! Read about their use cases:
"Leveraging Paessler's numerous sensors we not only monitor our remote sites' data traffic. We also monitor the weather via weather maps and widgets. These map objects provide radar and current temperatures on a single map!" Gary Rivers of KWCH TV Station
"At Blackburn Radio, we replaced our Opsview/Nagios system with PRTG earlier this year. We monitor all the critical systems in our multi station radio operation using a variety of sensors. Important programs, such as our on-air playback software is monitored and I receive alerts when this software is not responding or is offline. Audio silence alerts and RF failure alarms are also tracked. A weekly 'Outage' report is used to identify off air times that may occur during automation hour, times when no staff are actually at the radio station. This report is automatically emailed to management and helps to us to reduce future outages. PRTG is a 'Sound' investment for my radio stations." Rob Enders of Blackburn Radio Inc
"We started using PRTG to monitor all the bank's telecommunication network. Later we included our overseas entities' networks and added our internet services: websites, email... We presented a PRTG dashboard of what is being monitored to our management who liked it so much that now we are opting for PRTG to monitor our whole system." Georges Abi Azar of Byblosbank S.A.L.
Learn From a Cunning Fox: The Winner In October!
Ever been to Germany by car? Our gas prices are as high as the sky. Manuel set up a sensor to monitor the gas prices of the gas stations on his way to work. In Germany gas stations have to publish their prices so Manuel's sensor goes to their websites and checks the prices every hour. He can change the gas stations and the kinds of fuel in an instant. All the data he publishes on a website his parents use, too. Lucky parents!
That was not Manuel's first custom sensor, though. He had built one to see wether a private project of his works. But that sensor also tells him exactly how many people listen to his favorite (techno) radio station right now. That guy has fun with PRTG!
But of course Manuel has a job, too. At work he set up an extended HTTP sensor that evaluates bandwidth. He used it to test three different ADSL2+ modems. Actually he did not expect a difference but now he knows better. Test it yourself!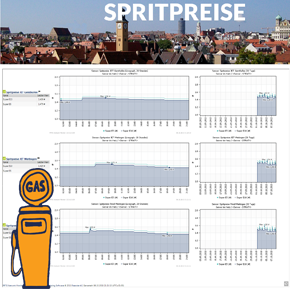 We Are Happy to Announce: Our Winner In September!
In four Calvary Hospitals in South Australia Ben monitors quite a lot with PRTG apart from the IT infrastructure. First of all there is the blood fridge: PRTG sends out email alerts instantly if the blood is approaching a critical temperature. Actually they could remove their 2 hourly checks of all fridges as required by law and install sensors in all of them. When it comes to audit time it is a 5 minutes job to show everything. All of this with alerting as well.
PRTG takes care of the doctors, too. They have their set environment they like to work in, so when it comes to their theatre suits and infection control Ben and his team keep track of the temperature, humidity and airflow in and around the theatre suits.
Furthermore Ben monitors the fuel levels of their back up generator as well as the dishwasher temperatures. They use a force gauge to tell them how full their compactus is and alerts are going to the cleaning company telling them a new bin is required. Not to mention the air conditioning systems, boiler rooms, lift counters, dry contact switches, air flow, and all of their server rooms, UPS... the works...
PRTG has made their lives easy from IT to kitchen staff. We take our hat off to Ben!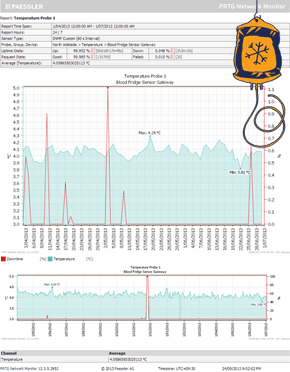 Drum Roll: Our Winner in August!
Our August winner, Lars Meldgård, had a great goal. He wanted to optimize and simplify the way he works with his pellet stoker. To achieve this, he integrated as much as possible of the system's key performance indicators into his PRTG installation. He monitors basic stoker values like temperature, consumption, and number of ignitions. Furthermore, besides these technically straightforward measurements, he also implemented a monitoring of the floor heating shunts. Lars uses a night vision camera and a picture recognition program which he created for this concern all by himself. PRTG's Sensor Factory matches these values then with other environmental measurements from his weather station which makes it possible for Lars to optimize his pellet usage. With some predefined sensors from PRTG like the File Sensor, he constantly checks if the camera is still up and sending data to his FTP server, ensuring the quality of available data. We are deeply impressed! A Nexus tablet well earned.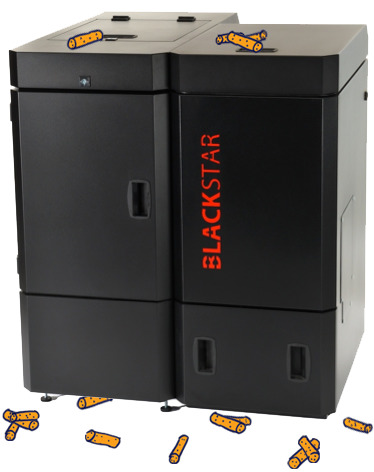 Ladies and Gentlemen: The Winner in July!
Ever thought of how those delicious prawns land on your plate? How their life was? If they come from New-Caledonia maybe Yann Urbes of Indeo took care of them. He set up PRTG Network Monitor for a prawn farm. PRTG monitors the water's temperature, salinity and PH value. The farmers get all pool settings in real time onto their smartphones. No matter where they are they can make sure their prawns thrive. They are really into quality control over there. We love Yann's idea! Have fun with your new GoPro camera!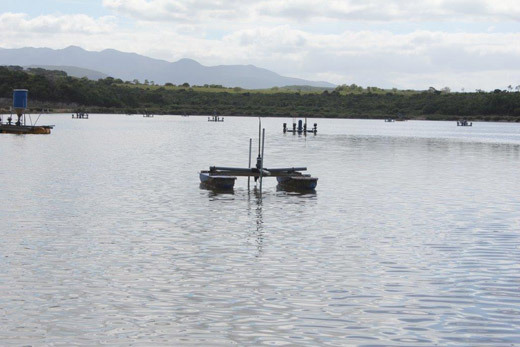 Prawn Farm FAMB (Ferme Aquacole des Montagnes Blanches), photo by Yann Urbes