My PRTG Dashboard Winners Gallery
A Dashboard Packed with Applications:
The Winner in April!
Congratulations to Wim Van Haver, the third winner of our "My PRTG Dashboard" competition. He works as a system and network engineer at Sonoco Alcore, a globally operating provider of consumer packaging, industrial products, protective packaging and supply chain services. With 50 locations in 17 countries all over Europe, Sonoco Alcore heavily relies on a flawless functioning network and server infrastructure.
Why Did We Pick This Dashboard?
Sonoco Europe has decided to go for data center centralization, with one main data center in Belgium. The majority of their divisions in Europe rely on this data center for their ERP (Enterprise Resource Planning), CRM (Customer Relationship Management), HR (Human Resources) and many other supporting applications.
Considering this approach, it is very important that they have a clear centralized view on the status of the back-end and front-end servers, as well as on the WAN connections linking the remote sites to their data center. That's where PRTG comes in...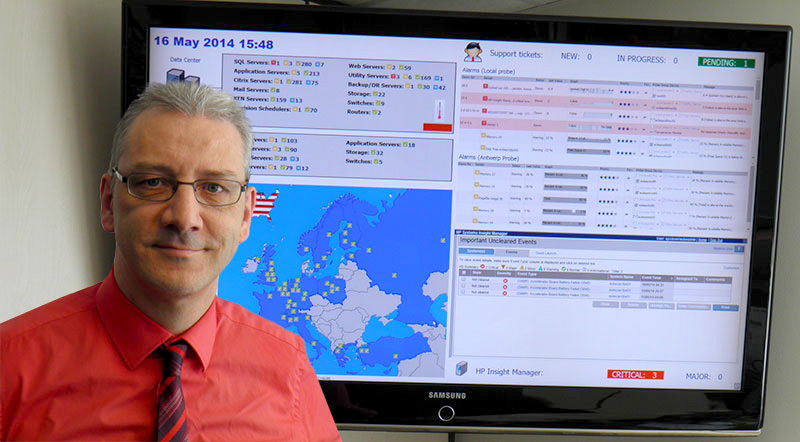 The Dashboard—Get Inspired!
Being displayed on a 50 inch LCD screen in their office, Wim states that the dashboard really is the IT team's life buoy. It also makes an overwhelming impression on their visitors as it shows the most relevant data clearly laid out at a glance.
Let's dive into more detail and have a look at the different elements of the dashboard:
A map of Europe shows all the routers within their European Wide Area Network (WAN). Each router is represented by the icon "Status Only (Transparent)", which is linked to a Ping sensor.
At the top of the page you can see a summary of all sensors per data center, which are further split up per device type (you can even see the temperature).
A custom map object, which is linked to SQL queries on their ticketing system, is integrated at the top right of the dashboard—so Wim and his colleagues can directly see on the big screen when new support tickets are coming in.
On the bottom right of the dashboard you can see an iFrame that is linked to the IT team's HP Insight Manager and some custom map objects to count the number of "critical" and "major" events of the Insight Manager.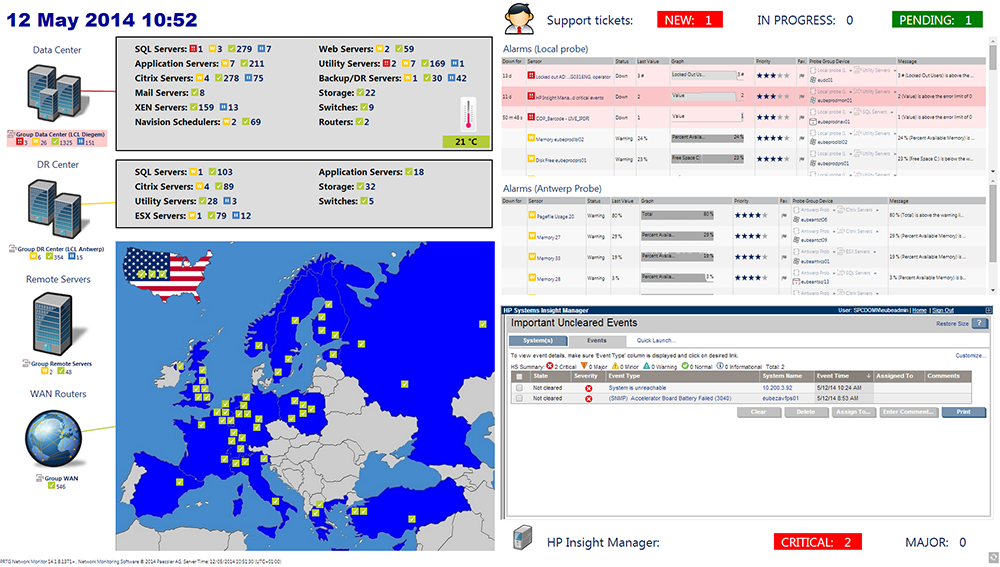 Now it's time for disclosure (and Wim's boss should probably stop reading), because there's still one awesome secret functionality missing—the "wear-a-tie" sensor: Wim's boss insists that he and his team wear a tie, so as soon as he enters the office, the little guy with the green shirt on top of the dashboard suddenly wears a white shirt and a red tie. This is achieved with a custom map object that uses JavaScript to swap the image based on an ADO SQL sensor. This sensor actually reads the boss's presence from an Access back-end database, which is linked to the electronic in/out board at the reception desk. So as soon as the members of Wim's IT team see the little character wearing a tie, they can open their drawer and also grab their tie.
Quite a huge range of versatile data on one single dashboard—we were impressed and perhaps you'll also find some inspiration in Wim's or the other two winning dashboards.

A Dashboard Delivering Electricity:
Our Winner in March!
The second winner of the "My PRTG Dashboard" campaign is Ricardo Fernandes of REN Serviços, S.A. Good job, congratulations! REN is based in Portugal and operates the National Transmission Grid (RNT), which connects generators to consumption centers and ensures a balance between energy supply and demand.
Why Did We Pick This Dashboard?
Ricardo's dashboard convinced our jury with its obvious usefulness and because of the clear way to display a lot of information centrally. It's very closely connected to REN's area of operations, which makes monitoring the underlying network structure easy for everyone included in the process. Dashboards don't have to be abstract—they really can help streamlining your monitoring workflow.
The Dashboard—Get Inspired!
The dashboard is part of REN's approach to monitor their Multiprotocol Label Switching (MPLS) network across Portugal. The MPLS site in each and every REN substation provides service to all the industrial components of the Supervisory Control and Data Acquisition (SCADA) and industrial networks.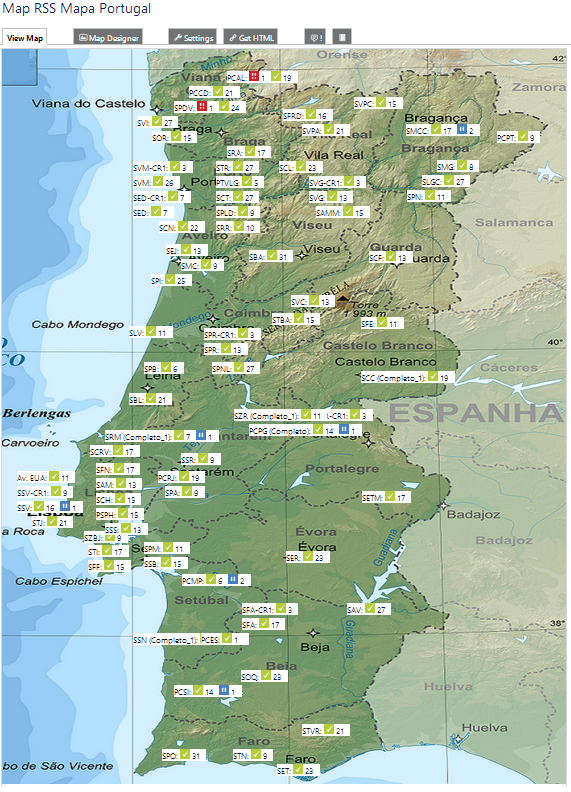 A map of Portugal is the heart of the dashboard, on which every sensor icon represents one of the very high tension substations that are spread throughout the country. It is of utmost importance to keep them working properly, otherwise an entire city could be without electricity.
PRTG Network Monitor enables REN's technicians to gather data and, more importantly, act immediately in case of a problem. The dashboard is an essential part of their monitoring strategy as it has a direct impact on the Quality of Service (QoS) of the national electric grid.
Other dashboards enable REN to analyze the problem by checking the primary cores of the MPLS network and their interconnections with each other, or help them to monitor the administrative buildings of the company.
Of course REN also utilizes other functionalities PRTG has to offer, like notifying the operations team via email—so they can detect warning signs even if they don't have their eyes on the monitors at all times.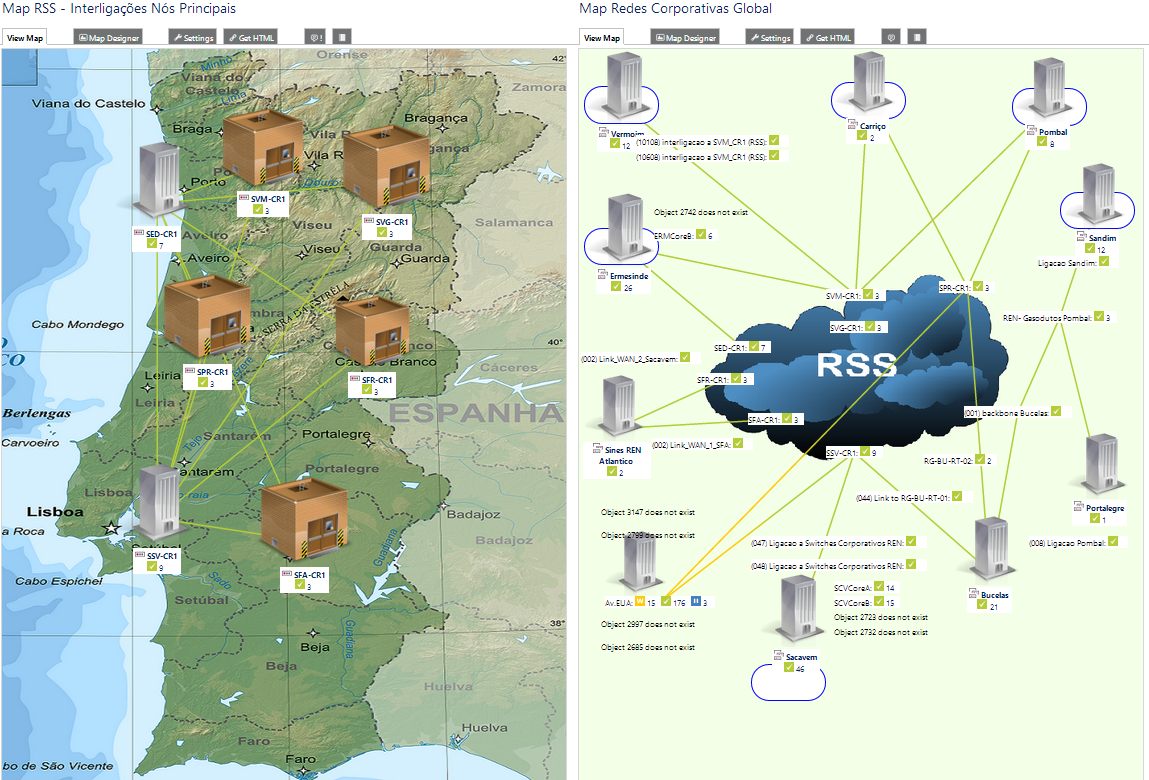 Dashboards as Customer Service:
The Winner in February!
We're happy to present our first winner Quentin Long, who is a Cloud Solutions Engineer at Fronde. Congratulations!
Fronde is an Australia and New Zealand based company that offers a wide portfolio of IT solutions to their customers, like cloud innovation, mobile solutions, software solutions and systems integration.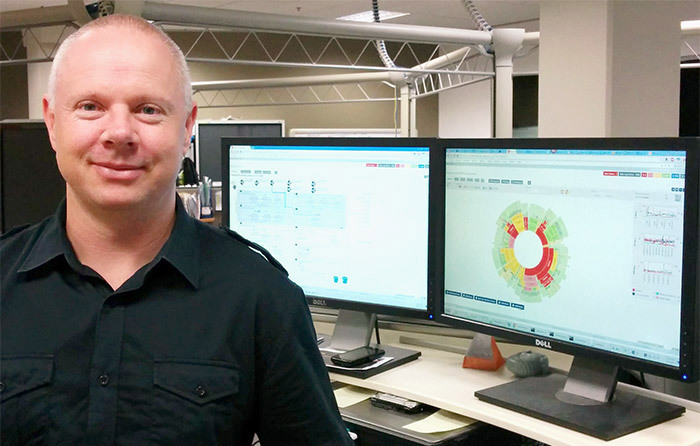 Why Did We Pick This Dashboard?
Our jury picked Quentin's dashboard, because it visualizes monitoring results in an elegant and appealing way. Not only that, but it also makes monitoring data usable for Fronde's customers and their unique area of application.
Dashboards as customer service—a real added value!
The Dashboard—Get Inspired!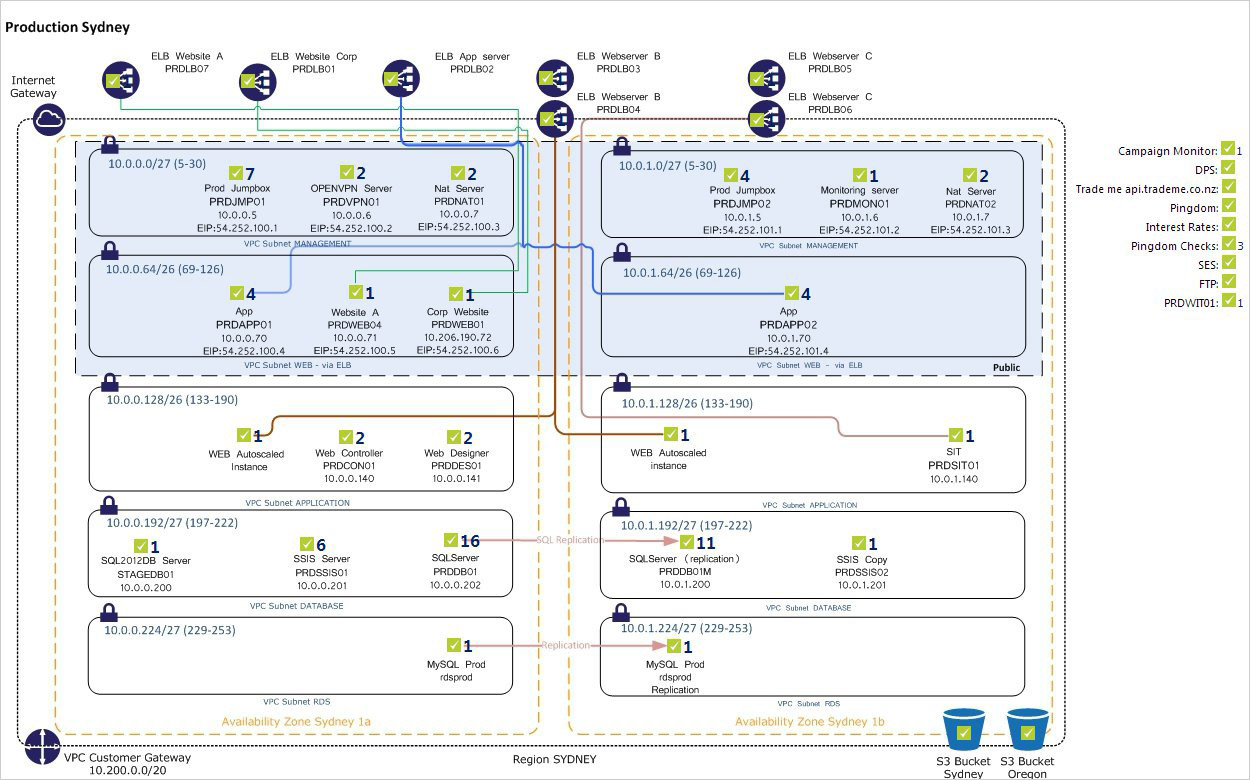 In order to deliver the best possible solution for their customers, Fronde decided to team up Amazon Web Services (AWS) with PRTG Network Monitor. Since 2008 they help their customers take advantage of Amazon's on-demand resources that can instantly scale from small test environments to large multi-million user production systems. By using Amazon Virtual Private Cloud (VPC) and hardware Virtual Private Network (VPN) connections, Fronde ensures their customers see the AWS environment as if it was part of their local datacenter.
This is where PRTG comes into play: Its ability to monitor the performance of Amazon Cloud services, like Elastic Compute Cloud (EC2), Simple Queue Service (SQS), etc. triggered the creative minds at Fronde. Focusing on their customers' requirements, they came up with a unique dashboard design, detailing all their customers' servers, load balancers, data feeds, and remote connectivity—one dashboard for each customer with unique logins, only allowing them to see their own environment.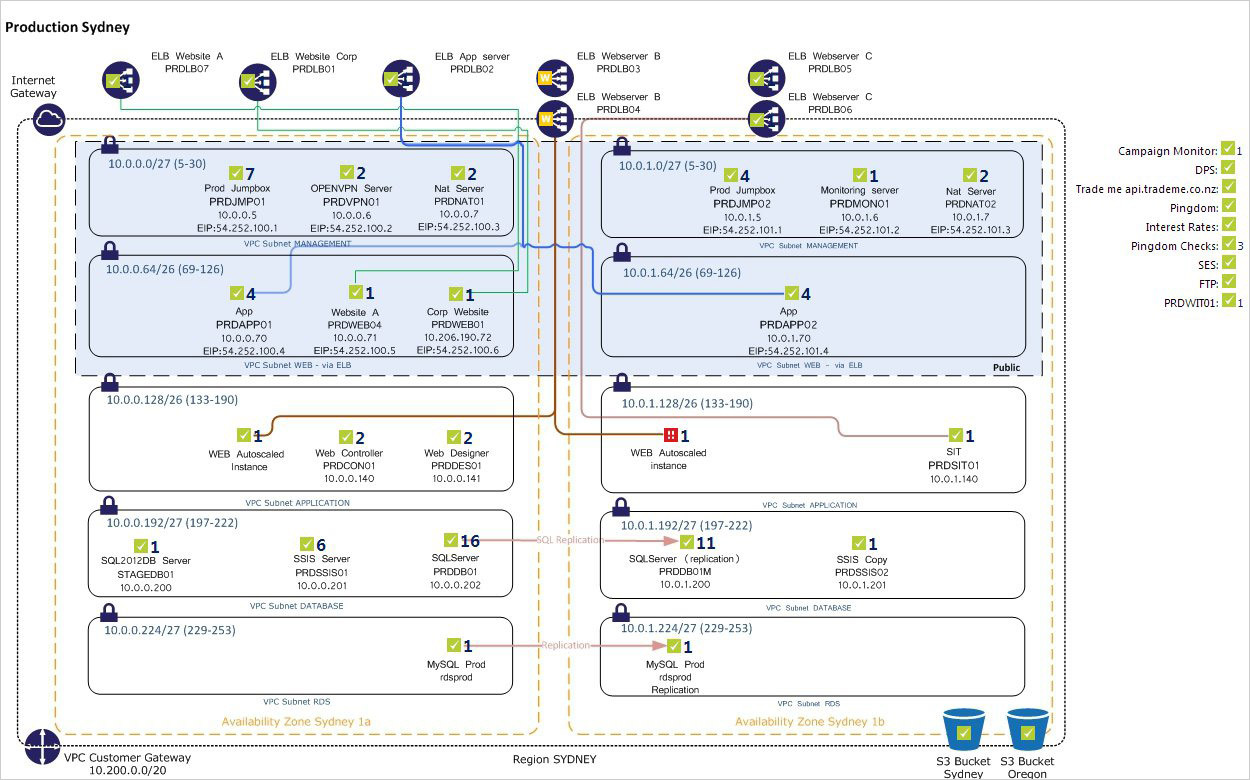 A majority of Fronde's customers use their dashboard on large screens in their operations area, which is a real benefit especially for project sponsors as this is the only deliverable they see—and they all love it!