Today we released a new free testing tool for system administrators, the "sFlow Tester" which helps to analyze and debug sFlow monitoring setups. This freeware tool accepts sFlow data packets (which are usually sent by switches/routers) and displays data about it. It helps you to test the configuration of your sFlow capable routers.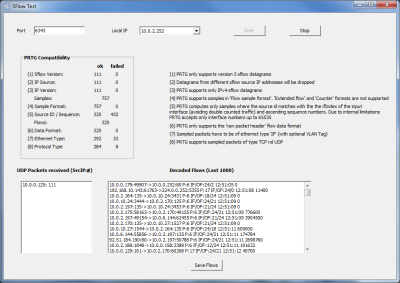 Just configure a sFlow device to send data to the computer running the sFlow tester, and you can see the received packets including all important property information, such as sFlow version, IP source and version, sample and data format, or Ethernet and protocol type.
The tester shows you how PRTG will handle the packets in its sFlow sensors, i.e. which packets will be accounted (ok) or dropped (failed) when received by PRTG. So this tool makes the sFlow sensors' functionality transparent and enables the user to collect more information in order to trace supposed bugs or unusual behavior related to sFlow monitoring. Monitoring sFlow?
Try the tester, it's free!
Did you like our blog post?