We recently conducted a series of performance tests of PRTG's web interface using the built-in web page speedtest.
The following results compare the performance of Windows 2003 and Windows 2008 on the same hardware for installations with 1000, 5000, 10,000, and 20,000 sensors. Additionally we wanted to measure the effects of the "Speed Mode" switch.
Test Systems
We used the following test systems:
"AMD Barebone"
Barebone Server
AMD Athlon II X4 640 Processor
3 Ghz
4 Cores
1x Windows 2008 R2
1x Windows 2003 R2
(both 64bit)
"Dual Core Optiplex"
DELL Optiplex 980
Intel Core i5 750 Processor
2.67 Ghz
2 Cores
1x Windows 2008 R2
1x Windows 2003 R2
(both 64bit)
On all four systems we created configurations with 1,000, 5,000, 10,000, and 20,000 SNMP sensors. We used PRTG Network Monitor version 8.3.3 on all systems with "Speed Mode" enabled. We selected the "High Performance" power plan. All other Windows settings were set to the installations' defaults.
Test Results
The first chart shows the page load for the slowest pages, the second chart shows the average page load times (all in milliseconds):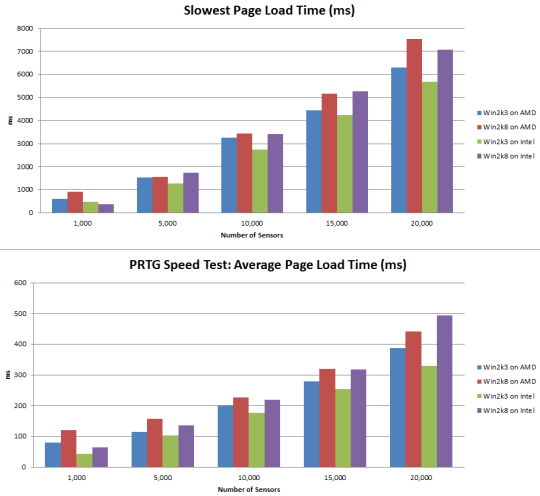 What can we conclude from these tests?
In general page load times are not an issue up to about 10,000 sensors when the slowest pages reach load times of 2-3 seconds.
Even with 20,000 sensors the average page load time is below 500 ms
Above 5000 sensors page load times increase linearly with the number of sensors (a configuration with twice the sensors shows roughly twice the page load times) regardless of operating system or hardware
For the same hardware and the same monitoring configuration, running PRTG on Windows 2003 R2 64-bit is 15%-30% faster than running it on Windows 2008 R2.
The AMD test boxes have a faster CPU clock (3 Ghz vs. 2.67 Ghz) and twice the number of CPU cores (4 vs. 2). But their Intel based competitors (DELL Optiplex 980) are 8%-12% faster.
The "Speed Mode" switch reduces average page load times by about 40%, the load times for the slowest pages is reduced by about 10%. (These values are not shown in the graphs above).
Want to learn how to speed up your PRTG installation like this? Read my blog post How to Lower Web Page Load Times of PRTG by 80%-90% in 4 Easy Steps and refer to the knowledgebase article How can I speed up PRTG - especially for large installations?
Did you like our blog post?