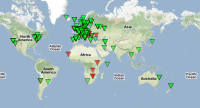 Creating a "weather map" showing the condition of the Internet all over the world is the declared goal of the Atlas project initiated by regional internet registry organization
Réseaux IP Européens Network Coordination Centre
(RIPE NCC). Located in the Netherlands, they aim to ship small hardware "probes" to all over the world. Volunteers
on five continents
are asked to plug in these small Ethernet devices into their personal or company's network, building measuring points for "the last mile" of Internet access points in a large number of countries. One of the subjects that should be investigated is the suitability of IPv6 in everyday use. As we all have to prepare for this, this project can be very important to all of us. According to Daniel Karrenberg from RIPE, these probes do not sniff any of the participants' network traffic, but only perform measurements using Ping, DNS resolution via both IPv4 and IPv6, and trace route. RIPE already has longstanding experience in monitoring the traffic at Internet Service Providers, but the Atlas project will extend knowledge about the on and on growing Internet just into the homes. First—statistically unproven—monitoring results are already available.
iPhone Push Notifications are a fast and cost effective way to send alarms from your PRTG server to your iPhone/iPad. Due to Apple's design of the push notification system we cannot easily implement our own push notification interface into PRTG or iPRTG. The main reason is that each PRTG user runs his own server which would need to sign up and authenticate with Apple's servers and stay connected to them using a two-way connection (see KB article "Why is there no support for Push Notifications in PRTG and/or iPRTG?"). The whole setup would be quite complex. Fortunately there are a couple of apps for the iPhone that fill this gap. I already wrote about Prowl last year , which works fine but we heard from a couple of users that had trouble setting up the API calls between their PRTG and the Prowl servers. Recently I came across two other interesting options: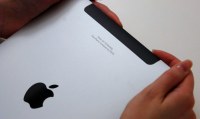 During the beta testing phase of PRTG 8, many users tested our new software and contributed with useful hints and feature requests, and helped fixing bugs. It's our user feedback that makes PRTG a strong and customer-oriented piece of software. Thank you to everybody who sent in feedback! Meanwhile, PRTG 8 is out and we're very happy to get a lot of feedback from users who tell us they love it. To say "thank you" to everybody who took part in the Beta test, we promised to raffle off a brand new iPad among the testers.
With a new custom sensor (created by our friend Gerard Feijth) it is now possible to use data from REST-like APIs as sensor data in PRTG. The sensor requests data from an HTTP or HTTPS URL (using GET), parses the XML results and uses selected data from the XML as sensor value in PRTG. With this technique you can import data from many APIs into PRTG, as long as they are offering an interface that works with simple HTTP GETs and replies with XML data. Services like these are often called "
REST APIs or RESTful APIs
". This type of API is becoming more and more common, PRTG's own API is a RESTful API, too. Here are a few samples what we can do with this sensor:
During the next weeks we will officially introduce a new database system for log entries, ToDos, and Toplists. The old system (based on SQLite) was sufficient for small to medium installations, but for installations with thousands of sensors it could cause performance bottlenecks. In the past weeks we have implemented a complete rewrite of this storage system. The new engine is up to 300 times faster when writing data and up to 100 times faster when reading data. Furthermore, the writing speed is not affected by the size of the database at all; you can now store a whole year of log data without affecting the performance—regardless of the size of your installation! This is a major breakthrough! You will be amazed at how fast log data is displayed in the web interface when browsing through the logs of the system (main menu item "Logs") or when viewing logs of a single monitoring object.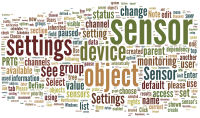 With PRTG 8, we have released the most extensive PRTG manual up to date. The PDF version  now has more than 800 pages. It's not that PRTG became more complicated, we just wanted to make sure that our users find instructions on how to perform all everyday tasks when working with our Network Monitor. For example, the new documentation contains details about every single sensor, every setting field, and provides many useful links to resources in our Knowledge Base. Just out of curiosity, we created a "Wordle"  for our new manual document. Wordle is an Internet based service, describing itself as "a toy for generating 'word clouds'". It counts the frequency of all words used in a given text and displays the result as a word cloud. Unsurprisingly, we as a monitoring company used the word "sensor" most, followed by "object," "settings," and "device".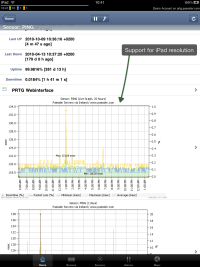 iPRTG for PRTG is available in a brand new version. As a 'Universal App' it now supports iPhone, iPod, and even the iPad with its higher resolution. iPRTG is the iPhone application for network monitoring while on the go. It enables you to quickly connect to your PRTG installation and review all monitoring results as well perform simple actions such as acknowledge alarms, pause and resume monitoring, add favorites, etc. The new version is now available for download at iTunes store. If you have already purchased iPRTG, you can download the update for free.
If you are running a "dashboard" for your NOC, e.g. by using a big screen on the wall that displays PRTG monitoring information, you can also add webcam images, weather data, current radar maps and other external information. Here is a sample map which embeds various external sources with live data: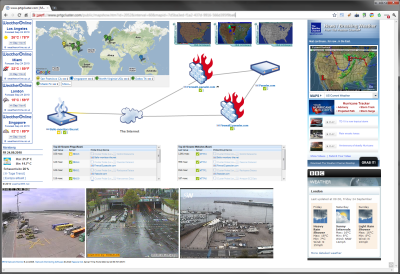 View sample map in full size