With PRTG Network Monitor, you can analyze your sensor data in various ways. Exhaustive reports for your whole network can be generated as well as historic data reports for single sensors. Still, there are people who just need the data of a sensor in a convenient format to do their own statistics in external programs or to use Excel to do additional computations based on the monitoring data. That is why we have included a XML and CSV export function in PRTG. This function of the web interface is handy to export data every few days. But if you need daily data for one or more sensors an automatic solution is more comfortable. With the new CSVExport command line tool finally there is a way to export data of many PRTG sensors with one single line of script! You can use it as an on-demand tool or combine it with Windows task scheduler. Don't be confused by the name – CSVExport is capable of both XML and CSV data export!
Appreciating the benefits of mobile communication, we all have learned to condone some lack of speech quality when using our mobile phones. The possibility to communicate with everyone everywhere often brings a much greater value than an overwhelming speech quality. But when it comes to Voice-over-IP technology, you can have both: Using one of the latest high density (HD) audio codecs, the connection quality can be astonishing (far better than in usual landline communication) and you can even use it wireless on the go with the according mobile provider and device.
The main task of PRTG Network Monitor is to optimize your network's availability and performance by avoiding system downtimes. All systems should always be up and running properly. That's the theory… Still some services fail, even without a complete crash of the server itself. One of the most common methods of recovery is a reboot of the server to get the failing service back online. In certain cases, it is useful to have this done automatically. PRTG initiates a reboot when it discovers a service that fails for more than 15 minutes for example. Remote reboots can be performed by command lines tools (e.g. from the
Sysinternals toolset
) or by using a Windows Management Instrumentation (WMI) call. Today I want to share a script that performs remote reboots without any additional software (neither on the client side nor on the server side) and works with every Windows computer that is capable of WMI.
Many PRTG users want to use their own logos and/or corporate colors for the web interface of their PRTG installation. Today I want to write about a hidden feature of PRTG 7.2.x that allows you to modify the look&feel of the web interface using just a few CSS statements.
Recently a company that uses its own PRTG installation to monitor customers' sites asked us how they can supply customized login screens with the customers' logos when they log into the MSP's PRTG installation. They are an MSP (Managed Service Provider) and offer monitoring of their customer sites as a service.
Today we have released Version 7.2.2 of
PRTG Network Monitor
which includes substantial improvements regarding memory and CPU usage as well as some bugfixes. The performance related changes will affect all installations, regardless of the number of sensors, but will be most notable for installations with thousands of sensors.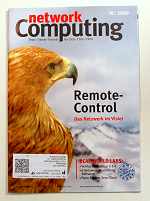 In their October-issue German magazine Network Computing published a comparison test of all major network monitoring solutions. They included PRTG Network Monitor 7, WhatsUp Gold 14, Orion NPM 9.5 and OpManager 8.5. Their verdict was clear: PRTG wins this comparison! Quote: "PRTG Network Monitor 7.2 was in fact the most comprehensively equipped monitoring package and also the simplest to use."
Today I had a telefon interview about CloudClimate.com with Carl Brooks of SearchCloudComputing (techtarget.com). Afterwards Carl uploaded an interesting article about
www.cloudclimate.com
on their website.