PRTG for Android
Access your PRTG Installation on the go - for free!
PRTG for Android runs on your Android based smartphone or tablet, and on Kindle Fire HD.
Use PRTG for Android
Do nearly everything you can do in the PRTG web interface: For example, acknowledge alarms, pause and resume sensors, set priorities and favorites, run device auto-discoveries, scan your network status instantly, work with the ticket system, and edit object comments.
In addition, QR code scanning makes it easy to jump directly to a sensor or to add a user account to the app.


Features

Get Connected
PRTG for Android connects to PRTG servers using HTTPS, or HTTP over VPN, in mobile networks or WiFi/wireless LAN.

Be Flexible
Use multiple accounts and switch easily between them to see monitoring data of different installations immediately.
Log in to PRTG in the cloud via Single Sign On (SSO) and

add user accounts with all supported social logins in the app.

Choose your language: PRTG for Android is available in English, German, and Dutch.
Check your network on your wrist: As of version 15.2.1, PRTG for Android supports a wearable UI.

Use Network Tools
PRTG for Android provides network tools such as ping, traceroute, DNS, raw HTTP, and MAC address lookups. You can use them even without connecting to a PRTG server.

Get the Data
As PRTG for Android connects to your PRTG server, you can see your device tree, sensor lists, sensor data, maps, libraries, logs, and many other things—in a familiar Android way. View also object comments and an object's history.
The data display automatically adapts to your screen size, so you see as much information as possible at a glance.
Get compact information by adding your own home screen widgets: See the global status of a sensor, sensor gauges, graphs, an alarm list, and the last channel value.

Get Notified
The app can notify you of outages or breached limits.
With push notifications, PRTG can send you instant notifications to your mobile device's notification bar. Push notifications integrate seamlessly into PRTG's notification concept and can be configured on the PRTG server. Note: In order to use push, your PRTG server must run version 14.4.13 or later.
PRTG for Android can also poll your servers in the background and notify you on new alarms or tickets. You have flexible control over what triggers a notification and how often the app should check.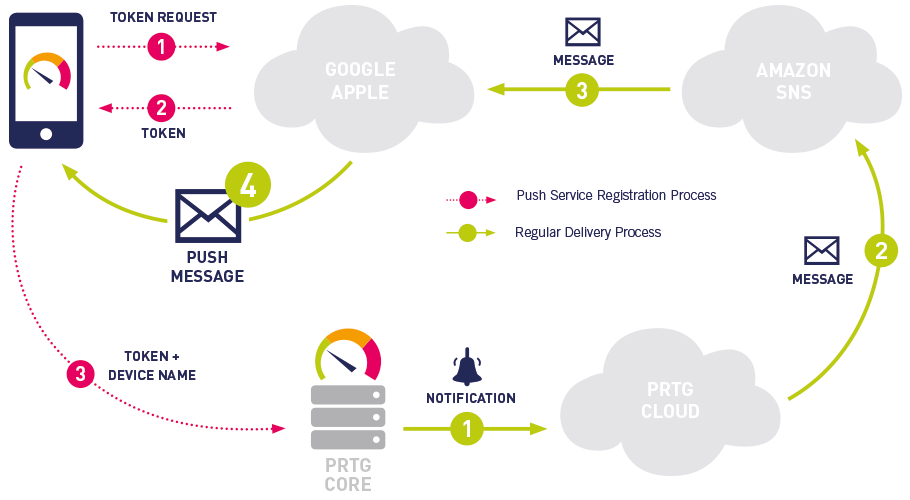 Wanna Use Your Android Device as a PRTG Mobile Probe?
No problem! As a PRTG Mobile (Mini) Probe, your mobile Android device can monitor parameters such as temperature, pressure, humidity, WiFi coverage, the device's availability, battery status and location, and the availability of websites from any desired location. Install the PRTG Mobile Probe for Android and get a "mobile perspective" of your network!
PRTG for Android—Tutorial
This short tutorial shows you how easily you can manage your PRTG installation with our PRTG app for Android. So you can even monitor your network when you're on the go!
Hi and welcome to the PRTG for Android app tutorial. The PRTG for Android app is installed just like any other app would be from the App Store.
And once installed you can click on the shortcut on your desktop. Once you have an account added you'll be able to see the device to review in this view that you see here. You gonna go to a specific sensor or channel you just click on the device and click through to the channel specifically. 
     
You can see the different sensors for this device and if you wanna see the graph the data for anyone specifically you can click on that as well. Once you get to the sensor you can see other statistical information and you can see the PRTG interface, you can see your gauges and you can see the values for each one of them.         
The size you looking at the sensor in PRTG for Android at the very bottom you can see the buttons for the different graphs for the sensor. If you click on the buttons it will show you the graph in full screen view. The next thing that you can do with the PRTG for Android app is you can actually set the priority for each sensor and if it's a favorite or not.
So once you have your sensors favored, you can actually go to the menu and click on your favorite sensors and it will show up right there. Also the menu you can click on the actual red sensors in your PRTG installation if you wanna see which senses are actually an error state.
If you have a red sensor that's in an error state and you need to acknowledge it positive anything else you can do it from the menu as well. You can click on the acknowledge checkbox and acknowledge it forever long you need to or you can check the POS box for the same thing. You can also give it a definition as to why.        
To the PRTG for Android app you can also see the maps. You click on a menu and then go to maps you can see all the various maps that you have set up and showing them that you want on your Android phone. Here's one that we've customized for the Android phone itself. Here you can see our entire biosphere infrastructure with the CPU usage of the actual VMware device itself, along with the ping the RDP, the Disc Free, Pagefile usage and so on.       
Again using the menu you can go down and go to your tickets. Here you can see the different tickets that are assigned to different people and if you want to you can click on them and add it and assign them as well.
Something else that is available in the PRTG for Android app are the notification settings. Here you can actually go in and say when you want to have an alarm actually set off on your Android device or not and it's going to blink the LED and so on and so forth. You can also set up notifications for tickets.        
With the PRTG for Android app you can connect multiple instances of PRTG as well. Here you can see  that we have two setups to add an account: All you have to do is click on Add Account, input the information and you have the new installation up.
Here you can see how we click on it, here's all the information for the other one. You go to your side menu and then click on the other instance. Then you go to somewhere what you have the very beginning at  the tutorial. One of the unique things about the PRTG for Android app is that also includes some network tools.
You go to your side menu, click on network tools—you can see the various tools that are available. So you can while you're on the go  you can do things like Ping, Traceroute, DNS lookup in a Raw HTTP requests.        
Another feature of the Android app is that you can go to channel specifically for any sensor you can hold down, long click it and so use this channel as a widget. Once you have set that up your widget channel you can go to your Widgets and pull it directly on to your Android's desktop.         
So the other widgets that we have there you can display all the PRTG alarms in this way a specific channel value as a small box or you can use the channel gauge like we should before. There is also a global status widget as well. For the PRTG for Android tablet application there's one extra feature that isn't on the the phone version—it's called the dashboard! You could click on the dashboard you to display a very statistics directly from PRTG signal but I look at the wall or something like that and get all the information that is important to the installation.        
The last feature for the PRTG for Android app is that we also included the sunscreen. This is similar to the dashboard but if you have the device or Android device amounted to a docking station or something like that you can turn on the sunscreen for the device and this will pop up and show you the status for PRTG.    
We hope that you enjoyed the PRTG for Android app  that we've built for you and hope that helps you on your network more effectively and seamlessly.        
Thanks for your time.    
PRTG for Android Wear
As a user of PRTG Network Monitor, you probably know that you can keep an eye on your network using several different interfaces—your web browser, directly on your Windows desktop with the Enterprise Console, or by using one of our four mobile apps. Now we're extending that access to a rather less expected place: your wrist!
System Requirements
Android Version: You need Android 6 or later to install the app (or a Kindle Fire HD). Home screen widgets are available only on Android 6 or later. The QR scanner is not available on Kindle Fire.
Hardware: We regularly test our PRTG for Android app on 15 of the latest Android devices. We're confident that the app will run smoothly on any Android device.
PRTG Server: The server you connect to needs to be reachable from the network your device is connected to—either directly or via a VPN connection. The server requires PRTG version 14.1 or later. For older server versions you might have a look at our Knowledge Base article on the PRTG for Android legacy download.
About PRTG
PRTG Network Monitor is Paessler's powerful network monitoring tool. The network port monitor will help you reduce costs, increase quality of service and react proactively to downtimes and system failures.
Download the freeware or the free trial and start monitoring your network today.